The Chicago Cubs take on the becoming-exceedingly-less hapless San Diego Padres. Perhaps Jake Peavy's recent White Sox trade fiasco will distract him. A refresher on the series preview here at Bleacher Nation:
The idea is to hook you up with the bare minimum of what you need to know about every series this year. That way you can look like a genius, hardcore fan in front of all your friends, with minimum effort. Oh, and there will be pictures of hot chicks, too.
We're Going Streaking
The Cubs have now lost four in a row after being swept by the St. Louis Cardinals, and things are looking down in Cubland. The offense, in particular, is struggling – they managed just two runs in the entire series against the Cardinals. That's, um, not good.
The Padres, on the other hand, have won six in a row. They're still trying to move Jake Peavy, so it is not as though anyone believes this little winning streak has legs. Still, it's disconcerting for a team like the Cubs, looking to lick its wounds.
Game Times and Broadcasts
Friday, May 22 at 9:05 CT on WGN.
Saturday, May 23 at 9:05 CT on CSN.
Sunday, May 24 at 3:05 CT on WGN.
Expected Starters and Lineups
These lineups are likely to be, well, wrong. But they'll be close.
Cubs
Starters: Carlos Zambrano (3-1, 4.50), Rich Harden (4-2, 4.74), Ted Lilly (5-3, 3.35)
Lineup:
Soriano, LF
Theriot, SS
Fukudome, CF
Lee, 1B
Bradley, RF
Soto, C
Miles/Fontenot/Scales, 2B
Freel, 3B
Pitcher
Padres
Starters: Jake Peavy (3-5, 3.82), Josh Geer (0-1, 5.61), Chris Young (3-2, 5.07)
Lineups:
Brian Giles, RF
David Eckstein, 2B
Scott Hairston, CF
Adrian Gonzalez, 1B
Chase Headley, LF
Kevin Kouzmanoff, 3B
Nick Hundley, C
Chris Burke, SS
Pitcher
Hot or Not and Whom to Watch
Yeah, pretty much every Cub with a bat would qualify as "or not." The Cubs welcome back Carlos Zambrano with open arms, maybe more for his bat than anything. Pick your poison: Milton Bradley, Geovany Soto, Mike Fontenot. Will any of them start hitting? Like, at all?
Jake Peavy isn't exactly the cure for an offensive slump, so this series could get started out on the wrong foot. Tonight's game is the one to watch for that reason – could set the tone for another disappointing series. The Padres have won six in a row, and they've all been close and relatively low-scoring. That means their pitching, starting and bullpen, has been solid.
Series She-View
And now the best part of the preview: if the teams were represented by beautiful women, who would they be, and what would the match up look like. I thought long and hard about who would represent the Cubs this year. Given the fact that she's thrown out the first pitch, sung the Seventh Inning Stretch, probably likes the Cubs – oh, and the fact that she is a level of hot commensurate with the Chicago Cubs' ability, I've chosen supermodel Marisa Miller. You're welcome.
For the the Padres, it was a brutal choice. It may surprise you, but when it comes to sunny Southern California, a handful of beautiful women come to mind. Most are from Los Angeles, or are somehow associated with it – you know, in the sense that a lot of TV and movies and junk come from Hollywood, which is like, the same as L.A. or something, and there are hot chicks in those things, or something, er, but I digress.
Oh yeah, San Diego. You know who hails from San Diego a while back? The subject of a great deal of recent Cub-related scorn: Miss Complicated herself, Denise Richards. But no, no, we haven't selected her.
We've got to go with the San Diego surfer chick – Charlie's chick. Yup. That'd be the beautiful Cameron Diaz. We'll make this match up bathing suit friendly. And it is friendly.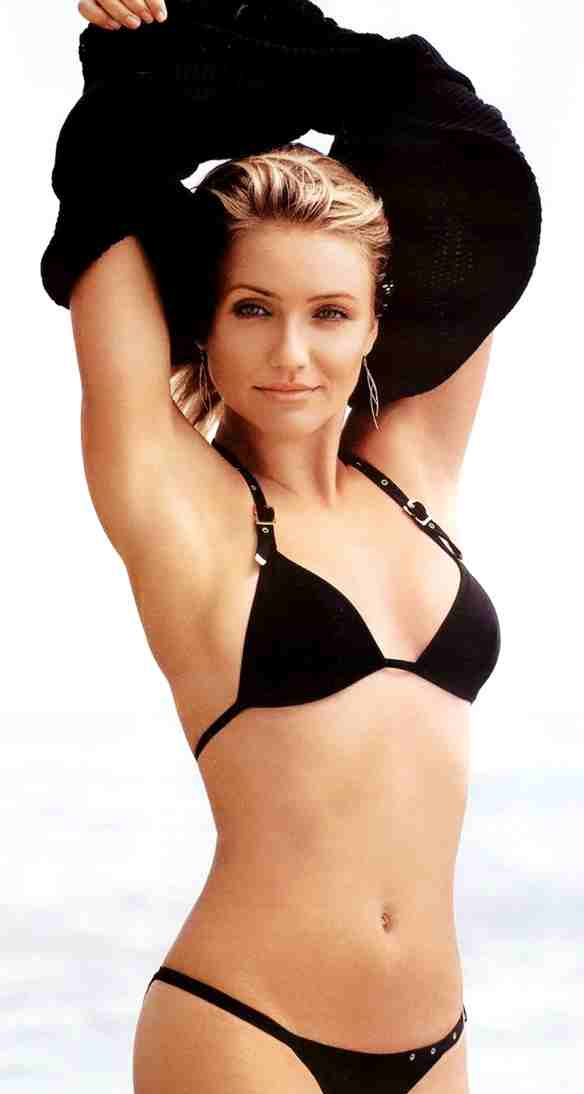 Versus