The Chicago Cubs now welcome the Atlanta Braves for a three-game set at Wrigley. The Braves aren't quite the team they once were, but hey, neither are the Cubs. A refresher on the series preview here at Bleacher Nation:
The idea is to hook you up with the bare minimum of what you need to know about every series this year. That way you can look like a genius, hardcore fan in front of all your friends, with minimum effort. Oh, and there will be pictures of hot chicks, too.
We're Going Streaking
The Cubs just took three of four from the Brewers, the team's second series win in a row. They are now 2.5 games out of first – their precise location two months ago when Aramis Ramirez went down with an injury. They were 24-26 in his absence.
The Braves are a streaky sort: they have not alternated wins and losses since June 13. Since then, they lost four in a row, won two in a row, lost two in a row, won two in a row, lost four in a row, won five in a row, and most recently, lost two in a row. Let's hope they're in the middle of a longer losing streak, otherwise they might just sweep the series.
Game Times and Broadcasts
Monday, July 6 at 6:05 CT on CSN and ESPN.
Tuesday, July 7 at 7:05 CT on WGN.
Wednesday, July 8 at 1:20 CT on CSN.
Expected Starters and Lineups
These lineups are likely to be, well, wrong. But they'll be close.
Cubs
Starters: Randy Wells (3-3, 2.43), Ryan Dempster (5-5, 4.09), Carlos Zambrano (4-3, 3.50)
Lineup:
Fukudome, CF  (might sit out a game or two, though – which is awesome)
Theriot, SS
Lee, 1B
Ramirez, 3B (hooray!)
Bradley, RF
Soriano, LF
Soto, C
Fontenot, 2B (if he survives Monday's moves)
Pitcher
Braves
Starters: Jair Jurrgens (6-6, 2.73), Javier Vazquez (5-7, 3.05), Kenshin Kawakami (4-6, 4.46)
Lineup:
Nate McClouth, CF
Martin Prado, 2B
Larry Jones, 3B
Brian McCann, C
Yunel Escobar, SS
Garret Anderson, LF
Matt Diaz, RF
Casey Kotchman, 1B
Pitcher
Hot or Not and Whom to Watch
Alfonso Soriano finally had a two-hit effort on Sunday – of course, both hits were bloopy squibs. But maybe it'll kick-start something. Obviously, the primary person to watch for the Cubs in this series is third baseman Aramis Ramirez, who returns from a two month hiatus attending to a dislocated shoulder. In case you've forgotten, Ramirez was lighting the world up when he got hurt. It would be imprudent to expect an immediate return to that kind of dominance, but his mere presence is exciting.
It will also be interesting to see the Cubs sport the lineup they should have all along – one that features Lee, Ramirez, Bradley, and Soriano hitting back-to-back-to-back-to-back.
Jair Jurrgens is a tremendous young starter, but he's dropped four of his five decisions since these two teams last met. Nate McClouth has been acceptable after joining the Braves. His rate stats with the Braves match his season totals almost exactly. That's perfect meh.
Series She-View
And now the best part of the preview: if the teams were represented by beautiful women, who would they be, and what
would the match up look like. I thought long and hard about who would represent the Cubs this year. Given the fact that she's thrown out the first pitch, sung the Seventh Inning Stretch, probably likes the Cubs – oh, and the fact that she is a level of hot commensurate with the Chicago Cubs' ability, I've chosen supermodel Marisa Miller. You're welcome.
For the Atlanta Braves, there were actually quite a few good options: 90210 hotty
AnnaLyne McCord, songstress Kelly Rowland, or Julia Roberts. Oh wait. That's exactly who we used for the Braves last time.
Well, it's time to change things up.
Now we'll go with the most beautiful woman ever featured on ESPN: miss Erin Andrews. Before she was an ESPN vixen, Erin Andrews got her start on Turner South, covering all the teams in Atlanta. And thus, she'll be covering the Braves for us this week. Well, not literally. Don't tune into the game, and then be totally disappointed when you don't see Erin Andrews.
So, the ridiculously hot sideline analyst or the  ridiculously hot model? Now, although Erin Andrews is unbelievably attractive, she is also unbelievably modest. So we'll go with a particularly immodest picture of Marisa Miller to make up for it. Have at it.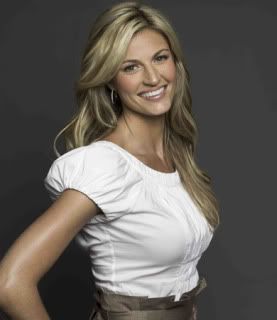 Versus