The Chicago Cubs once again welcome the Houston Astros to Wrigley Field, and this time, it's a much more threatening specter that approaches. This ain't your momma's Astros team anymore. Well, maybe it is. But they're slightly better at baseball now.
So, the series preview: the idea is to hook you up with what you need to know about every series this year. That way you can look like a genius, hardcore fan in front of all your friends, with minimum effort. Oh, and there will be pictures of hot chicks, too.
We're Going Streaking
The last time the Cubs squared off against the Astros, they had come off a series win against Cincinnati. They lost the series against the 'Stros 2-1. This time, it's a sweep for the Cubs against the Reds, and hopefully a better result against the surging Astros. The Cubs are 8-2 since the All-Star break, and – as you have heard shouted from the rooftops by now – are in first place in the NL Central for the first time since April.
There's no two ways about it: the Astros are playing like a very good team. Winners of 30 of their last 48, they've been one of the best teams over the last two months in all of baseball, and are very much in the playoff hunt.
Game Times and Broadcasts
Monday, July 27 at 7:05 CT on CSN
Tuesday, July 28 at 7:05 CT on WGN
Wednesday, July 29 at 1:20 CT on WGN
Thursday, July 30 at 1:20 CT on WGN
Expected Starters and Lineups
These lineups are rarely perfect, but they're usually close.
Cubs
Starters: Carlos Zambrano (7-4, 3.48), Ryan Dempster (5-5, 4.09), Randy Wells (6-4, 3.10), Kevin Hart (2-1, 2.08)
Lineup:
Fukudome, CF
Theriot, SS
Lee, 1B
Ramirez, 3B
Bradley, RF
Soriano, LF
Fontenot, 2B
Hill, C
Pitcher
Astros
Starters: Wandy Rodriguez (10-6, 2.72), Roy Oswalt (6-4, 3.66), Mike Hampton (6-7, 4.74), Russ Ortiz (3-5, 4.75)
Lineups:
Jason Bourne, CF
Kaz Matsui, 2B
Miguel Tejada, SS
Carlos Lee, LF
Hunter Pence, RF
Ivan Rodriguez, C
Chris Coste, 1B
Jeff Keppinger, 3B
Pitcher
Hot or Not and Whom to Watch
Alfonso Soriano has clearly taken to a drop in the lineup – he's hitting near .400 since the move. Of course, that could be a coincidence, given that a stretch as atrocious as he was lumbering through is statistically likely to be met with a hot streak (especially when you're the streakiest hitter in all of baseball). Still, Soriano won't find himself at the top of the order any time soon.
The Houston Astro who will be the most enjoyable to watch this series is Fat Elvis, himself, Lance Berkman. Berkman strained his calf last week, and will miss this series. Always a Cub killer, it will be nice to be on the other side of an injury for once.
But the streaking Astros might not miss Berkman too much, as the rest of the offense could easily pick up the slack, and the Cubs will face two of the hottest starters in all of baseball in Wandy Rodriguez and Roy Oswalt. Rodriguez is an eye-popping 5-0 with a 1.50 ERA over his last six starts,
Series She-View
And now the best part of the preview: if the teams were represented by beautiful women, who would they be, and what would the match up look like. I thought long and hard about who would represent the Cubs this year. Given the fact that she's thrown out the first pitch, sung the Seventh Inning Stretch, probably likes the Cubs – oh, and the fact that she is a level of hot commensurate
with the Chicago Cubs' ability, I've chosen supermodel Marisa Miller.
You're welcome.
For the Astros, although it's the fourth time we've seen her, we've got to stick with the same representative: Jessica Simpson. Much like the team she represents, she's strong up the middle, and always seems to show up even after you've counted her out. But she spent the offseason bulking up, and not in the good way.
So how do they match up? A lot of similarities between these two combatants – they even look the same in the right light. But the back end (of the rotation, I mean) separates these two. Of course, this series matches up the front end (of the rotations, I mean).
So who takes it this time?  Jessica Simpson looks trim and glamorous, but Marisa Miller is wearing nothing but body paint. Decisions, decisions.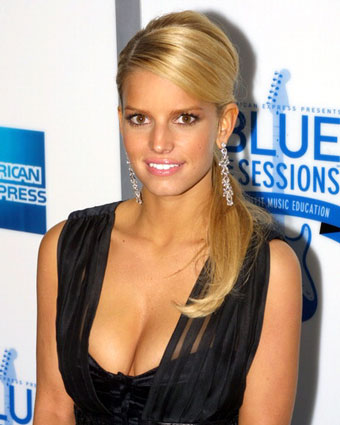 versus