The Chicago Cubs head off to Cincinnati to take on the Reds. Even though, you know, they just played them last week. A refresher on the series preview here at Bleacher Nation:
The idea is to hook you up with the bare minimum of what you need to know about every series this year. That way you can look like a genius, hardcore fan in front of all your friends, with minimum effort. Oh, and there will be pictures of hot chicks, too.
We're Going Streaking
The Cubs had been going nicely until Kevin Gregg took a steaming dump in Florida and called it a save attempt. The 1-2 series loss to the Marlins wasn't the end of the world, but with the Cardinals looking like soul-selling unicorn magicians, every series is critical – and this was one the Cubs should have won. Last week when the Cubs played the Reds, it yielded a sweep, so let's hope more of the same is in store. The Cubs need it.
The Reds… yikes. They've lost six in a row, and a stunning 12 of 13. In fact, their 6-21 mark since July 3 is the worst in baseball. Suffice it to say, they've fallen out of the race, and are obviously beatable. A series win is a must.
Game Times and Broadcasts
Monday, August 3 at 6:10 CT on WCIU/ESPN.
Tuesday, August 4 at 6:10 CT on CSN.
Wednesday, August 5 at 6:10 CT on CSN.
Expected Starters and Lineups
These lineups aren't always perfect, but they're usually close.
Cubs
Starters: Randy Wells (7-4, 2.84), Tom Gorzelanny (3-1, 5.19), Rich Harden (7-6, 4.50)
Lineup:
Fukudome, CF
Theriot, SS
Lee, 1B
Ramirez, 3B
Bradley, RF
Soriano, LF
Fontenot/Baker, 2B
Hill, C
Pitcher
Reds
Starters: Aaron Harang (5-12, 4.50), Johnny Cueto (8-8, 4.06), Justin Lehr (0-0, 5.40)
Lineups:
Drew Sutton, LF
Alex Gonzalez, SS
Joey Votto, 1B
Brandon Phillips, 2B
Scott Rolen, 3B
Johnny Gomes, rF
Laynce Nix, CF
Ryan Hanigan, C
Pitcher
Hot or Not and Whom to Watch
It is not as though Kevin Gregg's job is in jeopardy… yet. He could certainly use a confidence boost, though, and hopefully another save opportunity comes his way in short order. Jake Fox is a hitting machine, but as the Cubs get healthier in the lineup, it becomes increasingly difficult to get him in the game. But the Cubs must find a way – only one Cub has hit better than Fox overall this year, and that's Aramis Ramirez.
Aaron Harang has lost eight straight decisions, and Johnny Cueto has also dropped a couple in a row since the last series against the Cubs. But the main Red to watch this week is the newest Red, Scott Rolen. Rolen was acquired at the deadline for a minor leaguer and Edwin Encarnacion. Plagued by injuries for years and virtually all of his time in Toronto, Rolen seems back this year – he's hitting over .300 with an OPS approaching .850. He was knocked out of the last game by a Jason Marquis pitch to the helmet, but he's not expected to miss this series.
Series She-View
And now the best part of the preview: if the teams were represented by beautiful women, who would they be, and what would the match up look like. I thought long and hard about who would represent the Cubs this year.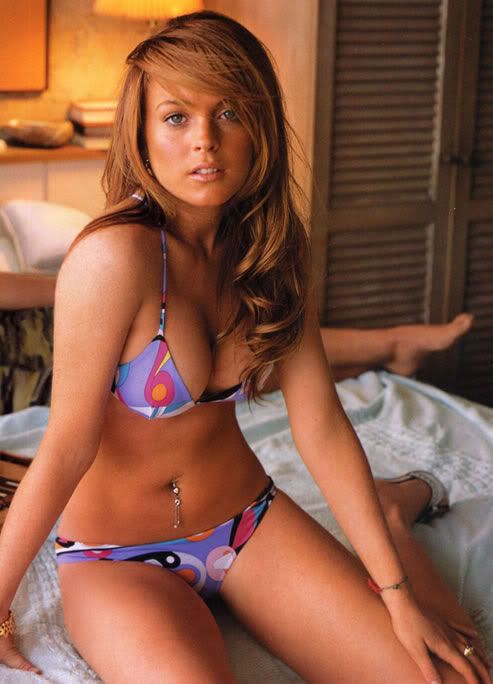 Given the fact that she's thrown out the first pitch, sung the Seventh Inning Stretch, probably likes the Cubs – oh, and the fact that she is a level of hot commensurate with the Chicago Cubs' ability, I've chosen supermodel Marisa Miller.
You're welcome.
For the Reds, the plan all season has been to go with redheads. Which, like, duh. Makes sense. But we intended to change it up – offering a different redhead for every series. But then we got a bit stuck on Lindsay Lohan. Yes, she's become a hilarious, ridiculous trainwreck (you can catch her latest flick – some thing about pregnancy – on the ABC Family channel), but she remains hot. Or at least, she was once very hot, and there remain lots of pictures of her.
So we're sticking with Lindsay Lohan for the Reds. Again. A glamorous match up this time.
Versus