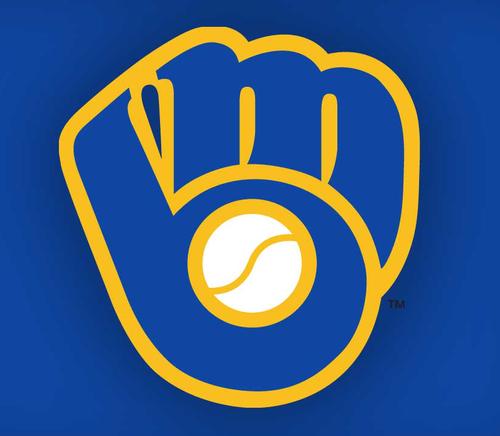 It's been more than two months since the Cubs faced the Brewers. In that time, the Cubs have sniffed first place, then tasted first place, then lost first place, then ate poop. At least the Brewers have chewed on their share of scat, too. A refresher on the series preview here at Bleacher Nation:
The idea is to hook you up with the bare minimum of what you need to know about every series this year. That way you can look like a genius, hardcore fan in front of all your friends, with minimum effort. Oh, and there will be pictures of scantily clad hot chicks, too.
We're Going Streaking
The Cubs are actually playing decent ball lately, albeit a few weeks too late. They've won five of six, but remain far from striking distance in the NL Central or the Wild Card. If the Cubs manage to sweep this four-game tilt against the Brewers, we can start dreaming about the playoffs.
The Brewers just swept the lowly Arizona Diamondbacks (hey, they can beat up on crappy teams, too!), but before that, they'd lost seven of nine. As things stand, they're battling it out with the Astros for third place in the Central, and battling it out with themselves to get back over .500.
Game Times and Broadcasts
Monday, September 14 at 7:05 CT on CSN.
Tuesday, September 15 at 7:05 CT on CSN.
Wednesday, September 16 at 7:05 CT on WCIU.
Thursday, September 17 at 1:20 CT on WGN.
Expected Starters and Lineups
These lineups are likely to be, well, wrong. But they'll be close.
Cubs
Starters: Ryan Dempster (9-8, 4.03), Carlos Zambrano (8-6, 3.77), Rich Harden (9-8, 4.04), Randy Wells (10-8, 2.96)
Lineup:
Fukudome, CF
Theriot, SS
Lee, 1B
Ramirez, 3B
Bradley, RF
Soto, C
Fuld/Fox/Scales/Etc., LF
Baker/Fontenot, 2B (to be honest, these last three spots in the lineup are pretty interchangeable based on who's playing that day)
Pitcher
Brewers
Starters: Jeff Suppan (6-9, 5.05), Yovani Gallardo (12-11, 3.59), TBA, TBA
Lineups:
Felipe Lopez, 2B
Frank Cattalanotto, RF
Ryan Braun, LF
Prince Fielder, 1B
Casey McGehee, 3B
Mike Cameron, CF
JJ Hardy, SS
Jason Kendall, C
Pitcher
Hot or Not and Whom to Watch
Derrek Lee continues to scorch. And it's swell.
Quietly, Ryan Dempster is salvaging his season after a slow start – impacted, of course, by a very difficult home situation with his infant daughter. Over his last four starts, he's sporting a 2.73 ERA.
Prince Fielder notched his league-leading 126th RBI yesterday. He also notched his league-leading 126th belt hole. Ok, I'm just a little bitter.
Cubs fans like to talk up Randy Wells in the National League Rookie of the Year race, but what about Casey McGehee? He's basically been the Brewers' Jake Fox this year… but better. He sports a .304/.369/.519 line in a hair under 300 at bats, all while playing adequate defense splitting time at first, second, third and in the outfield.
Oh, and in case you'd forgotten since we reminded you last time: McGehee was a Cub last year. They tossed him over to the Brewers for nothing. The pain. The pain.
Series She-View
And now the best part of the preview: if the teams were represented by beautiful women, who would they be, and what would the match up look like. I thought long and hard about who would represent the Cubs this year.
Given the fact that she's thrown out the first pitch, sung the Seventh Inning Stretch, probably likes the Cubs – oh, and the fact that she is a level of hot commensurate with the Chicago Cubs' ability, I've chosen supermodel Marisa Miller.
You're welcome.
For the Brew Crew, though we almost went with Tyne Daly, who hails from Madison and is a bundle of hot, we decided to go with a beautiful woman enjoying/serving brew. It's a perfect fit: they start out young and fit (like young stars Ryan Braun and Yovani Gallardo), but after enough beers, they quickly wind up thick and portly (like Prince Fielder). Tried for a fourth time to change things up for this series, and you may or may not believe it, but finding pictures of hot chicks holding tall frosties is actually not that easy.
This time, we did manage to find a picture of a model-ish hot chick with a beer. So the match up is a bit more fair than ones past, where it was Marisa Miller versus a regular person. The beautiful, chesty woman you see below is model Gemma Atkinson.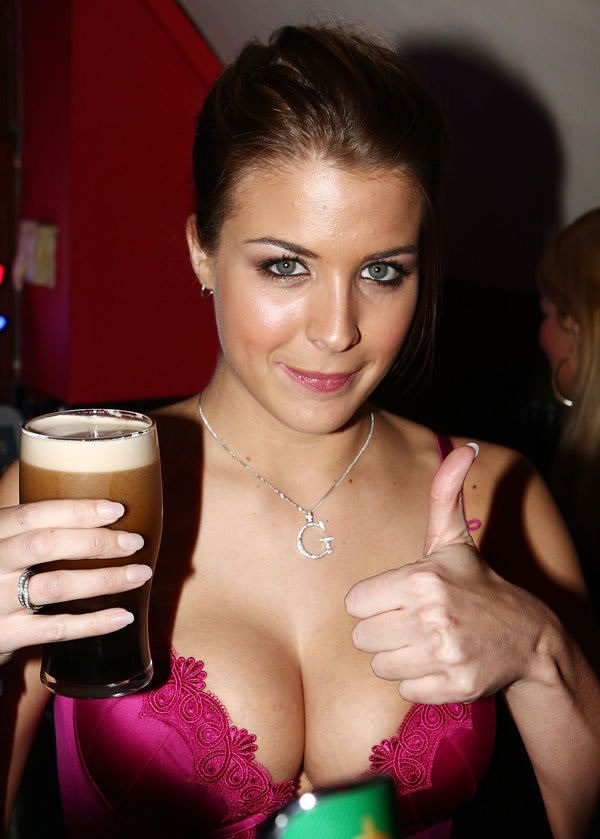 Versus