It's Series Preview time again, as the Chicago Cubs head out to face the disappointing New York Mets. Mets fans are probably the only ones in the land with more of a right to feel let down by their team lately than the Cubs.
A refresher on the series preview here at Bleacher Nation:
The idea is to hook you up with the bare minimum of what you need to know about every series this year. That way you can look like a genius, hardcore fan in front of all your friends, with minimum effort. Oh, and there will be pictures of hot chicks, too.
We're Going Streaking
The Cubs dropped two of three to the Astros – potentially the worst team in baseball – and leave their homestand 5-7. It was embarrassing, to say the least.
The Mets are an even worse 4-8, and are already four games out in the NL East. This series apparently pairs the two most overpaid rosters in baseball.
Game Times and Broadcasts
Monday, April 19 at 6:10 CT on CSN/ESPN.
Tuesday, April 20 at 6:10 CT on WGN.
Wednesday, April 21 at 6:10 CT on CSN.
Thursday, April 22 at 6:10 CT on WCIU.
Expected Starters and Lineups
These lineups should be pretty close to what actually gets thrown out there.
Cubs
Starters: Randy Wells (1-0, 2.92), Carlos Zambrano (1-1, 9.45), Carlos Silva (1-0, 0.69), Tom Gorzelanny (0-1, 1.93)
Lineup (against righties, apparently):
Theriot, SS
Fukudome, CF
Lee, 1B
Ramirez, 3B
Byrd, CF
Soriano, LF
Fontenot/Baker, 2B
Soto, C
Pitcher
Mets
Starters: John Niese (0-1, 6.55), Mike Pelfrey (2-0, 1.29), Oliver Perez (0-1, 3.75), Johan Santana (1-1, 3.00)
Lineups:
Jose Reyes, SS
Luis Castillo, 2B
David Wright, 3B
Jason Bay, LF
Mike Jacobs, 1B – um, Ike Davis?
Jeff Francoeur, RF
Rod Barajas, C
Gary Matthews, Jr., CF
Pitcher
Hot or Not and Whom to Watch
Your eyes should still be fixed on starters Carlos Silva and Tom Gorzelanny, who are battling for the final rotation spot when Ted Lilly returns this weekend. These are their last starts to win the full-time fifth starter gig, though it's possible that Lou Piniella's thoughts on the bullpen will drive the fifth starter decision more than the performance of the potential fifth starters.
As for the Cubs, you'll have to check out the new-look lineup against lefties. It sports Marlon Byrd at the top, and Ryan Theriot at the bottom. On paper, it's a stupendously stupid move. But hey, if it works, it works.
As for the Mets, you'll have to watch and make sure none of them keel over following this weekends 20-inning marathon against the Cardinals (thanks for doing that, by the way, Mets). The Cubs may be the first team to sample Mets prospect Ike Davis, following the team's DFA of first baseman Mike Jacobs. Let's hope it's not Jason Heyward redux.
Offensively, the Mets are slumping as badly as the Cubs. Jose Reyes and Jason Bay, in particular, have been in a funk.
Series She-View
And now the best part of the preview: if the teams were represented by beautiful women, who would they be, and what would the match up look like. I thought long and hard about whether I should change things up this year, and offer a different representative for the Cubs this year, after a 2009 full of Marisa Miller. But then I realized Marisa Miller is still smoking hot.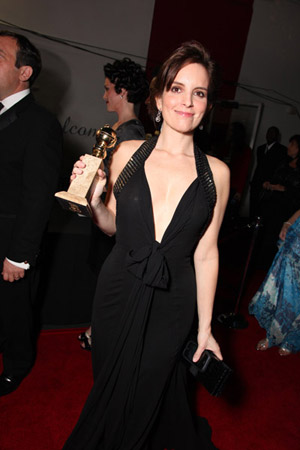 So, given the fact that she's thrown out the first pitch, sung the Seventh Inning Stretch, probably likes the Cubs, and – like the Cubs – is still hot, just one year older, I've chosen to stick with supermodel Marisa Miller.
You're welcome.
For the Mets, there is truly an entire universe of beautiful women from which to select. New York? Here's a tip: go there. Even if you're a hairy, food-covered slob, you're going to find a woman to love you in New York City, and she'll probably be an aspiring model.
That said, I've decided to go in a slightly different direction on this one. Instead of going with a classically "hot" chick, the Mets will be represented by a woman who is synonymous with New York. She's hilarious, and the truth is, she actually is pretty hot. It's 30 Rocker, funny hotty Tina Fey.
It's a red carpet match-up, and although I love the Cubs, I do love to laugh. So it's a tough one.
Versus