The Chicago Cubs welcome the actual best team in the National League Central – having just been crushed, again, by the powerful Pirates – the Cincinnati Reds. Maybe Dusty Baker will find a way to lift our collective spirits. Time for the Series Preview.
The idea is to hook you up with the bare minimum of what you need to know about every series this year. That way you can look like a genius, hardcore fan in front of all your friends, with minimum effort. Oh, and there will be pictures of hot chicks, too.
We're Going Streaking
The Cubs just lost two of three, again, to the Pittsburgh Pirates. The same Pirates who had taken 20(!) games prior to the Cubs series to win two games. With the Cubs, it takes just three.
The Reds lead the NL Central by a hair over the Cardinals, and they've got 9.5 on the Cubs. They've won seven of their last nine, and generally make Cubs fans poop their pants in jealousy. That's what you do when you're jealous, isn't it?
Game Times and Broadcasts
Thursday, July 1 at 1:20 CT on CSN.
Friday, July 2 at 1:20 CT on WGN.
Saturday, July 3 at 12:05 CT on CSN.
Sunday, July 4 at 1:20 CT on WGN.
Expected Starters and Lineups
These lineups are likely to be, well, wrong. But they'll be close.
Cubs
Starters: Carlos Silva (8-2, 3.01), Ryan Dempster (6-6, 3.58), Randy Wells (3-6, 4.96), Ted Lilly (3-6, 3.12)
Lineup (never the same, man; more than a few guesses her):
Theriot, 2B (Byrd? Colvin? Fukudome?)
Colvin, RF
Byrd, CF
Lee, 1B
Ramirez, 3B
Soriano, LF
Soto, C
Castro, SS
Pitcher
Reds
Starters: Travis Wood (0-0, -.–), Bronson Arroyo (7-4, 4.49), Johnny Cueto (8-2, 3.74), TBA
Lineups:
Brandon Phillips, 2B
Orlando Cabrera, SS
Joey Votto, 1B
Scott Rolen, 3B
Johnny Gomes, LF
Jay Bruce, RF
Drew Stubbs, CF
Ramon Hernandez, C
Pitcher
Hot or Not and Whom to Watch
Carlos Silva has had five consecutive quality starts. That is awesome – too bad it's resulted in no fewer than two losses.
After his flawless start, Andrew Cashner has given up runs in his last three appearances. He's still pretty good, though.
Alfonso Soriano, who'd gone through a mini-slump, has kicked things back up of late, and has his OPS up to .899.
Travis Wood is making his debut, which means he's dominate the Cubs. If you're new or you're a Pirate, it's a given. He was the Reds' minor league pitcher of the year in 2009.
Jay Bruce started out the year ice cold, and most forgot that he was, as recently as a year and a half ago, considered the Jason Heyward of the NL before Jason Heyward was, like, out of high school. He's been scorching lately, hitting over .400 in his last 9 games.
Joey Votto, who always rakes against the Cubs, has reached base safely in 38 consecutive games.
Series She-View
And now the best part of the preview: if the teams were represented by beautiful women, who would they be, and what would the match up look like. I thought long and hard about whether I should change things up this year, and offer a different representative for the Cubs this year, after a 2009 full of Marisa Miller. But then I realized Marisa Miller is still smoking hot.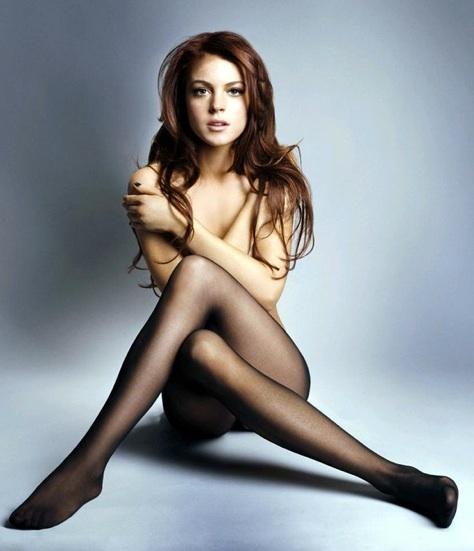 So, given the fact that she's thrown out the first pitch, sung the Seventh Inning Stretch, probably likes the Cubs, and – like the Cubs – is still hot, just one year older, I've chosen to stick with supermodel Marisa Miller.
You're welcome.
For the Cincinnati Reds, it's just got to be a redhead, no? They may not be from Cincinnati, but the fit is still there.
And while there aren't an unlimited supply of hot redheads, there are certainly enough to take us through the 2010 season. This time, we'll go with a familiar face from last year, because she's been in the news. Let's face it, Lindsay Lohan hasn't been hot in a couple years. Sex, drugs, and rock and roll have not been kind to her. But there was a time when Lindsay Lohan was perhaps the hottest chick around.
Lohan is back in the news lately with the announcement that she will play porn star Linda Lovelace in a biopic, which she hopes will resurrect her career, and we hope will resurrect her hotness. At least there's proof that she used to be hot.
Versus