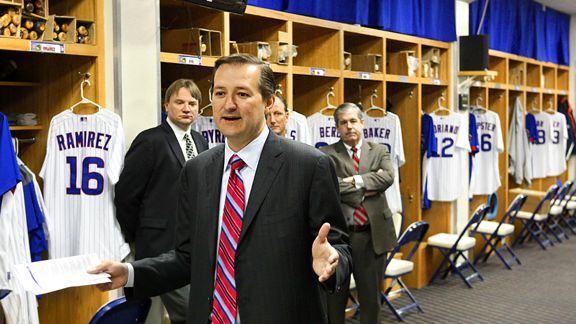 Chicago Cubs Chairman/Owner Tom Ricketts addressed his team and the media Saturday, and offered more than a few interesting thoughts on the upcoming season and the future of the Cubs' payroll.
"Really, the theme for the team this year is for the last six weeks of 2010, we were one of the best teams in baseball," Ricketts said. "And we have that team back, that manager back, and we've added to it, so I think we build on that momentum. We use the next 40 days to really get ready for the season, to come into the season with a sense of purpose, and a sense of pride and get off to a quick start and have a great year."
As for the 2011 payroll and other financial commitments, Ricketts reiterated that what money comes in will go right back out, be it to pay big league salaries, signing bonuses, or other organizational development expenses. Beyond this season, Ricketts was naturally unwilling to get into specifics, but he certainly dropped enough hints to pick up what he was laying down.
When asked about free-agent-to-be Albert Pujols, Ricketts was moderately cagey.
"I don't have any insights or thoughts on any of that situation. All I know is what I read in the paper. I guess it'll just have to sit until the end of the season."
But importantly, Ricketts added that there will be "financial flexibility" next year, and that he would be "open-minded" about throwing a "mega-deal" to the right free agent.
"Any owner would say the length of the deal is often a bigger problem than the amount of dollars, so you're going to have to be very careful if you're going to sign one of those longer deals," Ricketts said before (speaking in code to Mr. Pujols and his agent?) adding, "if you're going to take on a guy for seven, eight, nine years, you better make sure that's the guy you want."
---
---
Keep Reading ...
«
All Players Have Reported to Camp
|
Spring Training Bullets: February 20, 2011
»
---