The Chicago Cubs head to Philadelphia to take on the first place, and incredibly stacked, Phillies. At least they miss Cole Hamels…
By way of reminder, the Series Preview hooks you up with what you need to know about every series this year – streaks, broadcast information, pitchers, lineups, etc. That way you can look like a genius, hardcore fan in front of all your friends, with minimum effort. Oh, and there will be pictures of beautiful women, too.
We're Going Streaking
The Cubs are one game short of a season-high winning streak. That is factually accurate, and all I need to say.
Believe it or not, the Phillies have lost two of their last three series against far lessor competition, dropping five of eight along the way. Maybe the Phillies and Cubs aren't so different after all. Oh, well, except the whole 12-games-over-.500-best-team-in-baseball thing.
Game Times and Broadcasts
Thursday, June 9 at 6:05 CT on WGN, MLBN.
Friday, June 10 at 6:05 CT on CSN, MLBN.
Saturday, June 11 at 3:10 CT on FOX.
Sunday, June 12 at 12:35 CT on WGN.
Expected Starters and Lineups
These lineups are likely to be pretty close to what actually gets fielded.
Cubs
Starters: Randy Wells (1-1, 5.74), Carlos Zambrano (5-2, 3.98), Matt Garza (2-5, 4.07), Doug Davis (0-5, 6.38)
Lineup:
Fukudome, RF
Barney, 2B
Castro, SS
Pena, 1B
Ramirez, 3B
DeWitt, LF (among others)
Campana, CF (among others)
Soto, C
Pitcher
Phillies
Starters: Kyle Kendrick (3-4, 3.78), Roy Halladay (8-3, 2.56), Cliff Lee (5-5, 3.62), Roy Oswalt (3-4, 3.05)
Lineup:
Shane Victorino, CF
Placido Polanco, 3B
Chase Utley, 2B
Ryan Howard, 1B
Raul Ibanez, LF
Carlos Ruiz, C
Dominic Brown, RF
Wilson Valdez, SS (Jimmy Rollins could be back in time for the series, though)
Pitcher
Hot or Not and Whom to Watch
Blake DeWitt is on fire. He's appeared in each of the Cubs' last nine games, and he's gone 14 for 35 with four doubles and a homer.
Randy Wells and Matt Garza are back in the rotation, but neither has really shown that they're back to their formers selves (granted, Garza's had just one start since returning from the DL). Each still inspires quite a bit more confidence than Doug Davis, who remains winless as a Cub. More importantly, he given the Cubs the chance to win in just one of his starts.
Carlos Pena tied Alfonso Soriano for the team lead in RBI with his home run yesterday. Their 29 RBI is good enough for 72nd place in baseball. Yo.
So, the Phillies have Roy Halladay. And Cliff Lee. And Roy Oswalt. They're pretty much always good.
Though, Roy Oswalt was rocked in his last start against the Dodgers. He'll look to get back on track against the Cubs. Which he will.
And Roy Halladay has never beaten the Cubs. But he will.
I know, I know. I'm being too sarcastic. At least the Cubs get today's game against fill-in starter Kyle Kendrick, who allowed four runs in just five innings his last time out. If the Cubs don't get the win today, splitting the series becomes a near impossibility.
Offensively, the Phillies are in a Cub-like funk of failing to get guys in once they get on base. They've scored three or fewer runs in seven of their last eight games.
Series She-View
The Series She-View is one beautiful woman representing the Cubs taking on another (usually) beautiful woman representing the opponent. The Cubs' representative will change as the team's needs change – in other words, if the Cubs are winning, the rep will stay the same. But if the Cubs' performance calls for a change, someone new will step in. The opponent's representative will change from series to series, at my whim. But at least she'll probably be wearing the opponent's colors or something like that.
The Cubs are currently represented by Emma Watson. I know what you're thinking, but it's not creepy – she's 21 now. Just because you picture her as a kid wielding a wand doesn't mean she's not a full-on attractive woman now. Also, the final Harry Potter flick is coming out sometime soon. So she got the job.
And she's keeping the job. Yes, I know the Cubs lost their last series against the Reds. But, when you're on a six-game losing streak entering the series, and you finally break it, I think that's mission accomplished. Also… she's hot. Emma Watson remains.
As for the Phillies, we'll go with Malin Akerman. No real reason here except that the third season of 'Children's Hospital' recently premiered on Adult Swim, and, while watching it, I thought to myself, "wow, Malin Akerman is really hot." So that's that.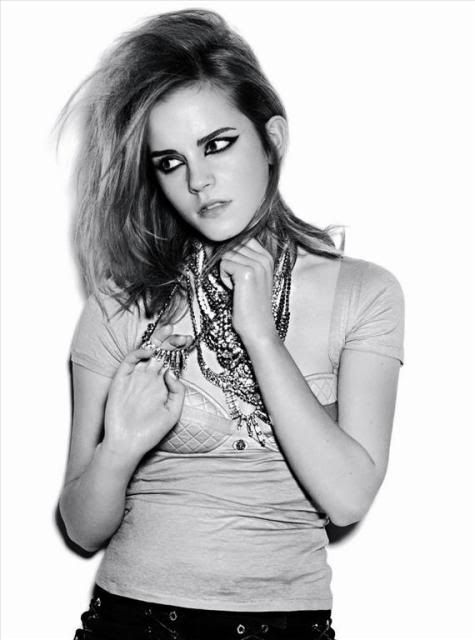 Versus