The Cubs head down to Miami to take on the newly-minted Miami Marlins, complete with a circus ballpark, circus players, a circus manager (freshly-returned from a suspension), and a circus atmosphere. Too bad the Cubs won't face Carlos Zambrano, otherwise this thing could get really nuts.
By way of reminder, the Series Preview hooks you up with what you need to know about every series this year – streaks, broadcast information, pitchers, expected lineups, etc. That way, if you want to check only one place to get a sense about an upcoming series, or to plan ahead, you've got it. Oh, and there will be pictures of beautiful women, too.
We're Going Streaking
The Cubs dropped the final two games of their series against the Cardinals, which makes their series losses this year a perfect set (series losses to the Nationals, Brewers, and Cardinals). They've just got to win that first series to get the ball rolling. Right?
The Marlins just took two of three from the Astros after dropping both games in a two-game set to the Phillies. They're 4-6 overall, a game better than the Cubs.
Game Times and Broadcasts
Tuesday, April 17 at 6:10 CT on CSN.
Wednesday, April 18 at 6:10 CT on WGN.
Thursday, April 19 at 11:40 CT on WGN, MLBN.
Expected Starters and Lineups
These lineups are likely to be pretty close to what actually gets fielded, but you'll want to check each day's Pre-Gamin' post for the actual lineup.
Cubs
Starters: Ryan Dempster (0-1, 1.88), Matt Garza (1-0, 1.23), Jeff Samardzija (2-0, 3.95)
Lineup:
David DeJesus, RF
Darwin Barney, 2B
Starlin Castro, SS
Alfonso Soriano, LF
Bryan LaHair, 1B
Ian Stewart, 3B
Geovany Soto, C
Marlon Byrd, CF
Pitcher
Marlins
Starters: Josh Johnson (0-2, 8.38), Mark Buehrle (0-2, 3.65), Ricky Nolasco (1-0, 3.46)
Lineup:
Jose Reyes, SS
Emilio Bonafacio, CF
Hanley Ramirez, 3B
Giancarlo Stanton, RF
Omar Infante, 2B
Logan Morrison, LF
Gaby Sanchez, 1B
John Buck, C
Pitcher
Hot or Not and Whom to Watch
Ryan Dempster and Matt Garza have been brilliant through two starts, but Jeff Samardzija could stand to bounce back from a rough-ish outing against the Cardinals.
Starlin Castro has made the much-discussed errors, sure, but he also leads the Cubs in RBI, steals, and batting average. He doesn't see a lot of pitches or take a lot of walks, but the kid hits. He just hits.
Bryan LaHair continues to hit. He's got a .348/.423/.696 line so far on the year, but he's struck out in 10 of his 23 at bats.
Marlon Byrd and Geovany Soto have been awful, but you didn't need me to tell you that. I expect to see each of them sit at least once this series.
David DeJesus on-base percentage watch: .432. You know what not to do with him.
Omar Infante has been all-universe for the Marlins, leading the team in homers with four, and putting up a .343/.361/.829 line.
Josh Johnson hasn't been himself so far this year. He's been healthy (he's usually not) and kind of crappy (he's usually not). The Cubs are frequently a soft place to land for guys with early-season struggles. Opposing batters have been hitting .447 against Johnson.
New Marlins closer Heath Bell has had a rough start for the Fish after signing a big-money deal in the offseason. His ERA is pushing 10, and he's allowed 11 base runners in just three innings of work.
Series She-View
The Series She-View is one beautiful woman representing the Cubs taking on another (usually) beautiful woman representing the opponent. The Cubs' representative will change as the team's needs change – in other words, if the Cubs are winning, the rep will stay the same. But if the Cubs' performance calls for a change, someone new will step in. The opponent's representative will change from series to series, at my whim. But at least she'll probably be wearing the opponent's colors or have some connection to the team or something like that. It is immature, and the connection to baseball is tenuous at best. These things, I know.
Well, Kate Upton's time leading the Cubs – for now – has come to a close. A 3-7 start just isn't going to get the job done no matter how beautiful you are. And, now taking a page out of the if-you-can't-beat-them-join-them book, the Cubs will now be represented by the representative who just crushed them. That is to say, Kelly Brook, who just helped the Cardinals take the Cubs down, gets the job. Treat us well, Kelly.
As for Miami, there are a number of great reps to choose from, given the locale. How about Eva Mendes, who isn't just a Miami interloper, she's actually from Miami. Sure. That'll work.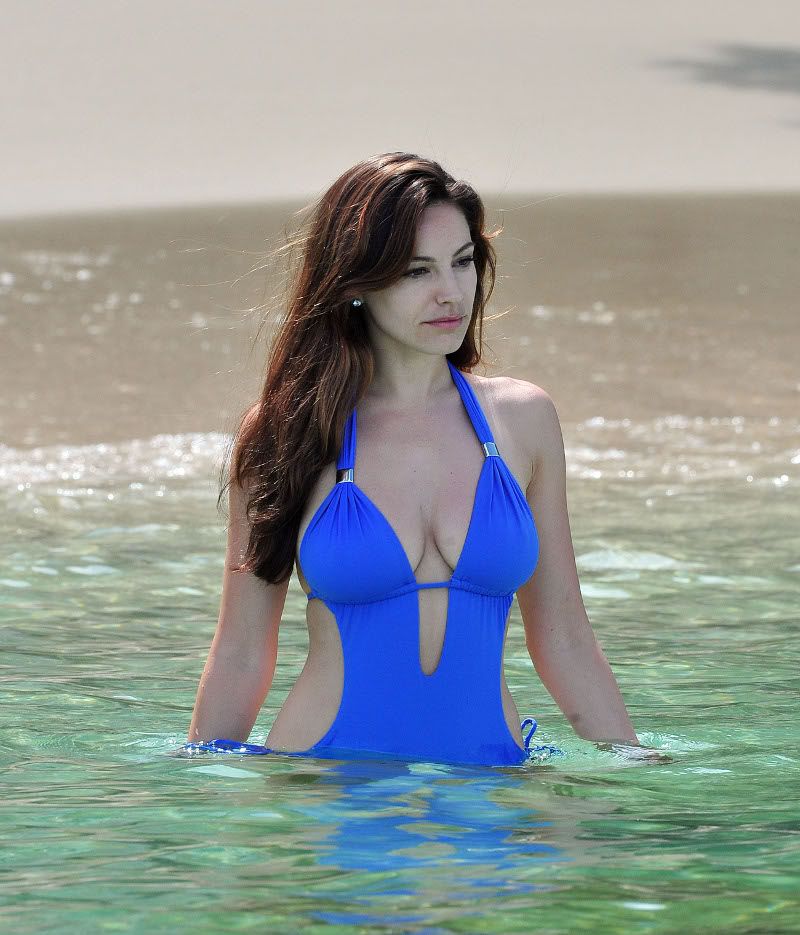 Versus