The Cubs head to Philadelphia to take on the formerly-incredible, suddenly-mortal Phillies for four games. Their offense has struggled almost as much as the Cubs' has, and they've actually scored fewer runs than the Cubs have on the year (and that's after scoring 15 runs over the last two games). You didn't think that was possible, did you?
By way of reminder, the Series Preview hooks you up with what you need to know about every series this year – streaks, broadcast information, pitchers, expected lineups, etc. That way, if you want to check only one place to get a sense about an upcoming series, or to plan ahead, you've got it. Oh, and there will be pictures of beautiful women, too.
We're Going Streaking
The Cubs won a series! The Cubs won a series! They took two of three from the Cardinals this week, and will look to repeat the feat against the Phillies. A series split would be fine, though, all things considered.
The Phillies likewise won their last series (against the Diamondbacks), after splitting a four-game set with the woeful Padres. They are 9-10 on the year.
Game Times and Broadcasts
Friday, April 27 at 6:05 CT on CSN, MLBN.
Saturday, April 28 at 6:05 CT on WGN, MLBN.
Sunday, April 29 at 12:35 CT on WGN.
Monday, April 30 at 6:05 CT on CSN.
Expected Starters and Lineups
These lineups are likely to be pretty close to what actually gets fielded, but you'll want to check each day's Pre-Gamin' post for the actual lineup.
Cubs
Starters: Paul Maholm (1-2, 8.36), Randy Wells (0-0, 3.60), Matt Garza (1-1, 3.38), Jeff Samardzija (2-1, 4.13)
Lineup:
David DeJesus, RF
Tony Campana, CF
Starlin Castro, SS
Bryan LaHair, 1B
Alfonso Soriano, LF
Ian Stewart, 3B
Darwin Barney, 2B
Geovany Soto, C
Pitcher
Phillies
Starters: Roy Halladay (3-1, 1.50), Joe Blanton (1-3, 4.34), Kyle Kendrick (0-1, 9.39), Vance Worley (2-1, 2.16)
Lineups:
Juan Pierre, LF
Pete Orr, 2B
Jimmy Rollins, SS
Hunter Pence, RF
Shane Victorino, CF
Ty Wigginton/Placido Polanco, 3B
Laynce Nix, 1B
Brian Schneider/Carlos Ruiz, C
Pitcher
Hot or Not and Whom to Watch
Randy Wells gets another shot to show he deserves to be back with the big team permanently, while Ryan Dempster continues to recover from a quad strain. And Paul Maholm will try to carry some momentum into this start from his last – which was his first solid one this year.
Ian Stewart is really struggling. He's hit the ball reasonably hard a few times over the past week, but his season line has sunk to .175/.246/.270. It's early, but, given that he sported a nearly identical line in last year's injury-filled campaign (one of which injuries was a wrist problem he's still dealing with), it's fair to be worried.
Alfonso Soriano's OPS is even lower than Stewart's right now – it's just .500. At least Bryan LaHair is killing it, with a 1.190 OPS through 54 plate appearances.
Starlin Castro had a crummy series against the Cardinals, mustering just two hits (both singles) in 13 plate appearances.
James Russell has yet to give up an earned run in seven innings of work this year. Ditto Scott Maine in his 3.2 innings.
In the Spring, Roy Halladay was getting slapped around. His velocity was bad, and he couldn't locate his pitches. Folks were worried. Well, he's been ridiculously good – again – so I think we can put those worries to rest, only to be exhumed if the Cubs crush him (which they kind of did one time last year).
Vance Worley continues to dominate despite not having the look of a dominant pitcher. Sometimes scouts are wrong, I suppose.
Prepare to … cry? Laugh? Be angry? The best hitter on the Phillies right now is arguably Juan freaking Pierre. He's going .339/.361/.373. That's not exactly an all-universe line, but the Phillies are at .254/.294/.355 as a team.
New closer Jonathan Papelbon has been lights out for the Phillies, so at least one of this offseason's insane contracts is working out in the early going.
Series She-View
The Series She-View is one beautiful woman representing the Cubs taking on another (usually) beautiful woman representing the opponent. The Cubs' representative will change as the team's needs change – in other words, if the Cubs are winning, the rep will stay the same. But if the Cubs' performance calls for a change, someone new will step in. The opponent's representative will change from series to series, at my whim. But at least she'll probably be wearing the opponent's colors or have some connection to the team or something like that. It is immature, and the connection to baseball is tenuous at best. These things, I know.
We dared to give Marisa Miller another shot as the Cubs' representative against the Cardinals, and it paid off with the Cubs' FIRST series win of the year. She ain't goin' anywhere until the Cubs get crushed.
As for the Phillies, it's going to be Danica Patrick. I know, you're like, "wha?" No, she's not from Philadelphia, no the Phillies aren't sponsored by GoDaddy, and no she isn't a fan of the team to my knowledge. But, here's how we get there: Phillies is kind of like the plural of filly (not really, but it sounds like it). A filly is a female racehorse. Danica Patrick is a female race car driver. So, there you go. There's always an internal logic.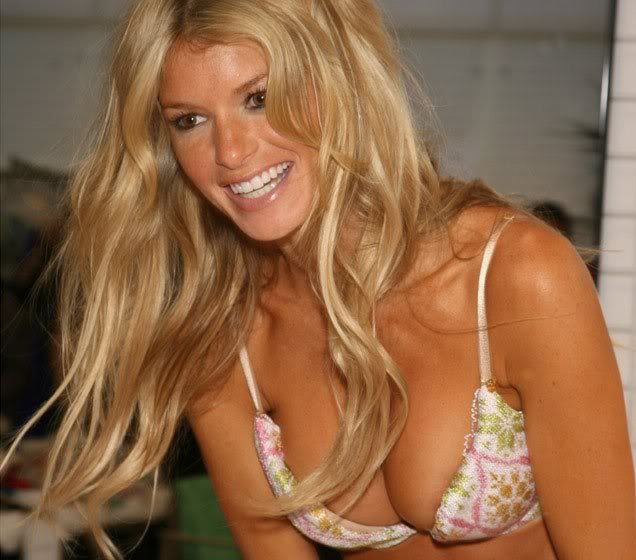 versus