Oh, hey, good, it's the Dodgers. At least the Cubs catch a break after a heart-breaking, wall-punching loss.
By way of reminder, the Series Preview hooks you up with what you need to know about every series this year – streaks, broadcast information, pitchers, expected lineups, etc. That way, if you want to check only one place to get a sense about an upcoming series, or to plan ahead, you've got it. Oh, and there are pictures of beautiful women, too.
We're Going Streaking
The Cubs split a rain-induced two-game set with the Reds, though it should have been a sweep. It really, really, really should have been a sweep. The Cubs haven't lost a series in a couple weeks, so, at least there's that.
The Dodgers are 17-8. They have the best record in the National League, and they are world eaters. They did just lose two of three to the Rockies, though, so perhaps they've been exposed! Ha. No. I'm just playin'.
Game Times and Broadcasts
Friday, May 4 at 1:20 CT on CSN.
Saturday, May 5 at 12:05 CT on CSN.
Sunday, May 6 at 1:20 CT on WGN.
Expected Starters and Lineups
These lineups are likely to be pretty close to what actually gets fielded, but you'll want to check each day's Pre-Gamin' post for the actual lineup.
Cubs
Starters: Paul Maholm (2-2, 6.20), Matt Garza (2-1, 2.67), Chris Volstad (0-3, 6.11)
Lineup:
David DeJesus, RF
Tony Campana, CF
Starlin Castro, SS
Bryan LaHair, 1B
Alfonso Soriano, LF
Ian Stewart, 3B
Darwin Barney, 2B
Geovany Soto, C
Pitcher
Dodgers
Starters: Chad Billingsly (2-1, 2.64), TBA, TBA
Lineup:
Dee Gordon, SS
Mark Ellis, 2B
Matt Kemp, CF
Andre Ethier, RF
James Loney, 1B
Tony Gwynn, Jr., LF
Jerry Hairston, Jr./Adam Kennedy, 3B
A.J. Ellis, C
Pitcher
Hot or Not and Whom to Watch
The Cubs' leader in runs scored is David DeJesus, which you might expect. What you might not expect? His 13 runs scored is good for 64th(!!!!!!!!) in baseball. DeJesus is also in a deep slump, going just .200/.238/.250 in his last 10 games. Yikes.
DeJesus is actually tied in runs scored with Bryan LaHair, who is LaDiculous.™ He just keeps hitting (of his 13 runs scored, he's driven himself in more than half the time!), and I love him for it. He just "qualified" for various leader boards, and his 1.289 OPS is the second best in baseball (only second best? How could anyone have a higher OPS? I kid, as you'll see…).
Matt Garza is very good. That is all.
Can Chris Volstad finally have a start that actually looks good while you're watching it, rather than merely looks good when you analyze it via advanced stats?
Don't look now, but Geovany Soto has a .267/.450/.467 line over his last five games.
Matt Kemp is so absurdly good that he makes Bryan LaHair look merely LaDequate. His 1.356 OPS leads MLB, as do his individual components (OBP and SLG). He leads baseball in homers, is second in RBI, leads in runs scored … I could go on.
Chad Billingsly has been great this year, and has always dominated the Cubs. Today might not be fun.
If Matt Kemp weren't so insanely hot, folks would probably be talking more about Andre Ethier, his outfield companion, who's hitting .287/.356/.564 and actually leads baseball in RBI.
The Dodgers, on the whole, are getting ridiculous contributions from spare parts including Jerry Hairston, Jr. (.396 OBP), A.J. Ellis (.917 OPS), and Chris Capuano (2.73 ERA). They just signed Bobby Abreu, so I expect him to have five homers this series.
Series She-View
The Series She-View is one beautiful woman representing the Cubs taking on another (usually) beautiful woman representing the opponent. The Cubs' representative will change as the team's needs change – in other words, if the Cubs are winning, the rep will stay the same. But if the Cubs' performance calls for a change, someone new will step in. The opponent's representative will change from series to series, at my whim. But at least she'll probably be wearing the opponent's colors or have some connection to the team or something like that. It is immature, and the connection to baseball is tenuous at best. These things, I know.
It would be very easy to dump Marisa Miller as the Cubs' representative after yesterday's Marmbacle (that's an awkward combination of Marmol and debacle – I can keep them coming), but I can't do it. The series was another "non-loss" by the Cubs, who split the two-game set. Gotta keep that mojo going. I like to think she's reading about how the Cubs just won.
The Dodgers get a native Southern Californian, whom I think actually looks pretty good with blue hair. Sue me. It's Katy Perry. She's as hot as Matt Kemp is good at baseball.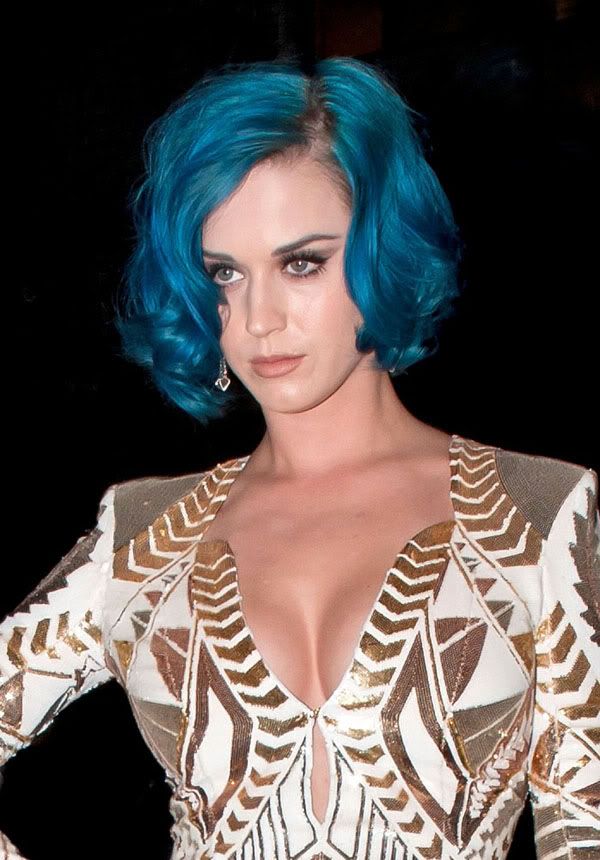 Versus