The Cubs head up the road to Milwaukee with a bit of momentum in their pants. It's a battle for last place in the NL Central!
By way of reminder, the Series Preview hooks you up with what you need to know about every series this year – streaks, broadcast information, pitchers, expected lineups, etc. That way, if you want to check only one place to get a sense about an upcoming series, or to plan ahead, you've got it. Oh, and there are pictures of beautiful women, too.
We're Going Streaking
The Cubs won ANOTHER series, this time against the Braves, and having not lost a series in their last five. The team is 13-18, tied for last in the NL Central (but on the rise) with …
The Brewers have lost four straight series, and are decidedly not on the rise. Their 13-18 record puts them a surprising seven games out in the NL Central.
Game Times and Broadcasts
Friday, May 11 at 7:10 CT on WGN.
Saturday, May 12 at 12:05 CT on FOX.
Sunday, May 13 at 1:10 CT on WGN.
Expected Starters and Lineups
These lineups are likely to be pretty close to what actually gets fielded, but you'll want to check each day's Pre-Gamin' post for the actual lineup.
Cubs
Starters: Matt Garza (2-1, 2.67), Chris Volstad (0-4, 6.55), Jeff Samardzija (4-1, 3.03)
Lineup:
David DeJesus, RF
Tony Campana, CF
Starlin Castro, SS
Bryan LaHair, 1B
Alfonso Soriano, LF
Ian Stewart, 3B
Geovany Soto, C
Darwin Barney, 2B
Pitcher
Brewers
Starters: Randy Wolf (2-3, 6.68), Shaun Marcum (1-1, 3.41), Marco Estrada (0-2, 4.50)
Lineup:
Nyjer Morgan, CF
Rickie Weeks, 2B
Ryan Braun, LF
Aramis Ramirez, 3B
Corey Hart, RF
Jonathan Lucroy, C
Taylor Green, 1B
Cesar Izturis, SS
Pitcher
Hot or Not and Whom to Watch
Bryan LaHair, all kinds of awesome, top three hitter in baseball, absurdly long on-base streak, blah, blah, blah.
It'll be nice to see Matt Garza back on the mound. He missed only one start, but it feels like it's been forever. The last time he faced the Brewers he had a shutout locked down until he threw that ball hilariously into the stands. He can help the Cubs' starting pitchers keep up a ridiculous run of a 2.52 ERA over their last 17 games.
Alfonso Soriano has a .579 OPS. This cannot continue.
After a bit of a slump, David DeJesus has caught fire. In his last six games, DeJesus sports a .350/.519/.550 line.
John Axford and his mustache have converted 49 consecutive saves. Don't get me wrong, I'd prefer we don't even see him this series, but wouldn't it be sweet to watch the Cubs end that streak?
Clearly Ryan Braun wasn't getting his ability from a bottle, as he's hitting .313/.363/.670 on the year (try to figure out what parts of that are sarcastic). Still not sure about Jonathan Lucroy, who is somehow hitting .321/.370/.476.
Aramis Ramirez, ever the quick starter, is still hitting just .219/.266/.386.
The Cubs luck out this series by missing BOTH Zack Greinke and Yovani Gallardo, so hopefully they can capitalize.
Series She-View
The Series She-View is one beautiful woman representing the Cubs taking on another (usually) beautiful woman representing the opponent. The Cubs' representative will change as the team's needs change – in other words, if the Cubs are winning, the rep will stay the same. But if the Cubs' performance calls for a change, someone new will step in. The opponent's representative will change from series to series, at my whim. But at least she'll probably be wearing the opponent's colors or have some connection to the team or something like that. It is immature, and the connection to baseball is tenuous at best. These things, I know.
I'm not saying I'm the reason the Cubs have been hot of late, but since installing Marisa Miller as the Cubs' representative, they haven't lost a series. She stays, we smile.
For the Brewers, nothing changes from year to year: beautiful woman with beer. A man needs little else – at least according to the picture.
Beer is good, but Marisa is awfully pretty…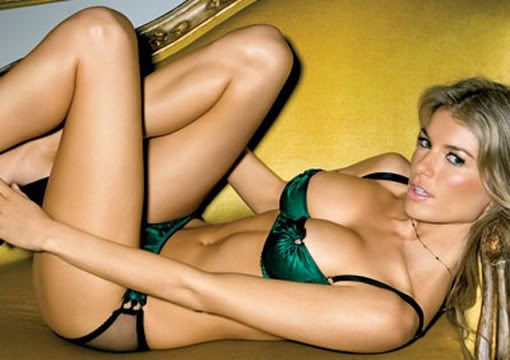 Versus