The Cubs head to St. Louis for a short, two-game set against the Cardinals (and return home for a short, two-game set against the Phillies). The Cubs won their last series against the Cardinals in exciting, dramatic fashion. More of that would be nice.
By way of reminder, the Series Preview hooks you up with what you need to know about every series this year – streaks, broadcast information, pitchers, expected lineups, etc. That way, if you want to check only one place to get a sense about an upcoming series, or to plan ahead, you've got it. Oh, and there will be pictures of beautiful women, too.
We're Going Streaking
The Cubs FINALLY dropped a series, losing two of three in Milwaukee. The series loss put them back in last place in the NL Central, but they actually gained a game on the NL Central-leading Cardinals, because …
The Cardinals were swept in three games by the Braves (you know, the same Braves team that the Cubs largely dominated), and fell back to 20-14. They're still up 2.5 in the Central, though.
Game Times and Broadcasts
Monday, May 14 at 6:05 CT on ESPN, WCIU.
Tuesday, May 15 at 12:45 CT on CSN.
Expected Starters and Lineups
These lineups are likely to be pretty close to what actually gets fielded, but you'll want to check each day's Pre-Gamin' post for the actual lineup.
Cubs
Starters: Ryan Dempster (0-1, 1.02), Paul Maholm (4-2, 4.05)
Lineup:
David DeJesus, RF
Tony Campana, CF
Starlin Castro, SS
Bryan LaHair, 1B
Alfonso Soriano, LF
Ian Stewart, 3B
Geovany Soto, C
Darwin Barney, 2B
Pitcher
Cardinals
Starters: Jake Westbrook (4-2, 1.76), Kyle Lohse (5-1, 2.08)
Lineup:
Rafael Furcal, SS
Jon Jay, CF
Carlos Beltran, RF
Matt Holliday, LF
Lance Berkman, 1B
David Freese, 3B
Yadier Molina, C
Tyler Greene, 2B
Pitcher
Hot or Not and Whom to Watch
Bryan LaHair had just one hit in this weekend's series, but he did hit the ball hard a few times. Still, he had what I would call his first "foolish" looking at bats of the year, and he's probably going to have to do some adjusting. He was never going to keep up his Ruthian pace, as Theo Epstein put it, but he can remain a top tier hitter if he keeps reforming his game.
Ryan Dempster has been absurdly good this year. His W/L record is stupid because W/L record, as a stat, is stupid. Every other reasonable stat says that he's been among the top five pitchers in baseball.
… and, in his last four starts, Paul Maholm may have outpitched Dempster. In those starts, Maholm has a quality start in each, throwing 25.1 innings and giving up just three earned runs. Opponents have just a .505 OPS against him during that stretch, which is awesome, but they've also got just a .173 BABIP, which suggests he's due for a bit of regression. The Cardinals' lineup can do that to a lot of folks.
Seriously, look at that freaking Cardinals lineup. With Carlos Beltran tearing the world apart, and Lance Berkman back from the disabled list, they may have the best lineup in baseball outside of Arlington. How do they do this every year?
I don't even have Allen Craig in the starting lineup, because I'm not sure where to put him. But, in limited duty this year, the outfielder has a .359/.413/.821 line. He has five homers in just 39 at bats.
The Cubs might not be facing the biggest names in the Cardinals rotation, but they're facing arguably the two most effective pitchers all year. Obligatory voodoo magic comment.
Series She-View
The Series She-View is one beautiful woman representing the Cubs taking on another (usually) beautiful woman representing the opponent. The Cubs' representative will change as the team's needs change – in other words, if the Cubs are winning, the rep will stay the same. But if the Cubs' performance calls for a change, someone new will step in. The opponent's representative will change from series to series, at my whim. But at least she'll probably be wearing the opponent's colors or have some connection to the team or something like that. It is immature, and the connection to baseball is tenuous at best. These things, I know.
Marisa Miller had her first hiccup as the Cubs' rep, but I don't think it's quite enough to bounce her from the role. If the Cubs get swept in this two-game set, I'll have to re-think things. For now, she stays, and she stays clothing optional.
For the Cardinals, who don't get a real representative, how about Big Red? You know, the gum? It always seems like it's going to be better than it is – at first it tastes all right, but then there's just too much cinnamony burn for me. So, ultimately, it's kind of crappy.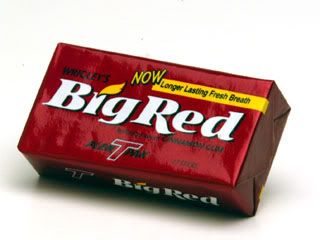 Versus