The Cubs head out West to take on the Giants in San Francisco for four games – quite a change from facing the Padres for three at Wrigley.
By way of reminder, the Series Preview hooks you up with what you need to know about every series this year – streaks, broadcast information, pitchers, expected lineups, etc. That way, if you want to check only one place to get a sense about an upcoming series, or to plan ahead, you've got it. Oh, and there will be pictures of beautiful women, too.
We're Going Streaking
The Cubs have won three games in a row! I don't have any other details at this time, but I know that the last three games were wins. That's all that matters.
The Giants have won nine of fourteen, and two of those five losses came in a series split with the scorchingly hot Marlins. So, it's fair to say that the Giants are pretty hot right now, themselves. They're three games over .500, and five games back of the Dodgers in the NL West.
Game Times and Broadcasts
Friday, June 1 at 9:15 CT on WGN.
Saturday, June 2 at 6:15 CT on FOX.
Sunday, June 3 at 3:05 CT on WGN.
Monday, June 4 at 2:45 CT on CSN.
Expected Starters and Lineups
These lineups are likely to be pretty close to what actually gets fielded, but you'll want to check each day's Pre-Gamin' post for the actual lineup.
Cubs
Starters: Paul Maholm (4-3, 4.62), Matt Garza (2-3, 4.22), Travis Wood (0-1, 5.94), Jeff Samardzija (5-3, 3.09)
Lineup:
David DeJesus, RF
Starlin Castro, SS
Joe Mather, CF
Bryan LaHair, 1B
Alfonso Soriano, LF
Ian Stewart, 3B
Darwin Barney, 2B
Steve Clevenger, C (do he and Barney move back up the order?)
Pitcher
Giants
Starters: Madison Bumgarner (5-4, 3.14), Matt Cain (5-2, 2.79), Barry Zito (4-2, 3.41), Ryan Vogelsong (3-2, 2.36),
Lineup:
Gregor Blanco, RF
Ryan Theriot, 2B
Melky Cabrera, LF
Buster Posey, C
Angel Pagan, CF
Brandon Belt, 1B
Joaquin Arias
Brandon Crawford, SS
Pitcher
Hot or Not and Whom to Watch
This isn't so much a "whom" to watch, but a what: tomorrow's game will be a 1912 throwback, complete with jerseys (including those of the "New York Giants"), no video replays, a "vintage" looking scoreboard, peanuts for 5 cents, organ music, and lineups announced from the field via megaphone. Pretty cool.
Darwin Barney has been blisteringly hot in his last six games, going .381/.458/.810. Also hot of late? Starlin Castro, who's gone .367/.387/.633 during a seven-game hitting streak.
Matt Garza could use a good start after back-to-back disastrous starts against the Astros and Pirates. Indeed, him pitching well might be the single most important thing happening in this entire series. No pressure, though, Matt.
Yes, that is Ryan Theriot in the Giants' lineup.
Melky Cabrera's May line is crazy: .429/.457/.647. The Giants got him for Jonathan Sanchez, who's currently rehabbing for the Royals in the minor leagues.
Madison Bumgarner is 0-3 with a 4.33 ERA over his last four starts after winning five starts in a row.
How nice would it be to stumble ass-backwards into a dominant starter like Ryan Vogelsong? Speaking of ass-backwards starters, Barry Zito is, like, pitching well this year. What is going on?!
Series She-View
The Series She-View is one beautiful woman representing the Cubs taking on another (usually) beautiful woman representing the opponent. The Cubs' representative will change as the team's needs change – in other words, if the Cubs are winning, the rep will stay the same. But if the Cubs' performance calls for a change, someone new will step in. The opponent's representative will change from series to series, at my whim. But at least she'll probably be wearing the opponent's colors or have some connection to the team or something like that. It is immature, and the connection to baseball is tenuous at best. These things, I know.
No surprise here, but Irina Shayk is staying in charge after the Cubs swept the Padres. There's no Cubs connection that I'm aware of, but that apparently doesn't matter.
As for the Giants, I like to go with someone very tall (get it?). How about international model Tiiu Kuik? She's 6'2″ and all kinds of pretty.
And, hey, look at me – I even got the colors of their attire to match their respective teams. Win!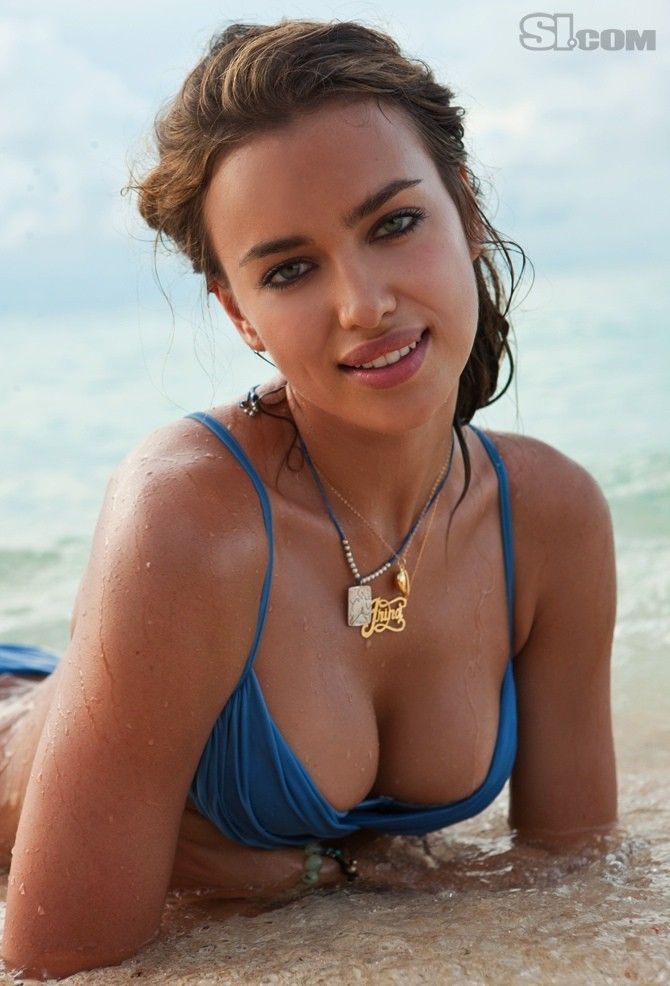 Versus