The BP Crosstown Cup Series Rivalry Match-Up Classic of Chicago is back for its second half. The White Sox swept the first half at Wrigley Field, so I can only assume the Cubs will return the favor. It won't win them the BP Cup, though, which stays with the reigning champion (White Sox) in the event of a tie.
By way of reminder, the Series Preview hooks you up with what you need to know about every series this year – streaks, broadcast information, pitchers, expected lineups, etc. That way, if you want to check only one place to get a sense about an upcoming series, or to plan ahead, you've got it. Oh, and there will be pictures of beautiful women, too.
We're Going Streaking
The Cubs once again did the 'ole win the first game, drop the latter two games of a series thing against the Red Sox, and they continue their .333 pace unabated. The Cubs remain the worst team in baseball.
The White Sox are four games over .500, and a game and a half up in the AL Central. How nice for them. They've lost four straight series, though.
Game Times and Broadcasts
Monday, June 18 at 7:10 CT on WCIU.
Tuesday, June 19 at 7:10 CT on CSN.
Wednesday, June 20 at 7:10 CT on WGN.
Expected Starters and Lineups
These lineups are likely to be pretty close to what actually gets fielded, but you'll want to check each day's Pre-Gamin' post for the actual lineup.
Cubs
Starters: Matt Garza (2-5, 4.04), Travis Wood (0-3, 4.58), Ryan Dempster (3-3, 2.11)
Lineup:
Tony Campana, CF
Starlin Castro, SS
David DeJesus, RF
Alfonso Soriano, DH
Bryan LaHair, 1B
Reed Johnson, LF
Geovany Soto, C (could be back today)
Darwin Barney, 2B
Luis Valbuena, 3B
White Sox
Starters: Zach Stewart (1-1, 5.18), Jake Peavy (6-2, 2.91), Gavin Floyd (4-7, 5.63)
Lineups:
Alejandro De Aza, CF
Gordon Beckham, 2B
Adam Dunn, DH
Paul Konerko, 1B
AJ Pierzynski, C
Dayan Viciedo, LF
Alex Rios, RF
Alexei Ramirez, SS
Orlando Hudson, 3B
Hot or Not and Whom to Watch
Matt Garza is still trying to get on track. Well, that is to say, the track he road last year, when he looked like one of the top 15 starters in the game.
Was Friday's start Ryan Dempster's last as a member of the Cubs? Or just his last at Wrigley? We'll see if he's on the mound for the Cubs on Wednesday, but I'm betting he is.
Bryan LaHair has quietly gone on another cool streak, hitting .167/.286/.222 over his last six games.
David DeJesus has been not-so-quietly cold, going just .146/.288/.268 in his last 14 games. Say, when did DeJesus start hitting third regularly? … Ah, yes. Fourteen games ago.
AJ Pierzynski has a .500 OPS in his last eight games. Face!
On the flip side, Paul Konerko, who leads the AL in BA (.359) and OBP (.435), is hitting .400/.465/.656 since mid-May.
Adam Dunn is officially back. He leads the league in homers (23), walks (53), and … strikeouts (104).
Series She-View
The Series She-View is one beautiful woman representing the Cubs taking on another (usually) beautiful woman representing the opponent. The Cubs' representative will change as the team's needs change – in other words, if the Cubs are winning, the rep will stay the same. But if the Cubs' performance calls for a change, someone new will step in. The opponent's representative will change from series to series, at my whim. But at least she'll probably be wearing the opponent's colors or have some connection to the team or something like that. It is immature, and the connection to baseball is tenuous at best. These things, I know.
We're going to stick with Brooklyn Decker for another series for the Cubs for at least three reasons: (1) the Cubs lost two of three to the Red Sox under her watch, but that's their season average, so it's not like she did worse than anyone else; (2) it's another relatively important series, so the Cubs need all the help they can get; and (3) do you really need a third reason to enjoy the beauty of Brooklyn Decker?
The White Sox are not getting a sexy representative. They still get what they get.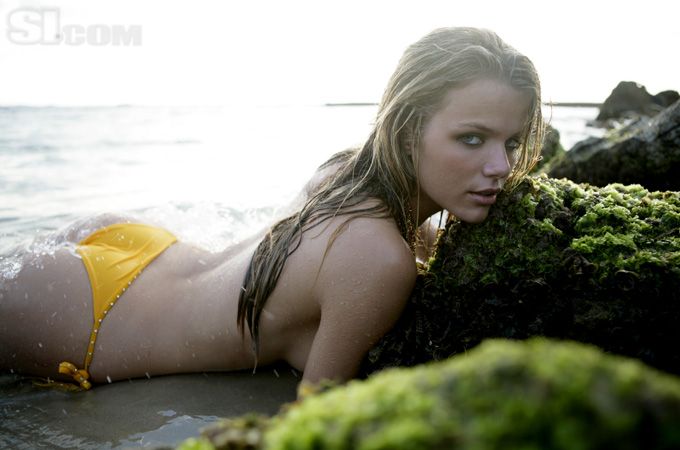 versus