If you can ignore Wednesday's CF, the Cubs had a nice series against the Mets, winning two of three. The Astros come to town next, having become more like the team we all expected them to be.
By way of reminder, the Series Preview hooks you up with what you need to know about every series this year – streaks, broadcast information, pitchers, expected lineups, etc. That way, if you want to check only one place to get a sense about an upcoming series, or to plan ahead, you've got it. Oh, and there will be pictures of beautiful women, too.
We're Going Streaking
The Cubs lost their last one by a run or two, but they won a couple games before that. Hooray!
The Astros have won their last two series, although they lost last night to the Padres. They're only 5.5 games better than the Cubs this year, 9.5 games out in the NL Central. They are slowly becoming more like the team that was expected to be far, far worse than the Cubs.
Game Times and Broadcasts
Friday, June 29 at 1:20 CT on WGN.
Saturday, June 30 at 3:05 CT on WGN.
Sunday, July 1 at 1:20 CT on CSN.
Expected Starters and Lineups
These lineups are likely to be pretty close to what actually gets fielded, but you'll want to check each day's Pre-Gamin' post for the actual lineup.
Cubs
Starters: Paul Maholm (4-6, 5.38), Matt Garza (3-6, 4.06), Travis Wood (2-3, 3.54)
Lineup:
David DeJesus, CF
Starlin Castro, SS
Anthony Rizzo, 1B
Alfonso Soriano, LF
Bryan LaHair, RF
Darwin Barney, 2B
Geovany Soto, C
Luis Valbuena, 3B
Pitcher
Astros
Starters: Bud Norris (5-4, 4.81), J.A. Happ (6-7, 4.83), Wandy Rodriguez (6-5, 3.52)
Lineups:
Jose Altuve, 2B (Actually, he's out. My bad.)
Jed Lowrie, SS
Brian Bogusevic, RF
Carlos Lee, 1B
J.D. Martinez, LF
Chris Johnson, 3B
Jordan Schafer, CF
Jason Castro, C
Pitcher
Hot or Not and Whom to Watch
Alfonso Soriano's OBP is now a season high .330, thanks in part to a couple HBP this week. There's really not much else to say about Soriano's offensive performance post-April, other than it's been super-duper awesome.
Also super-duper awesome? Travis Wood's 2.27 ERA in five June starts.
With two recent walks, Starlin Castro's walk total on the year has once again overtaken his triple total, 8 to 7.
Paul Maholm has a 6.43 ERA and is winless in his last eight starts. Yikes.
Bud Norris has a 10.91 ERA in his last four starts, so I suppose it could be worse.
Before a couple 0-fers in his last two games, Chris Johnson was working on a .464/.500/.643 line over his last seven games.
Jose Altuve and Jed Lowrie still have really impressive numbers in the middle infield for the Astros. Altuve will miss this series, though.
Series She-View
The Series She-View is one beautiful woman representing the Cubs taking on another (usually) beautiful woman representing the opponent. The Cubs' representative will change as the team's needs change – in other words, if the Cubs are winning, the rep will stay the same. But if the Cubs' performance calls for a change, someone new will step in. The opponent's representative will change from series to series, at my whim. But at least she'll probably be wearing the opponent's colors or have some connection to the team or something like that. It is immature, and the connection to baseball is tenuous at best. These things, I know.
Well, Stacy Keibler got the job done as the Cubs' rep against the Mets (sure, they lost big on Wednesday, but a series win is a series win). So she keeps her job for now.
As for the Astros, how about someone from the reboot of 'Dallas'? No, Dallas isn't Houston, but they're both in Texas. Jordana Brewster it is.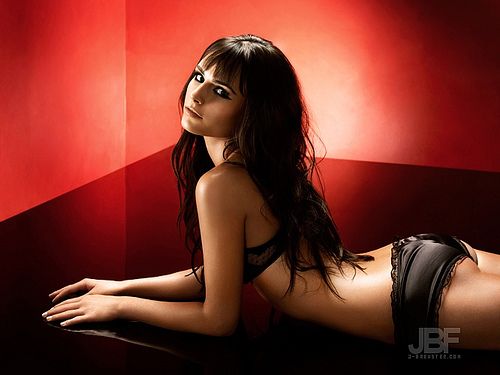 versus