The Cubs are as hot as they've been in weeks, maybe as hot as they've been all season. Atlanta, the city, is also boiling hot, so maybe that'll keep things warm for the Cubs. But not the Braves. Somehow.
By way of reminder, the Series Preview hooks you up with what you need to know about every series this year – streaks, broadcast information, pitchers, expected lineups, etc. That way, if you want to check only one place to get a sense about an upcoming series, or to plan ahead, you've got it. Oh, and there will be pictures of beautiful women, too.
We're Going Streaking
The Cubs swept the Astros after taking two of three from the Mets. That's five of six, people!
The Braves have lost three of four, and have dropped two of their last three series. They are four games over .500, and 4.5 out in the NL East. Don't you just love knowing that, given the Braves' position in the East in the Wild Card, they'd be more willing to buy the better they play? That means, if the Cubs, for example, swept the Braves, that would be kind of bad for the Cubs, not just in Draft positioning, but in the trade market. Cognitive dissonance!
Game Times and Broadcasts
Monday, July 2 at 6:10 CT on CSN.
Tuesday, July 3 at 6:10 CT on CSN.
Wednesday, July 4 at 6:10 CT on WGN.
Thursday, July 5 at 6:10 CT on CSN.
Expected Starters and Lineups
These lineups are likely to be pretty close to what actually gets fielded, but you'll want to check each day's Pre-Gamin' post for the actual lineup.
Cubs
Starters: Jeff Samardzija (5-7, 5.05), Chris Volstad (0-6, 7.46), Paul Maholm (5-6, 4.84), Matt Garza (4-6, 4.01)
Lineup:
David DeJesus, CF
Starlin Castro, SS
Anthony Rizzo, 1B
Alfonso Soriano, LF
Bryan LaHair, RF
Darwin Barney, 2B
Geovany Soto, C
Luis Valbuena, 3B
Pitcher
Braves
Starters: Tommy Hanson (9-4, 3.59), Jair Jurrjens (1-2, 6.07), Randall Delgado (4-8, 4.52), Mike Minor (4-6, 6.20)
Lineup:
Michael Bourn, CF
Martin Prado, LF
Jason Heyward, RF
Larry Jones, 3B
Brian McCann, C
Dan Uggla, 2B
Freddie Freeman, 1B
Andrelton Simmons, SS
Pitcher
Hot or Not and Whom to Watch
Carlos Marmol is actually hot. Since coming off the DL in late May, Marmol has thrown 11.1 innings, striking out 16, and posting a 3.97 ERA. And he's converted five straight save opportunities.
The starters are quite the story in this series for the Cubs: Can Jeff Samardzija stop his horrible slide? Can Chris Volstad start a Travis Wood-like resurgence? Can Matt Garza put together that one dominant outing that's been eluding him? Can Paul Maholm build on his last dominant start?
Samardzija's ERA over his last four starts, by the way? 12.27. Oof.
Braves first baseman Freddie Freeman – their version of Anthony Rizzo in a number of ways – has decent numbers on the year (.266/.315/.456), and is riding a .500 streak in his last 20 at bats.
A couple of the Braves' bigger bats are cold, with Brian McCann having just three hits in his last 21 at bats, and Michael Bourn having just four in his last 22.
Martin Prado is having a heck of a rebound year for the Braves, hitting .321/.384/.466.
Series She-View
The Series She-View is one beautiful woman representing the Cubs taking on another (usually) beautiful woman representing the opponent. The Cubs' representative will change as the team's needs change – in other words, if the Cubs are winning, the rep will stay the same. But if the Cubs' performance calls for a change, someone new will step in. The opponent's representative will change from series to series, at my whim. But at least she'll probably be wearing the opponent's colors or have some connection to the team or something like that. It is immature, and the connection to baseball is tenuous at best. These things, I know.
Well, once again, Stacy Keibler got the job done as the Cubs' rep against the Astros (and then some). She might have this job for a while. And, since I'm at the beach … well, you'll see.
As for the Braves, I'll go with Reese Witherspoon, which I've probably done before, but it always seems like an appropriate fit. We'll go with a brunette version, which fits the Braves' color scheme a bit better.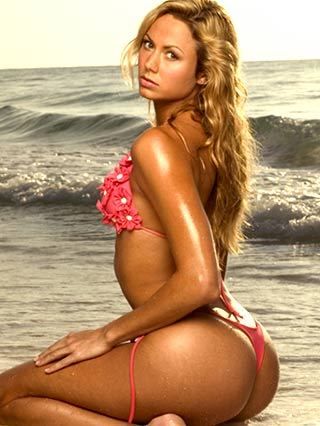 versus