The Cubs head to New York just a week after facing the Mets at Wrigley. The Cubs won that series, so maybe they've got the Mets' number.
By way of reminder, the Series Preview hooks you up with what you need to know about every series this year – streaks, broadcast information, pitchers, expected lineups, etc. That way, if you want to check only one place to get a sense about an upcoming series, or to plan ahead, you've got it. Oh, and there will be pictures of beautiful women, too.
We're Going Streaking
The Cubs just split a four-gamer with the Braves after winning a couple series in a row. Overall, they've won seven of their last ten.
The Mets are in second place in the NL East, just 4.5 back of the surging Nationals. The Mets have won six of their last eight.
Game Times and Broadcasts
Friday, July 6 at 6:10 CT on CSN.
Saturday, July 7 at 3:10 CT on WGN.
Sunday, July 8 at 12:10 CT on CSN.
Expected Starters and Lineups
These lineups are likely to be pretty close to what actually gets fielded, but you'll want to check each day's Pre-Gamin' post for the actual lineup.
Cubs
Starters: Travis Wood (3-3, 3.05), Jeff Samardzija (6-7, 4.77), TBA (either Chris Volstad or Ryan Dempster)
Lineup:
David DeJesus, CF
Starlin Castro, SS
Anthony Rizzo, 1B
Alfonso Soriano, LF
Bryan LaHair, RF
Geovany Soto, C
Darwin Barney, 2B
Luis Valbuena, 3B
Pitcher
Mets
Starters: Johan Santana (6-4, 2.76), Dillon Gee (5-7, 4.34), Jon Niese (7-3, 3.35)
Lineup:
Kirk Nieuwenhuis, CF
Ruben Tejada, SS
David Wright, 3B
Scott Hairston, LF
Lucas Duda, RF
Justin Turner, 1B
Daniel Murphy, 2B
Josh Thole, C
Pitcher
Hot or Not and Whom to Watch
Travis Wood has been scorching hot, and he always seems to face former Cy Young winners. It's Johan Santana again today for Wood, who beat Santana last time out.
Not so hot? Starlin Castro is hitting a paltry .128/.244/.128 over his last 11 games. He could use the All-Star break.
Jeff Samardzija was brilliant in Atlanta after a terrible June.
Ike Davis, who put up some solid numbers against the Cubs last time out, is still having a rough season: .201/.273/.382.
David Wright continues to sizzle, hitting .355/.400/.710 over his last eight games. The amazing thing? That's not that much better than his .354/.443/.570 overall season line. Man. He is really killing it.
Series She-View
The Series She-View is one beautiful woman representing the Cubs taking on another (usually) beautiful woman representing the opponent. The Cubs' representative will change as the team's needs change – in other words, if the Cubs are winning, the rep will stay the same. But if the Cubs' performance calls for a change, someone new will step in. The opponent's representative will change from series to series, at my whim. But at least she'll probably be wearing the opponent's colors or have some connection to the team or something like that. It is immature, and the connection to baseball is tenuous at best. These things, I know.
Given that the Cubs' current hot run started when they faced the Mets, and their new rep for that series was Stacy Keibler, why don't we just keep everything the same as it was the last time around? The Cubs get Stacy Keibler, the Mets get Cobie Smulders. (Bonus: Cobie gets the Glamor Shots by Deb treatment.)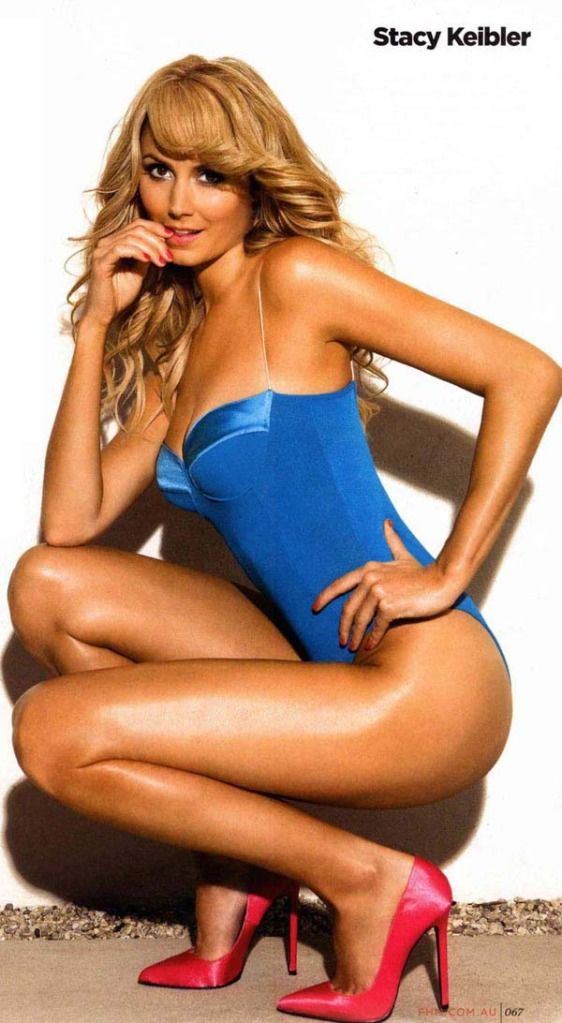 versus