I miss the classic Marlins logo.
The Marlins come to Wrigley Field, with Ozzie Guillen and Carlos Zambrano in tow.
By way of reminder, the Series Preview hooks you up with what you need to know about every series this year – streaks, broadcast information, pitchers, expected lineups, etc. That way, if you want to check only one place to get a sense about an upcoming series, or to plan ahead, you've got it. Oh, and there will be pictures of beautiful women, too.
We're Going Streaking
The Cubs are one of, if not the, hottest teams in baseball. They've won 12 of their last 16, and just swept the Diamondbacks. They're now just 16 games under .500, which is the best they've been in a long, long time. They still have the fourth worst record in baseball, though.
The Marlins are three games under .500, and nine games out in the AL East after splitting a four-game set with the division-leading Nationals. They're trying to rebound from a miserable June.
Game Times and Broadcasts
Tuesday, July 17 at 7:05 CT on CSN.
Wednesday, July 18 at 7:05 CT on WGN.
Thursday, July 19 at 1:20 CT on CSN.
Expected Starters and Lineups
These lineups are likely to be pretty close to what actually gets fielded, but you'll want to check each day's Pre-Gamin' post for the actual lineup.
Cubs
Starters: Travis Wood (4-3, 3.05) Jeff Samardzija (6-8, 4.71), Paul Maholm (7-6, 4.33)
Lineup:
David DeJesus, CF
Starlin Castro, SS
Anthony Rizzo, 1B
Alfonso Soriano, LF
Bryan LaHair, RF
Darwin Barney, 2B
Geovany Soto, C
Luis Valbuena, 3B
Pitcher
Marlins
Starters: Anibal Sanchez (4-6, 4.12), Josh Johnson (5-6, 4.28), Mark Buehrle (9-8, 3.13)
Lineup:
Jose Reyes, SS
Emilio Bonafacio, CF
Carlos Lee, 1B
Logan Morrison, LF
Hanley Ramirez, 3B
Greg Dobbs, RF
Omar Infante, 2B
John Buck, C
Pitcher
Hot or Not and Whom to Watch
Each of the Cubs' three starting pitchers in this series are hot. Travis Wood has a 1.99 ERA in his last seven starts, Jeff Samardzija has a 2.57 ERA in his last two starts, and Paul Maholm has a 0.81 ERA in his last three starts (plus a relief appearance).
Starlin Castro is really scuffling. His line is down to a humble .284/.309/.410, and you can go all the way back to May 11, after which he's hitting just .250/.282/.379. This is significant.
Carlos Lee isn't exactly tearing it up since joining the Marlins. In his eight games with the Fish, he's hitting just .259/.375/.296. Dig that OBP, though.
Jose Reyes is having a down year for the Marlins after signing a big-time free agent contract in the offseason. He's hitting .264/.335/.374, which is acceptable for a shortstop, but not the kind you inked for more than $100 million.
Mark Buehrle has thrown four straight games going at least seven innings, striking out at least one per inning, and giving up no more than two runs.
Series She-View
The Series She-View is one beautiful woman representing the Cubs taking on another (usually) beautiful woman representing the opponent. The Cubs' representative will change as the team's needs change – in other words, if the Cubs are winning, the rep will stay the same. But if the Cubs' performance calls for a change, someone new will step in. The opponent's representative will change from series to series, at my whim. But at least she'll probably be wearing the opponent's colors or have some connection to the team or something like that. It is immature, and the connection to baseball is tenuous at best. These things, I know.
Stacy Keibler is now the most prolific representative for the Cubs on the year after a sweep of the Diamondbacks. She just doesn't want to lose. And I don't want to mind.
The Marlins get Miami local Eva Mendes once again. Good matchup. We'll do some red carpet type pictures.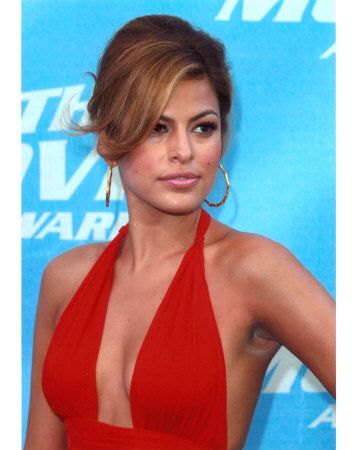 versus