Just because we're in the midst of a 30-hour Trade Deadline Blogathon doesn't mean that business as usual stops. The Pirates come to Wrigley Field for a three-game set with the Cubs, who could be understandably preoccupied.
By way of reminder, the Series Preview hooks you up with what you need to know about every series this year – streaks, broadcast information, pitchers, expected lineups, etc. That way, if you want to check only one place to get a sense about an upcoming series, or to plan ahead, you've got it. Oh, and there will be pictures of beautiful women, too.
We're Going Streaking
Boom. Take that, St. Louis. The Cubs just took two of three from the Cards, after taking two of three from the Pirates. The Reds are lucky they didn't have to face the Cubs over the last month.
After dropping that series to the Cubs, the Pirates took three of four from the Astros. They're still holding onto a playoff spot right now, but have fallen three games back of the Reds in the NL Central.
Game Times and Broadcasts
Monday, July 30 at 7:05 CT on CSN.
Tuesday, July 31 at 7:05 CT on WGN.
Wednesday, August 1 at 1:20 CT on WGN.
Expected Starters and Lineups
These lineups are likely to be pretty close to what actually gets fielded, but you'll want to check each day's Pre-Gamin' post for the actual lineup.
Cubs
Starters: Justin Germano (0-1, 3.00), Ryan Demspter(?) (5-5, 2.25), Travis Wood (4-6, 4.98)
Lineup:
David DeJesus, CF
Starlin Castro, SS
Anthony Rizzo, 1B
Alfonso Soriano, LF
Bryan LaHair, RF
Geovany Soto, C
Darwin Barney, 2B
Luis Valbuena, 3B
Pitcher
Pirates
Starters: Erik Bedard (5-11, 4.32), A.J. Burnett (12-3, 3.52), Jeff Karstens (3-2, 3.88),
Lineups:
Alex Pressley, LF
Neil Walker, 2B
Andrew McCutchen, CF
Garrett Jones, RF
Casey McGehee, 1B
Pedro Alvarez, 3B
Rod Barajas, C
Clint Barmes, SS
Pitcher
Hot or Not and Whom to Watch
I hate to even write it, but Bryan LaHair has just been abysmal, not only lately, but for a very long time. He's 0 for his last 15, and he's hitting just .218/.287/.331 since the start of June.
LaHair isn't the only one in an 0-fer slump – Jeff Baker hasn't had a hit in his last 10 at bats, and Steve Clevenger hasn't had one in his last 12.
Anthony Rizzo's line through 111 plate appearances: .333/.369/.571. That's crazy good, but, remember, there are often slumps that follow these opening hot stretches (see, e.g., Bryan LaHair). It's all about adjusting.
I'll be very interested to see who starts tonight (barring a trade, it will be Justin Germano) and on Tuesday for the Cubs.
Erik Bedard was quite good against the Cubs last time, despite taking the loss. Seriously, by the way, AJ Burnett has 12 wins? He's been solid, but that, together with the Bedard thing, underscore how silly the W/L stat remains.
Rod Barajas was in an 0-18 slump before finally getting a hit over the weekend.
Series She-View
The Series She-View is one beautiful woman representing the Cubs taking on another (usually) beautiful woman representing the opponent. The Cubs' representative will change as the team's needs change – in other words, if the Cubs are winning, the rep will stay the same. But if the Cubs' performance calls for a change, someone new will step in. The opponent's representative will change from series to series, at my whim. But at least she'll probably be wearing the opponent's colors or have some connection to the team or something like that. It is immature, and the connection to baseball is tenuous at best. These things, I know.
Bar Refaeli continues another hot streak for the Cubs, who just took two of three from the Cardinals. And, she's just so pretty, you know?
As for the Pirates, how about a random sexy pirate? Hearing no complaints, I proceed.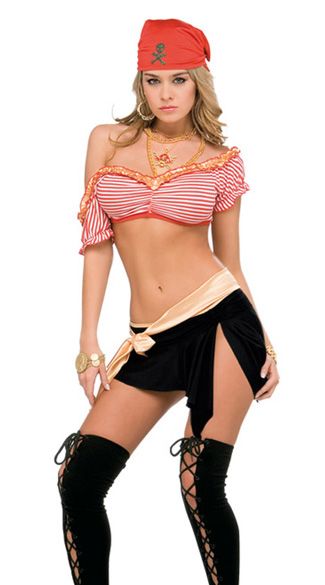 versus