---
I am currently blogging – here, on Facebook, and on Twitter (hash tag #BNBlogathon for those who want to jump into the fray themselves) – for 30 hours straight, until slightly past MLB's July 31 non-waiver trade deadline. I'll be doing recaps on the process throughout the day, but you'll also see normal posting (Bullets, Series Preview, Pre-Gamin', EBS), as well as an uptick in rumor/trade posts.
It took me some time to get my bearings this morning, because I usually focus heavily on writing in the mornings, and then Twitter/Facebook/comments/etc., later in the day. I'm trying to do all at once, and I didn't realize how difficult it is.
And I'm going to be on the radio at 4:30pm CT in Pittsburgh (you can listen here) to talk Cubs/Pirates. The Blogathon's tentacles reach everywhere!
Total Posts So Far:
6
News and Rumors Since the Last Recap:
The Dodgers and Cubs are still in discussions about Ryan Dempster AND Alfonso Soriano, according to Tim Brown and Ken Rosenthal.
Most Interesting Tidbit Since the Last Recap:
Cliff Lee might be on the trade block, which could impact the Cubs' efforts, depending on how much of his salary the Phillies are willing to eat. He's about to turn 34, and makes $25 million from 2013 to 2015, plus a $27.5 million vesting option in 2016. That's a tough contract to move if you want to get a nice return.
Current Thoughts About the Chicago Cubs' Trade Deadline Strategy/Execution:
Still not a lot to say. The Cubs are "underground," but we know they're deep in talks with a number of teams about a number of players.
Current Beverage/Stimulant of Choice:
A nice chai latte. It's a smooth way to start the process.
Strangest Thought Passing Through My Mind:
My eyes remain really heavy. I think my "sleep in really late" strategy is causing me some problems, because it forced me to, like, fall back asleep at 7am this morning. So now my body is rebelling, thinking that today was just going to be a sleepy day.
A Selection of #BNBlogathon Tweets:
It's so quiet on the #cubs front that I'm tempted to cite a source: Demp to ATL for Delgado just to spark some craziness. #BNBlogathon

— Max (@legalcubbieblue) July 30, 2012
Fill in the blank: If the #Cubs don't make a trade during the #BNBlogathon I will ____________

— MichiganGoat (@MichiganGoat) July 30, 2012
@BleacherNation Pace yourself, Ace. Fluids, protein, mock Cardinals – repeat. #BNBlogathon

— JOakester (@joeyoakes) July 30, 2012
What should I do today? Go outside. What will I do today? Sit in front of the computer & follow @BleacherNation #BNblogathon. #NoRegrets

— Tyler Noe (@RunningFlannel) July 30, 2012
Let's hope SOMETHING happens or the #bnblogathon could feel much longer than 30 hours.

— Chuck Darwin (@ChuckDarwin1) July 30, 2012
Current Mood:
Head down, cat enthusiast …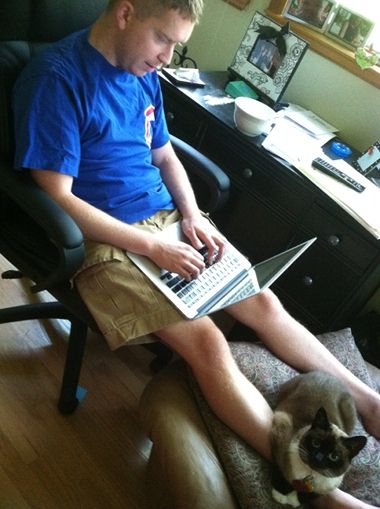 (The Wife sniped that picture, and, is it just me, or do I look like a bobblehead?)
---
---
Keep Reading ...
«
The Ryan Dempster Trade Saga: More Indication That the Only Issue Was Timing (Talks With Dodgers Continue?)
|
Lukewarm Stove: Dempster, Dempster, (Dempster), Soriano, Lee, Maholm, More
»
---