The Padres and Cubs are among the teams currently locked in a battle to be the next-most-worst team in baseball, behind the Astros, whom nobody is catching. Fun.
By way of reminder, the Series Preview hooks you up with what you need to know about every series this year – streaks, broadcast information, pitchers, expected lineups, etc. That way, if you want to check only one place to get a sense about an upcoming series, or to plan ahead, you've got it. Oh, and there will be pictures of beautiful women, too.
We're Going Streaking
The Cubs have lost five in a row, after being swept by the Dodgers in L.A. They had been pretty hot before this stretch.
The Padres have long since passed the Rockies for fourth place in the NL West, but they're still a healthy margin under .500. They did just take their last series from the Mets, though.
Game Times and Broadcasts
Monday, August 6 at 9:05 CT on CSN.
Tuesday, August 7 at 9:05 CT on CSN+.
Wednesday, August 8 at 5:35 CT on WGN.
Expected Starters and Lineups
These lineups are likely to be pretty close to what actually gets fielded, but you'll want to check each day's Pre-Gamin' post for the actual lineup.
Cubs
Starters: Travis Wood (4-7, 4.90), TBA, Jeff Samardzija (7-9, 4.37)
Lineup:
David DeJesus, RF
Brett Jackson, CF
Anthony Rizzo, 1B
Alfonso Soriano, LF
Starlin Castro, SS
Steve Clevenger, C
Josh Vitters/Luis Valbuena, 3B
Darwin Barney, 2B
Pitcher
Padres
Starters: Eric Stults (1-2, 3.19), Ross Ohlendorf (3-2, 6.27), Clayton Richard (8-11, 4.01)
Lineups:
Alexi Amarista, 2B
Everth Cabrera, SS
Chase Headley, 3B
Carlos Quentin, LF
Yonder Alonso, 1B
Will Venable, RF
Cameron Maybin, CF
John Baker, C
Pitcher
Hot or Not and Whom to Watch
What can you say about Anthony Rizzo that hasn't already been said? He's hitting .310/.348/.550 in 33 games this year, with 9 homers and 23 RBI. If he kept up that pace over a full season, he'd have about 45 homers and 115 RBI. Those are MVP type numbers. But, let's keep it cool: it's only been a little over a month. Hurdles are coming.
Welington Castillo is doing his best to claim the open starting catching job, with a couple homers in the last three games.
Huston Street's numbers this year are absolutely mind-boggling. He's got a 5.38 K/BB ratio, a 0.82 ERA, a 0.576 WHIP(!), and a 449 ERA+ (!!!). Oh, and just 18 saves, because, well, Padres.
Cameron Maybin signed a big extension before the season, and he's rewarded the Padres with a .212/.290/.324 line (and, to be fair, excellent defense in center).
On the flip side, Carlos Quentin, who just received an extension from the Padres (together with Street), continues to hit quite well, upping his line to .266/.382/.511.
Series She-View
The Series She-View is one beautiful woman representing the Cubs taking on another (usually) beautiful woman representing the opponent. The Cubs' representative will change as the team's needs change – in other words, if the Cubs are winning, the rep will stay the same. But if the Cubs' performance calls for a change, someone new will step in. The opponent's representative will change from series to series, at my whim. But at least she'll probably be wearing the opponent's colors or have some connection to the team or something like that. It is immature, and the connection to baseball is tenuous at best. These things, I know.
No rep can survive a sweep, and so it is with the lovely Bar Refaeli, who will have to dry her tears with million dollar bills (they make those special for beautiful women). A random new rep for the Cubs: Alison Brie. She's from Hollywood (like, born there – her life was preordained), where the Cubs are just leaving, so there's kind of a fit. I think she might be a repeat, but there's just no way to be certain. No, we must carry on.
As for the Padres, how about Olivia Munn? I have absolutely no basis for this selection other than the fact that she popped into my head as I typed this sentence.
This is actually a pretty tough matchup, which is pretty fairly reflective of the two teams' evenness on the field.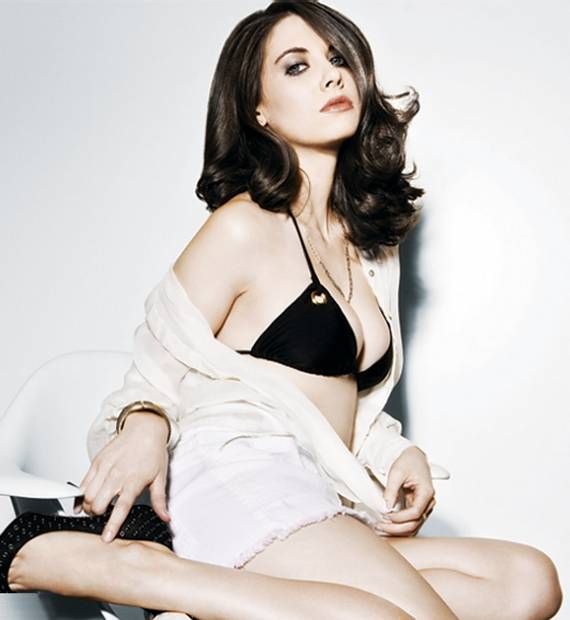 versus