On the bright side, the Cubs are coming back home after a miserable road trip. On the dark side, they get to host the first place Reds.
By way of reminder, the Series Preview hooks you up with what you need to know about every series this year – streaks, broadcast information, pitchers, expected lineups, etc. That way, if you want to check only one place to get a sense about an upcoming series, or to plan ahead, you've got it. Oh, and there will be pictures of beautiful women, too.
We're Going Streaking
The Cubs have lost eight in a row, after being swept by the Padres. They had been pretty hot before this stretch, although none of us can actually remember what that felt like anymore.
The Reds have lost four in a row, and were just swept by the Brewers, but, before that, they were the hottest team in baseball, winning 15 of 16. They lead the NL Central by 2.5 games, and they actually have the second best record in baseball.
Game Times and Broadcasts
Thursday, August 9 at 7:05 CT on CSN.
Friday, August 10 at 1:20 CT on WGN.
Saturday, August 11 at 3:05 CT on CSN.
Sunday, August 12 at 1:20 CT on WGN.
Expected Starters and Lineups
These lineups are likely to be pretty close to what actually gets fielded, but you'll want to check each day's Pre-Gamin' post for the actual lineup.
Cubs
Starters: Chris Volstad (0-8, 7.22), Justin Germano (1-1, 3.38), Travis Wood (4-8, 4.77), Brooks Raley (0-1, 15.75)
Lineup:
David DeJesus, RF
Brett Jackson, CF
Anthony Rizzo, 1B
Alfonso Soriano, LF
Starlin Castro, SS
Steve Clevenger/Welington Castillo, C
Josh Vitters/Luis Valbuena, 3B
Darwin Barney, 2B
Pitcher
Reds
Starters: Mike Leake (4-7, 4.51), Homer Bailey (9-7, 3.98), Bronson Arroyo (7-7, 4.05), Johnny Cueto (14-6, 2.58)
Lineup:
Zack Cozart, SS
Drew Stubbs, CF
Brandon Phillips, 2B
Jay Bruce, RF
Scott Rolen, 3B
Ryan Ludwick, LF
Todd Frazier, 1B
Ryan Hanigan, C
Pitcher
Hot or Not and Whom to Watch
Pick a Cub, pick a Cub, pick any Cub at all, and you can probably find a Cub who's quite cold. The West Coast trip was a brutal one for the Cubs' offense, with the youngsters having a rough adjustment to the bigs, Starlin Castro continuing his slump, and David DeJesus and Alfonso Soriano each starting a slump.
At least Travis Wood pitched fairly well in his last start after some recent struggles. Of course, pitching against the Padres at Petco can do that for you.
Chris Volstad will look to build off of his first end-to-end good start of the year.
What's most amazing about the Reds' recent hot month? They've done it almost entirely without Joey Votto, who isn't expected to be back for this series, either.
Aroldis Chapman is back to being ridiculous: he hasn't given up a run in his last 18 games.
Jay Bruce has been doing his best to carry the offensive load in Votto's absence. He's got a .900 OPS in his last 19 games.
Also helping fill in? Super sub Todd Frazier, who's got a .262/.321/.506 line on the year. At just 26, you wonder if the Reds might try to find a starting spot for him next year.
Series She-View
The Series She-View is one beautiful woman representing the Cubs taking on another (usually) beautiful woman representing the opponent. The Cubs' representative will change as the team's needs change – in other words, if the Cubs are winning, the rep will stay the same. But if the Cubs' performance calls for a change, someone new will step in. The opponent's representative will change from series to series, at my whim. But at least she'll probably be wearing the opponent's colors or have some connection to the team or something like that. It is immature, and the connection to baseball is tenuous at best. These things, I know.
I'm going to spit in the face of bad luck, and keep Alison Brie as the Cubs' rep. You bet they just got swept – by the Padres, no less – on her watch, but I'm going for a reverse mojo kind of thing. Also, she's so pretty, it would be a crime to share this space with her only once.
As for the Reds, we stick with the ye olde redhead theme. Here's a random one: Alicia Witt. She's been in a variety of movies, and an episode or two of 'The Sopranos,' but you may never have seen her before. But she stuck in my head for whatever reason.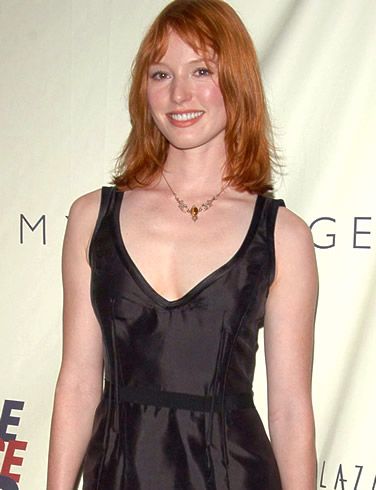 versus