The Cubs started working on the Pirates' coffin last week. Now they have nails.
By way of reminder, the Series Preview hooks you up with what you need to know about every series this year – streaks, broadcast information, pitchers, expected lineups, etc. That way, if you want to check only one place to get a sense about an upcoming series, or to plan ahead, you've got it. Oh, and there will be pictures of beautiful women, too.
We're Going Streaking
The Cubs just took two of three from the Astros after sweeping these Pirates. That's winning five of six, for you math majors.
The Pirates are struuuuuggling. They've lost 10 of 12, including that sweep at the hands of these Cubs. They're three games out of the second Wild Card, and they desperately need to take at least three of four from the Cubs.
Game Times and Broadcasts
Friday, September 14 at 1:20 CT on WGN.
Saturday, September 15 at 12:05 CT on CSN.
Sunday, September 16 at 1:20 CT on WGN.
Monday, September 17 at 7:05 CT on CSN.
Expected Starters and Lineups
These lineups are likely to be pretty close to what actually gets fielded, but you'll want to check each day's Pre-Gamin' post for the actual lineup.
Cubs
Starters: Chris Rusin (0-2, 5.73), Jason Berken (0-0, -.–), Chris Volstad (3-10, 5.99), Travis Wood (6-11, 4.23)
Lineup:
David DeJesus, RF
Josh Vitters/Luis Valbuena, 3B
Anthony Rizzo, 1B
Alfonso Soriano, LF
Starlin Castro, SS
Steve Clevenger/Welington Castillo, C
Brett Jackson, CF
Darwin Barney, 2B
Pitcher
Pirates
Starters: James McDonald (12-7, 3.93), Wandy Rodriguez (3-4, 3.57), Jeff Locke (0-1, 4.11), Kevin Correia (10-9, 4.29)
Lineups:
Brock Holt, 2B
Travis Snider, RF
Andrew McCutchen, CF
Garrett Jones, 1B
Pedro Alvarez, 3B
Michael McKenry/Rod Barajas, C
Alex Pressley, LF
Clint Barmes, SS
Pitcher
Hot or Not and Whom to Watch
Anthony Rizzo and Brett Jackson are expected to return this series after missing a handful of games with various collision-related maladies.
Dave Sappelt really wants to hold onto his 40-man roster spot over the Winter. In his 23 plate appearances this month, he's hitting .350/.435/.550. That's awesome, but remember that September stats can be deceiving – Sappelt's generated a lot of that juice against the Astros. If he keeps killing it over the next few weeks, the Cubs might have a tough decision to make on him, given his relatively weak showing at AAA this year. He turns 26 in January.
Slightly less difficult decision? Welington Castillo is hitting .310/.368/.494 since Geovany Soto was traded. Castillo's pretty clearly your nominal starting catcher in 2013.
Hey, we finally get to see Jason Berken in action.
MVP candidate Andrew McCutchen's slump continues. He's hitting .247/.314/.344 in his last 22 games.
A.J. Burnett has rebounded from a rough August (5.08 ERA) with a nice September so far (3.57 ERA). Unfortunately that doesn't help the Pirates much in this series: he's the one starter the Cubs don't face.
Pedro Alvarez's OPS in September is just .510.
Series She-View
The Series She-View is one beautiful woman representing the Cubs taking on another (usually) beautiful woman representing the opponent. The Cubs' representative will change as the team's needs change – in other words, if the Cubs are winning, the rep will stay the same. But if the Cubs' performance calls for a change, someone new will step in. The opponent's representative will change from series to series, at my whim. But at least she'll probably be wearing the opponent's colors or have some connection to the team or something like that. It is immature, and the connection to baseball is tenuous at best. These things, I know.
Losing even a single game to the Astros feels like a series loss, but … it's hard to give up on Natalie Portman. Maybe one more series.
As for the Pirates … surprise! Sexy pirate lady! With bonus beer!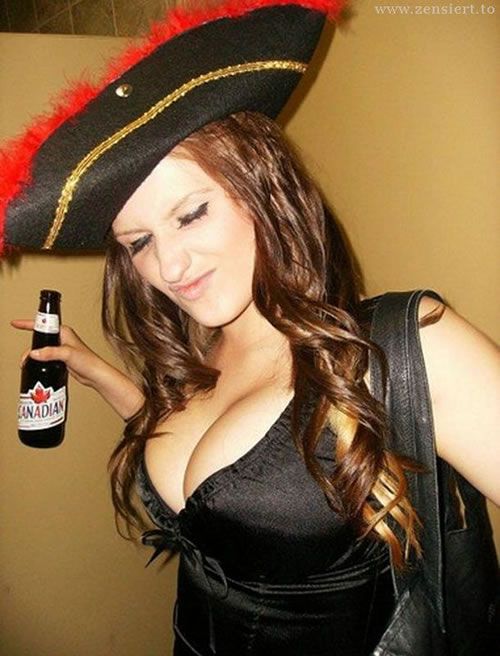 versus