Well, it's here. An actually important series, even if for uncomfortable reasons. These two teams enter the series tied for the second-to-worst record in baseball.
By way of reminder, the Series Preview hooks you up with what you need to know about every series this year – streaks, broadcast information, pitchers, expected lineups, etc. That way, if you want to check only one place to get a sense about an upcoming series, or to plan ahead, you've got it. Oh, and there will be pictures of beautiful women, too.
We're Going Streaking
The Cubs dropped two of three to the Cardinals after being swept by the Reds. They've lost six of seven overall.
Although they won last night, the Rockies lost nine in a row before that, and have looked utterly hapless in the process. It's hard to lose to these Rockies.
Game Times and Broadcasts
Tuesday, September 25 at 7:40 CT on WGN.
Wednesday, September 26 at 7:40 CT on CSN.
Thursday, September 27 at 2:10 CT on WGN.
Expected Starters and Lineups
These lineups are likely to be pretty close to what actually gets fielded, but you'll want to check each day's Pre-Gamin' post for the actual lineup.
Cubs
Starters: Chris Rusin (1-2, 6.00), Jason Berken (0-1, 1.80), Chris Volstad (3-10, 6.22)
Lineup:
David DeJesus, CF
Josh Vitters/Luis Valbuena, 3B
Anthony Rizzo, 1B
Alfonso Soriano, LF
Starlin Castro, SS
Steve Clevenger/Welington Castillo, C
Dave Sappelt, RF
Darwin Barney, 2B
Pitcher
Rockies
Starters: Jorge De La Rosa (0-1, 12.27), Drew Pomeranz (1-9, 5.30), Jhoulys Chacin (2-5, 4.73)
Lineup (a number of day-to-day type injuries could change this dramatically):
Charlie Blackmon, RF
Josh Rutledge, SS
Jordan Pacheco, 1B
Carlos Gonzalez, LF
Wilin Rosario, C
Tyler Colvin, CF
Chris Nelson, 3B
DJ LeMahieu, 2B
Pitcher
Hot or Not and Whom to Watch
Starlin Castro since September 3: .354/.404/.524.
After a hot stretch that had his OPS near 1.000 (in limited duty), Dave Sappelt's gone cold, hitting just .100/.250/.100 in his last 25 plate appearances.
I have nothing against Jason Berken, but we're going to have to remember some things when we discuss his brief time with the Cubs in the next few months: his first start, against the Pirates, netted him just two earned runs, but he actually gave up six runs in four innings (he wasn't helped by some errors, but it wasn't your typical two earned run outing); his second start was against an hilarious Astros lineup; and his third start might be against an hilarious Rockies lineup.
The Rockies could be without all of Troy Tulowitzki, Carlos Gonzalez, Todd Helton, and Dexter Fowler this series. Like I said: it's hard to lose to this Rockies club.
Jorge De La Rosa is making just his second start since coming back from Tommy John surgery, and the first one didn't go too well.
Wilin Rosario is hitting .347 in September.
Series She-View
The Series She-View is one beautiful woman representing the Cubs taking on another (usually) beautiful woman representing the opponent. The Cubs' representative will change as the team's needs change – in other words, if the Cubs are winning, the rep will stay the same. But if the Cubs' performance calls for a change, someone new will step in. The opponent's representative will change from series to series, at my whim. But at least she'll probably be wearing the opponent's colors or have some connection to the team or something like that. It is immature, and the connection to baseball is tenuous at best. These things, I know.
On urgent requests in the comments, Heather Graham will get one more go around as the Cubs' rep, despite the series loss to the Cardinals (or maybe because of the series loss to the Cardinals?).
As for the Rockies, well, they need a really, really good rep. And, fortunately, we don't have to search far, because she grew up in Boulder, Colorado. That would be Jessica Biel, who is all kinds of hot.
This is a matchup worthy of the importance of this series …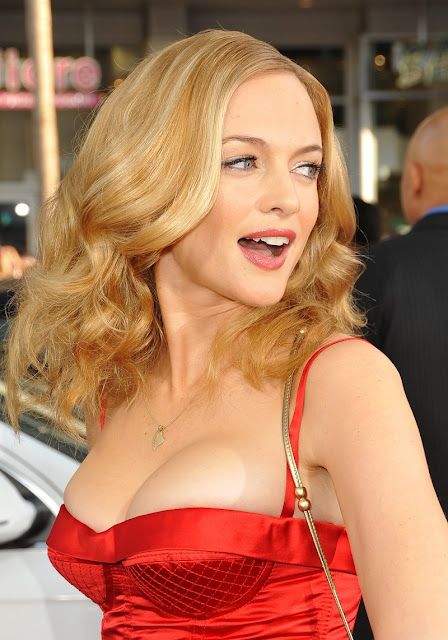 versus