The Cubs will try to actually win a game on the West Coast, and avoid 100 losses in the process. It'll take four wins in the last six games – three of those are against the Astros at Wrigley, so the Cubs might need to win just one in this series.
By way of reminder, the Series Preview hooks you up with what you need to know about every series this year – streaks, broadcast information, pitchers, expected lineups, etc. That way, if you want to check only one place to get a sense about an upcoming series, or to plan ahead, you've got it. Oh, and there will be pictures of beautiful women, too.
We're Going Streaking
The Cubs were swept by the Rockies in Colorado, and have lost 10 of 12. It's a rough end to a rough season.
Until recently, the Diamondbacks still had slight hopes in the Wild Card race, but they've lost three of four, have slipped to .500, and are effectively eliminated from postseason contention.
Game Times and Broadcasts
Friday, September 28 at 8:40 CT on CSN.
Saturday, September 29 at 7:10 CT on WGN.
Sunday, September 30 at 3:10 CT on WGN.
Expected Starters and Lineups
These lineups are likely to be pretty close to what actually gets fielded, but you'll want to check each day's Pre-Gamin' post for the actual lineup.
Cubs
Starters: Travis Wood (6-12, 4.23), Justin Germano (2-9, 6.19), Chris Rusin (1-3, 7.30)
Lineup:
David DeJesus, CF
Darwin Barney, 2B
Anthony Rizzo, 1B
Alfonso Soriano, LF
Starlin Castro, SS
Luis Valbuena, 3B
Steve Clevenger/Welington Castillo, C
Dave Sappelt, RF
Pitcher
Diamondbacks
Starters: Ian Kennedy (14-11, 4.14), Trevor Cahill (12-12, 3.86), Josh Collmenter (5-3, 3.80)
Lineups:
Adam Eaton, CF
Aaron Hill, 2B
Justin Upton, RF
Jason Kubel, LF
Paul Goldschmidt, 1B
Miguel Montero, C
Ryan Wheeler, 3B
John McDonald, SS
Pitcher
Hot or Not and Whom to Watch
Anthony Rizzo has upped his season totals to 15 homers and 47 RBI, together with a .290/.347/.470 line. Not bad for 82 games and turning 23 in August.
Chris Rusin might be wearing down. He's got an 8.69 ERA in September.
Travis Wood has gone in the other direction, with a 2.40 ERA this month.
Speaking of good in September, Trevor Cahill is at 2.84 this month. Seems a fair time to reiterate: beware the September numbers.
Jason Kubel still has good numbers overall for the D-Backs, but his line since August 1 is just .172/.240/.384.
Series She-View
The Series She-View is one beautiful woman representing the Cubs taking on another (usually) beautiful woman representing the opponent. The Cubs' representative will change as the team's needs change – in other words, if the Cubs are winning, the rep will stay the same. But if the Cubs' performance calls for a change, someone new will step in. The opponent's representative will change from series to series, at my whim. But at least she'll probably be wearing the opponent's colors or have some connection to the team or something like that. It is immature, and the connection to baseball is tenuous at best. These things, I know.
With just two series left, and a sweep by the Rockies in the rearview mirror, it's time for another change. From the random vault, how about Maria Menounos? Not sure where I saw her the other day, but it struck me that she is lovely.
And since we're in the TV host category, how about an Arizona native (former) TV host? Jules Asner. We're going for obscurity today, apparently.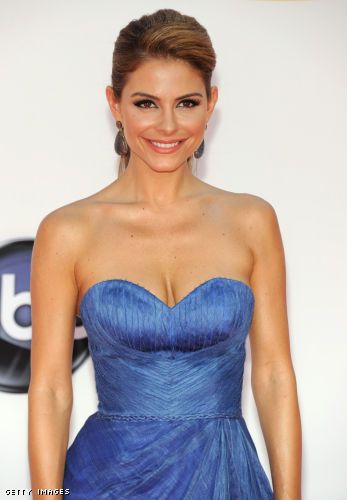 versus