---
After a long wait, 'The Walking Dead' returned last night. I like the show as much as I've liked any show since 'LOST' (but there will never be another 'LOST'), but I was a bit let down by the Season Three premier. A lotta zombie killing, which is swell, but it was mostly a "setup" episode. That's fine and necessary – but in a season premier, I usually expect something totally out of left field.
This was mentioned in yesterday's Bullets, tangentially, but the Cubs have fired long-time traveling secretary Jimmy Bank. "I had 34 years in the game, and consider myself extremely fortunate and privileged to have been in such a great business," Bank said Sunday, per the Tribune. "It was an honor to be one of 30 [traveling secretaries] in that close-knit fraternity, because we all know what baseball means to this country." The position, made famous by George Costanza (who was the assistant to the traveling secretary for the Yankees on 'Seinfeld'), involves booking hotels, flights, and whatever else is functionally required by the team as they travel throughout the season. It's fair to wonder what in that role – it's largely perfunctory, particularly after 20 years of doing it – could lead to someone being dismissed. Was he just too expensive? Did he upset folks in charge? Who knows. I don't say that to be inflammatory – I just mean, seriously, who knows the details on something like this? We certainly don't, but I'd like to.
Have I mentioned that Pete Kozma, the shortstop sporting a .783 postseason OPS for the Cardinals this year, put up a .333/.383/.569 line in 82 regular season (late season/critical) plate appearances for the Cardinals? Have I also mentioned that his minor league OPS numbers from 2009 to 2012 are .625, .702, .569, .647? Do I need to say it?
Yesterday was Ron Santo's Walk to Cure Diabetes, which raised an impressive $4.5 million.
The MLBullets at BCB look (with only hidden glee) at the Yankees' 0-2 hole in the ALCS. They're without Derek Jeter, who broke his ankle on Saturday, and the offense is struggling mightily.
From BN'er Mr. Gonzo, because why-not-it's-the-offseason, it's Quad-o: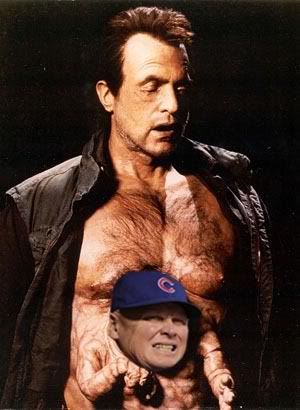 ---
---
Keep Reading ...
«
Bud Selig Doesn't Sound Eager to Add Playoff Games and Other Bullets
|
Prospects' Progress: Sappelt and Wang
»
---