There are some big stories – and funny stories – going around in the world of MLB right now, including that international draft thing …
According to a Bob Nightengale report, MLB is working around the clock specifically to bust Ryan Braun. The Brewers star, who previously beat a positive-PED test rap, was identified in documents associated with a clinic in Miami believed to have been distributing banned substances. Since then, MLB has been interviewing players and digging among documents to try and find a firm link between Braun and PEDs – it has even gone so far as to offer immunity to other players who testify privately against Braun (again, according to the report). Nightengale's report makes it sound as though MLB, at the highest levels, is pissed that Braun avoided suspension the first time around on a technicality, and will stop at nothing to bust him this time. Even if they are unsuccessful, I'd say Braun is probably watching his step.
For their part, naturally, MLB denies the substance of Nightengale's report, claiming that they are investigating all players connected to that Miami clinic with equal vigor.
The Dominican Republic, as expected by many, won the World Baseball Classic in rainy, nasty conditions last night. They beat Puerto Rico, and never lost during the tournament. It was pretty exciting for DR fans – many of whom gathered at stadiums throughout the DR to watch the game live – which makes me happy about it. Imagine the reaction if the United States had won. "US won the what? WBC title belt? Cool, I guess."
Players are frequently traded for very little in return. There's the always nebulous – and frequently value-less – "Player to be Named Later." There's mere "cash." And there's Dickie Noles, who was traded for himself. But … "no compensation." Like, nothing? That was the price when reliever Mike Cisco was dealt to the Angels by the Phillies earlier this week. Please become an All-Star, please become an All-Star …
MLB owners are considering eliminating pensions for non-uniformed personnel. It's been a good decade financially for baseball, so this is the kind of move that is always perceived negatively, even as many businesses move away from the pension model. But do you really want to be the one who tells a long-time scout that his pension is gone? Not even a little. (Interesting to note: the Cubs are one of four teams (together with the Brewers, Twins and Blue Jays) who have opted out of MLB's general non-uniformed personnel pension plan, though they are required to provide their own comparable or better plan.)
The Orioles have a game scheduled for Thursday, September 5 against the White Sox. It's a night game, since each team is traveling to Baltimore after a night game the day before. The problem? The NFL wants to schedule a Ravens game on that same day, because they've been doing that with Super Bowl winners on that Thursday for a long time now. FIGHT FIGHT FIGHT! I'm betting on the Orioles now that Ray Lewis has retired.
In a move that could not be more perfectly timed, given the ongoing Wrigley renovation talks, and the need for in-ballpark monetization, the Brewers are opening  the "Dew Deck" at Miller Park, which is "a seating area above the right field bleachers that dates to Miller Park's opening year, will be renovated during the off-season. The signature addition to the area will be a 25-foot high rock climbing wall, designed in the shape of a can of Mountain Dew." Boom. I can't decide if this is so gloriously garish or just garish: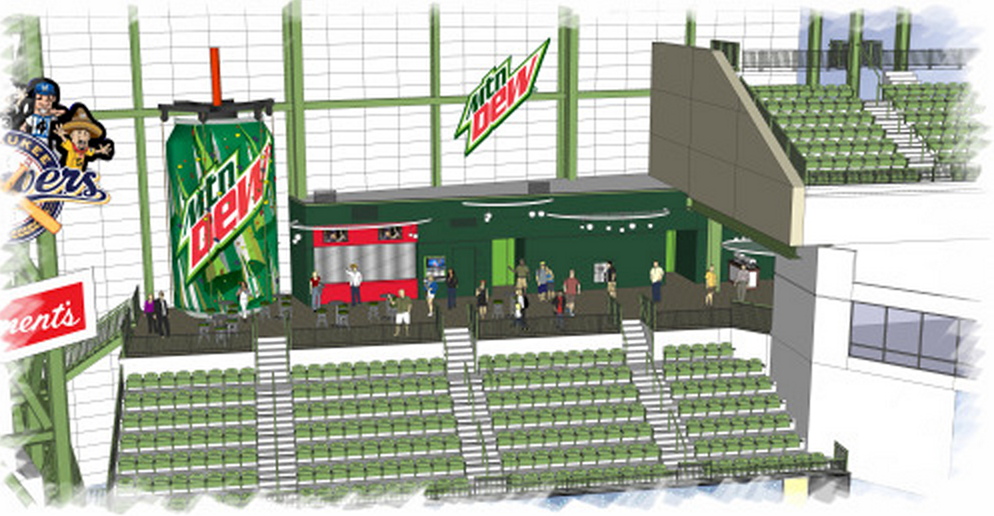 ---
---
Keep Reading ...
«
Obsessive Wrigley Renovation Watch: Likely Feeling Some Heat, Alderman Tunney Responds (UPDATE: Cubs, Too)
|
Obsessive Wrigley Renovation Watch: The Merits of the Suburban Plan, Political Sniping, and More
»
---