It wasn't until I'd put The Little Girl to bed and settled in front of my MLB.tv a few pitches into the Cubs/Pirates game last night that I remembered: I'm blacked out of Pirates games. This, despite living 185 miles from Pittsburgh with no channels in the Columbus area that even think about carrying Pirates games. I'm reminded of the poor folks in Iowa who are blacked out of about 30% of all MLB games for ridiculous reasons, and I'm similarly reminded that these blackouts – really, the territorial restrictions – are what drives up the local TV deals that we've seen exploding in baseball over the last couple of years. Until MLB figures out a way to capture local markets within MLB.tv (and share that revenue with local providers who've got a deal with a team), the blackouts will remain in place. Unless, of course, a lawsuit takes the system down, which could kill the big money TV deals before the Cubs have a chance to get one. It's a complicated mess, and one probably not appropriate for a Bullets intro …
Matt Garza is set to join the Cubs in Atlanta, where he'll continue his rehab from a strained lat. His elbow is still feeling good, so that's the good news. Garza will be getting back on the mound for the first time since late February when he suffered a setback in his recovery from the lat injury. That injury occurred back on February 17th – which was, itself, the first time he'd faced live batters since his elbow problem developed last July – when he suffered the lat injury. Conservatively, you'd give him at least a month of readying himself for the regular season, so I wouldn't expect to see Garza pitching with the Cubs until mid-May at this point.
The Cubs have started the year 0-13 with runners in scoring position. About that, Dale Sveum put it plainly to the media: "We don't have a hit with men in scoring position. We need to get better at that." Yes. Yes, you do.
There was a scary moment last night when it appeared that Wandy Rodriguez had drilled Anthony Rizzo in the head. Rizzo immediately hit the dirt, and his helmet went flying … but fortunately the pitch actually hit his shoulder, and he was fine.
More Dale Sveum and Chris Bosio defending Carlos Marmol. They're hoping he gets a chance to get back out there soon.
Perhaps you can get out some of your frustration about last night's loss by captioning this Charles LeClaire/USA Today photo of the moment Brent Lillibridge struck out looking on the 10th pitch of an at bat with the bases loaded: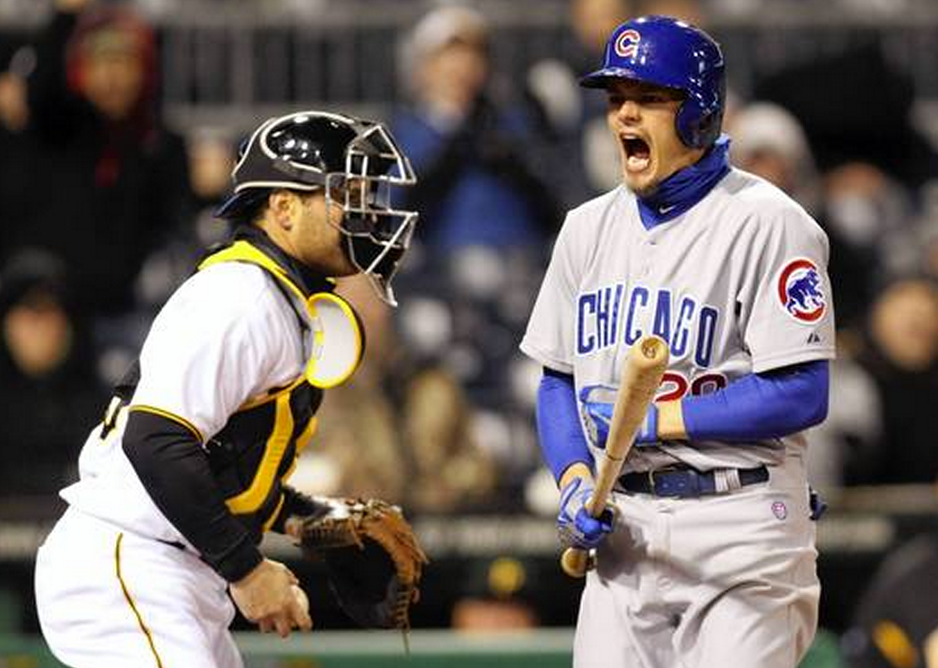 ---
---
Keep Reading ...
«
Enhanced Box Score: Cubs 0, Pirates 3 – April 3, 2013
|
Cubs Minor League Daily: And We're Back!
»
---