---
There's a fresh podcast episode on the way today, and, while you wait on its arrival, may I suggest that you sign up for the BN Fantasy Contest? You've only got a day left to sign up, but it's fast, easy, and free. There's a $300 prize pool at stake, so get on it. Gracias. Full details here.
Dale Sveum estimates that David DeJesus is going to be out about a month with his shoulder injury, per Carrie Muskat. In fact, he used the word "definitely" in reference to the month, so I'm thinking that is now the best case scenario. That would put DeJesus's return at the All-Star break, which will hopefully leave enough time before the Trade Deadline for DeJesus to show teams he's healthy, so that the Cubs at least have the option of shopping him if they are so inclined. Also, frankly, you'd like to see DeJesus back as soon as possible because he's a good player, a good influence, and seemingly a good guy.
In the interim, the Cubs are expected to swap out a pitcher for a bench player soon. Currently, they've got an absurd 8-man bullpen and a 4-man bench. Although DeJesus, an outfielder, was the guy whose injury precipitated the roster shuffling, there's no guarantee he'll be replaced on the roster by an outfielder – the Cubs were already carrying six outfielders, which is arguably one more than you need. Steve Clevenger, whose hitting well at Iowa and appears ready to return from his oblique injury, could be activated from the disabled list. The Cubs could also call outfielder Dave Sappelt back up, since he is already on the 40-man roster. We'll probably see a move after the Cardinals series ends today.
Of the Cubs' eight relievers, it could be a tricky decision on whom to demote. While it's probably going to be Blake Parker headed back to Iowa (since it won't be Kevin Gregg, James Russell, Shawn Camp, or Carlos Villanueva, and it probably won't be a move involving Carlos Marmol, Hector Rondon or Henry Rodriguez), that might be a tough pill to swallow considering Parker's 1.04 ERA and 0.692 WHIP over 8.2 innings with the Cubs. He's struck out 10 and walked just 2. Perhaps we'll see Rule 5 pick Rondon come down with a case of I've-been-on-the-roster-almost-90-days-and-I-can-make-up-the-rest-later-in-the-season-itis.
Welington Castillo wants to pick Yadier Molina's brain, which probably isn't a bad idea, so long as the Cardinals' backstop is open to it. Just don't ask for any advice on body art, Welington.
Speaking of Molina, Edwin Jackson didn't feel too bad about the fastball down and in that he threw to Molina, which was deposited in the seats. I very much enjoyed this quote, per CSN: "I thought it was a pretty good pitch. Either he was looking for it or he guessed right or it was right in his zone. Either way, he hit it for a home run, but I threw my pitch with conviction. Sometimes it happens." Remember the "conviction" stuff from earlier this year?
Not to belabor the issue, but I'm a smidge annoyed by everyone associated with the Cubs saying they had no problem with Shane Robinson's slide into Starlin Castro on Tuesday night (just like they all said they had no problem with Matt Holliday's late and high slide into Castro back in 2011). Dale Sveum said he hopes his guys would do the same thing. Dave McKay – who coaches base running – said that's how he wants Cubs players to play. Playing the game hard and breaking up double plays? Absolutely. But are you both really going to say you want to see your players doing this: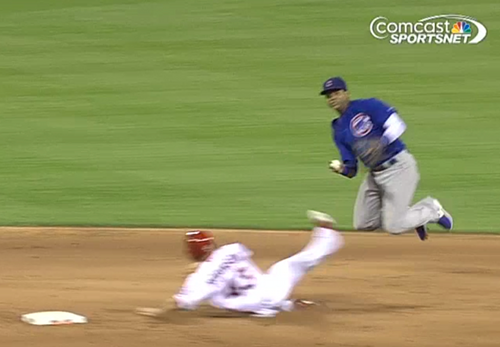 To some extent, Sveum and McKay are simply "saying the right thing." But I wish someone would publicly acknowledge that it's not OK for another team to risk injuring your young shortstop just because they're trying to break up a double play that would end the game. There's a right way to play "hard" and a wrong way to play "hard." That picture there – that's the wrong way.
PETA named Wrigley Field the 10th most vegetarian-friendly ballpark (in terms of food options). Beer is animal-free!
If you haven't seen the LEGO Wrigley Field, here's another chance to check it out. It's ridiculous. (h/t BN'er Jeff)
---
---
Keep Reading ...
«
Cubs Minor League Daily: Rivals and Bums
|
Top Pitching Prospect Pierce Johnson Has Been Promoted to High-A Daytona
»
---