Yoenis Cespedes is your 2013 Home Run Derby champion. While the event doesn't mean anything in the standings, I couldn't blame any of you who looked on wistfully and thought "what might have been …. " The Cubs were reportedly the runner-up for Cespedes' services a year and a half ago, but they really weren't terribly close to matching the A's winning offer, which included free agency after just four years of control. When I think about that miss, I mostly just credit the A's for having the vision – and balls – that other teams didn't.
Travis Wood is at the All-Star festivities in New York this weekend, but, if you were there, you might not notice him: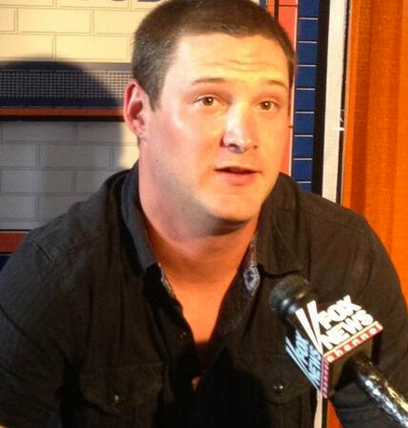 WHAT THE HELL!?!?!?! Oh, Travis. What have you done? The beard, man. The beard. You have just Delilah'd yourself. (You can read about Wood's media session and excitement about being in New York here.)
Brian Bogusevic re-aggravated his bum hamstring on Sunday, and we'll just have to see if the All-Star break is enough time for him to rest it up. Playing in center field for the Cubs this year is a dangerous game. Not sure how Julio Borbon and Dave Sappelt have escaped it.
Jesse Rogers wraps up the first half and discusses the future.
Watch (and listen to) a Javier Baez bomb for the Tennessee Smokies. He. Swings. So. Hard.
Backloading deals and deferring payments can be a savvy move, but if the Cubs ever start handing out deals that look anything like the increasingly unbelievable Bobby Bonilla deal(s) with the Mets, then you can really be worried about the financial situation. Bonilla's deals pay him about $1.7 million per year through 2028, and then $1.2 million per year through 2035. It comes at an 8% interest rate, according to Jon Heyman's report, which could be ridiculous. A $1.7 million payment, increased at an 8% rate annually, would be well over $5 million by 2028.
Holy crap, the Jimmy Fallon/Matt Harvey bit was awesome and hilarious. You should watch it.
BN'er Oswego Chris – aka Chris Neitzel, the author of 'Beyond Bartman, Curses, and Goats: 104 Reasons It's Been 104 Years' – wants to offer BN'ers the opportunity to get a personalized edition of the book (inscription, signature, smiley faces, the full nine). It's just $15.75, including shipping. Reach out to Chris on Twitter here, and he'll get you set up. For more on the awesome book, you can check out this interview I did with Chris. (Short version: The book is a 293-page history lesson, diving into why the Bartman/curse/goat/whatever explanations for the Chicago Cubs' more-than-a-century of championship-less baseball are bullcrap.)
---
---
Keep Reading ...
«
Cubs Minor League Daily: Now Visiting Kane County
|
Obsessive Matt Garza Trade Watch: Rangers Uptick? Red Sox Downtick? Eight Other Teams Involved?
»
---