Pitching Coach Larry Rothschild Picks Up 2011 Option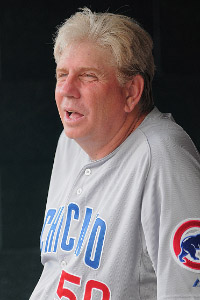 Chicago Cubs pitching coach Larry Rothschild, whose been around for the past decade, has picked up his option for next year, which would theoretically see him return to the Cubs.
Rothschild will enter his 10th season as Cubs pitching coach, having outlasted Don Baylor, Bruce Kimm, Dusty Baker and Lou Piniella. Whether Mike Quade will return as the manager is unknown, but he was known to be in favor of Rothschild's return.

Despite improvement in the final month, the Cubs finished 13th in National League pitching this year with a 4.18 earned-run average, after ranking in the top five in each of the three previous seasons. They were also last in walks allowed (605) and fourth in strikeouts (1,268).

The relatively inexperienced bullpen had the second-highest ERA (4.55) in the league, despite finishing with 28 consecutive scoreless innings, while the starters ranked ninth at 4.00. Chicago Breaking Sports.
This news does not, by itself, mean that Rothschild will actually be the Cubs' pitching coach next year. Should the new manager want to bring on his own pitching coach (Greg Maddux?), the Cubs could, of course, dismiss Rothschild. The team would simply be on the hook for his salary.
Similarly, we assume that hitting coach Rudy Jaramillo will be back next year because he'll be in the second year of a three-year deal, but technically, the new manager could demand a replacement. Given how much Jaramillo was paid, however (nearly $1 million per year), it's highly unlikely that the Cubs would let him go. No one is quite sure how much Rothschild makes, though it's likely in the $400 to 500k range.
---