Should the Chicago Cubs Trade Marlon Byrd?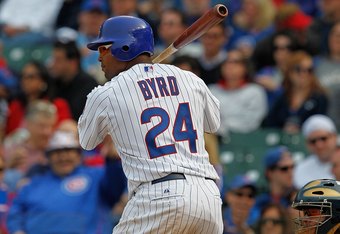 With most of the club's payroll tied up in but a hand full of players in 2011, the Chicago Cubs are going to have a difficult time improving the team over the 2010 version. If they are to do so, they'll have to get mighty creative with the roster, and the maneuvers used to create it.
For that reason, no suggestion should go unconsidered. Tyler Colvin at first base? Ok, let's see. Andrew Cashner back to the rotation? I'm game. Trade Marlon Byrd? Hmm. Maybe.
What to do: Byrd is 33 with two more years left on his contract. A lot of the talk on this blog and elsewhere is that the Cubs ought to try to trade Byrd while his value is high. The Cubs and GM Jim Hendry long have been accused of rarely "selling high" on players when they make trades. One exception I can think of is Mark DeRosa, even though that trade was panned by many Cubs fans at the time. No doubt Byrd brings a nice approach to the game. The Cubs believe center-field prospect Brett Jackson is coming fast. You're stuck with Alfonso Soriano in left (his contract has four more years to run). The Cubs want Tyler Colvin to play, and as much as first base has been talked about, it appears to me they want him to remain in the outfield.

If you don't move Kosuke Fukudome, he could be a stopgap in center while the Cubs wait for Jackson (even though Fukudome is much better in right). DailyHerald.com.
It must be said that Marlon Byrd is, by all accounts, a tremendous teammate and wonderful person. Those qualities don't always translate to on-field success, but they certainly don't hurt. Byrd gives his all every game, and the fans love him – like it or lump it, that has value to the team when considering whether to keep him.
That all said, there are compelling reasons for trading Byrd. In addition to the emergence of Brett Jackson (who, it should be noted, played center field only part time AA Tennessee this year), Byrd's perceived value is perhaps as high as it will get. The key word there is "perceived." In reality, after a great first few months, Byrd was terrible in the second half of the season – he managed a measly .261/.321/.361 line. Are his slightly above-average defense and intangible clubhouse value enough to overcome that kind of production?
Perhaps the most likely reason for moving Byrd, were he to be moved, would be financial. Byrd was bargained priced this season at just $3 million, but next year his salary bumps up to $5.5 million, before reaching $6.5 million in the final year of his deal in 2012. If – and it's a big if – Kosuke Fukudome and Tyler Colvin could reasonably hold down center and right field until Brett Jackson is ready to take over in center (and that, too, is another if), the Cubs could save $5 million that the team could put to use at first base, in the rotation, or in the bullpen.
In the end, it seems unlikely that the Cubs will consider this kind of progressive, non-reactionary move, and unlike many other non-moves, I probably won't bitch about this one. The simple fact is that I enjoy watching Marlon Byrd play. And in the end, isn't that what this is all about? Yes, of course, my primary joy comes from seeing the Cubs win – but next to that, I want to like the Cubs' players. And I like Marlon Byrd.
---