Brett Jackson Done for the Year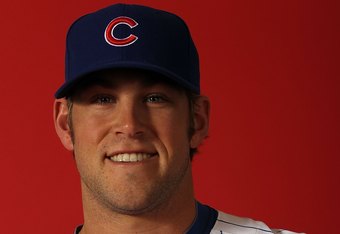 Chicago Cubs prospect Brett Jackson was late to join the Mesa Solar Sox for the Arizona Fall League, and now he'll be early to depart them. After being hospitalized for a bacterial infection in his right shin (ew/ouch), Jackson is going to rest up.
Jackson, 22, had joined the Mesa Solar Sox in late October after participating in the Pan-Am Qualifying Tournament in Puerto Rico. He was limited to three games for Team USA because of a minor ankle injury. He appeared in four games with the Solar Sox and had one double and five RBIs. His last game was on Friday, when he was pulled after two at-bats.

Oneri Fleita, the Cubs' player development director, said on Tuesday that Jackson had to be hospitalized in Mesa, Ariz., because of cellulitis with an abscess in his shin, which is similar to a staph infection. He was expected to be released on Wednesday.

Fleita said that Jackson will go home later this week but go back to Mesa in January to workout with other Cubs players in preparation for the 2011 season. cubs.com.
While playing well in the AFL could have helped Jackson's case for making the Cubs early next year, the Solar Sox have only 13 games left. It was unlikely that Jackson was going to make the Cubs out of Spring Training anyway, so he'll just hope to have a good showing there, and then follow it up with a great start to his 2011 minor league season.
---