Chicago Cubs Close to Deal with Kerry Wood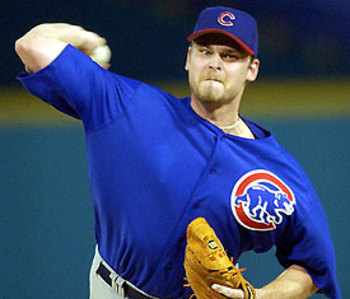 Well this would be a very pleasant (moderate) surprise.
The Cubs, who have a major need for a veteran right handed reliever are moving towards finalizing a deal with free agent Kerry Wood. Wood, who spent the first 10 years of his major league career with the Cubs, spent 2010 with the Indians and Yankees and compiled impressive numbers down the stretch as he helped the Yankees make the playoffs.

If he finalizes his deal with the Cubs, Wood should provide tremendous support to Cubs closer Carlos Marmol and will form a very formidable back end of the bullpen with left-hander Sean Marshall. chicagotribune.com.
Wood suggested last weekend that he might consider a lesser offer to return to the Cubs, but it was reported this week that he's looking for two or more years and $6 million per. If he ends up with a remarkably lower contract, he's going to get a whole lot of extra love from the fans.
It's ironic: these are usually the kind of signings we hate. An aging reliever coming off an unreachably good stretch, signed to a multi-year deal. But, since it's Kerry Wood, it's impossible not to be excited. Truth be told, I'm nervous that the cracks that appeared in his game while in Cleveland will resurface over the next couple of years.
Still, I'm excited. Like I said: it's Kerry Wood.
---