Let's All Go to the Louisville Slugger Factory and Other Bullets
It's the beginning of a new week, but I reckon it doesn't feel that way to many folks who may not have work today or tomorrow. I'll have my thoughts on the holiday later today, but, until then, Bullets …
Former Cub and long-time Red Ryan Freel died on Saturday from an apparent suicide at age 36. He had a number of concussions throughout his career, and there will now be the speculation about the connection between his death and the concussions. It's a sad story among many sad stories.
A profile on Cubs Minor League Pitching Coordinator Derek Johnson and an early look at the 2013 Draft.
The MLBullets at BCB look at the Nick Swisher signing, which suggests a team trying to rebuilt and improve for the near-term simultaneously. Dual tracks or twin fronts or something like that.
And now for the part of the story where a friend or family member shows you some slides from a vacation they took, but which you could not possibly be less interested in …
As I mentioned, we went to the Louisville Slugger Factory and Museum this weekend, which was totally awesome if you're a baseball nerd. The idea that virtually every bat used in MLB and in the minors in a given year is made there in that one facility is just crazy to me. You weren't allowed to take any pictures in the factory part, though, for industry competitiveness reasons, so you won't see any from in there. But don't you worry! I still got some great shots for you!
Here's me out front, trying to do the that-guy-is-holding-the-thing-up-oh-wait-it's-just-a-camera-trick-except-we-failed-at-it thing: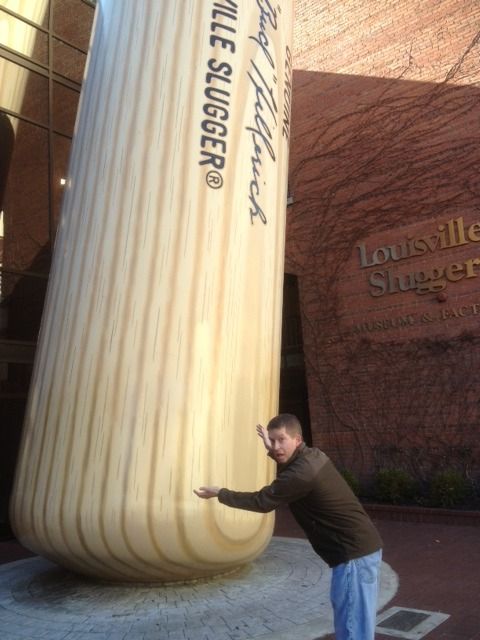 When you walk in to the building, you're greeted with a wall of all of the signatures for bats they've collected over the years, and one of them jumped out at me:
Right next to Ron Tingley, which may be among the best baseball names ever. What I want to know: in 1982, when they were both in the National League, did Ron Tingley ever face Dick Tidrow? And, if so, did the universe collapse in on itself briefly?
The museum part features a bunch of bat history, and game-used bats, and some great players who've been honored:
They had a few of the actual, ready-to-be shipped bats available to view and hold, and I swear to you, this was the first, totally random bat that I pulled:
So, if Starlin hits a walk-off homer to clinch a playoff spot in September, you'll know it was with this bat, and it was because I imbued it with my awesomeness.
They've also got a batting cage there, and I was pleased to see that, in pictorial form, my stance doesn't look so outrageously bad:
I got to use a wood bat for the first time that I can recall – and it's freaking hard. Those bats are heavy. And whose model did I use? Babe Ruth? Ted Williams? Ernie Banks? Nope:
You may not quite be able to see, but among the ten or so choices of Hall of Famers and superstars of today was … Ryan Theriot. Boo-yah. Unsurprisingly, I hit a whole lot of weak grounders to short and a couple bloop singles.
All in all, a totally excellent visit if you're in the Louisville area. And I got a personalized Chicago Cubs bat on the way out, complete with our soon-to-be-son's name (arriving late February/early March). Pretty excited to give him that.
---