A Closer Look at Those Archival Topps Cards of Chicago Cubs Players
You may recall that, among the Cubs' awesome promotions this year (Zubaz!!!), the team is giving out a set of specially-made Topps cards, in four installments, at four games this Summer. The cards essentially place current and former Cubs on classic Topps cards on which they couldn't actually have ever appeared (like, for example, Starlin Castro on the 1987 Topps brown look). The game dates for the cards are Friday, May 3 (a game I'm going to be at, by the way), Friday, July 5, Friday, August 2, and Friday, August 30.
The Cubs kindly sent me a set of the cards to give a closer look (all of my pictures are up at the BN Facebook page) and, naturally, titillate you. I'm happy to do it, because the cards are pretty badass.
The full set is 82 cards, and it looks really neat when you try and fan it out into a Cubs-looking "C":
Ernie Banks has six cards in the set, which is the most of any player (naturally):
Ryne Sandberg has several additions, including a groovy looking 'stache: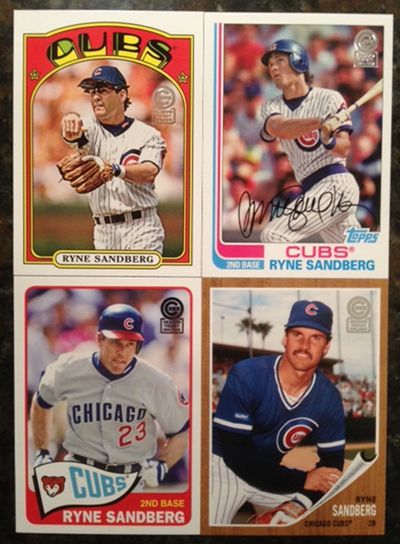 Sammy Sosa must not be too "on the outs" with the organization, they gave him four cards in the set:
I've got a bunch more pictures of the cards up at the BN Facebook page for your perusing pleasure.
---