Series Preview: Cubs v. Braves, April 5 – April 7, 2013
The Cubs now embark on a 19-game stretch in which they face, exclusively, teams that finished the 2012 season at .500 or better. Indeed, 13 of those 19 games are against 2012 playoff teams. If the Cubs go, say, 9-10 over this stretch, you've got to be feeling extremely good. Heck, even 8-11 or 7-12 wouldn't be abysmal.
By way of reminder, the Series Preview hooks you up with what you need to know about every series this year – streaks, broadcast information, pitchers, expected lineups, etc. That way, if you want to check only one place to get a sense about an upcoming series, or to plan ahead, you've got it. There's also some fun stuff, because fun stuff is fun.
We're Going Streaking
The Cubs took two of three in their opening series with the Pirates, putting them a game over .500. Let's hope today isn't the last day we get to say that all year. (Unless they win SO much that they never fall BACK to JUST one game over .500. AMIRITE!?)
The Braves also took two of three in their opening series against the Phillies, though they did so in slightly more convincing fashion.
Game Times and Broadcasts
Friday, April 5 at 6:30 CT on CSN+, MLBN.
Saturday, April 6 at 6:10 CT on WGN.
Sunday, April 7 at 12:35 CT on CSN.
Expected Starters and Lineups
These lineups are likely to be pretty close to what actually gets fielded, but you'll want to check each day's Pre-Gamin' post for the actual lineup.
Cubs
Starters: Scott Feldman (0-0, -.–), Carlos Villanueva (0-0, -.–), Jeff Samardzija (1-0, 0.00)
Lineup:
David DeJesus, CF
Starlin Castro, SS
Anthony Rizzo, 1B
Alfonso Soriano, LF
Nate Schierholtz, RF
Welington Castillo/Dioner Navarro, C
Luis Valbuena, 3B
Brent Lillibridge, 2B
Pitcher
Braves
Starters: Mike Minor (0-0, -.–), Julio Teheran (0-0, -.–), Tim Hudson (0-0, 6.23)
Lineup:
Andrelton Simmons, SS
Jason Heyward, RF
Justin Upton, LF
Freddie Freeman, 1B
B.J. Upton, CF
Dan Uggla, 2B
Juan Francisco, 3B
Gerald Laird/Evan Gattis, C
Pitcher
Hot or Not and Whom to Watch
Best batting average on the Cubs right now? Travis Wood at .500.
The only Cubs player with more than 6 at bats and an OPS over .750 is Anthony Rizzo … and he's got only one hit. But, since that hit was a homer, and he's also got two walks and a HBP, he's managed a .778 OPS over the first three games.
Nate Schierholtz has been on fire to start the year, reaching base six times over the three-game series in Pittsburgh, and hitting a crucial homer yesterday. His plate appearances have been excellent examples of making the pitcher work, too. That last part is also true for David DeJesus, though he's still looking for his first hit.
Brent Lillibridge is having a rough go of replacing Darwin Barney. He's 0-9 with four strikeouts so far, though he did hit a couple balls hard yesterday.
The Braves' bats have been jumping. Already this year, they've got homers from Freddie Freeman, Evan Gattis, Dan Uggla, Jason Heyward, and Justin Upton (twice). Freeman and Upton, in particular, have been killing it.
A reminder that small sample sizes blast new players on other teams, too: B.J. Upton is hitless and walkless in 11 plate appearances with seven strikeouts.
Series She-View
The Series She-View is one beautiful woman representing the Cubs taking on another (usually) beautiful woman representing the opponent. The Cubs' representative will change as the team's needs change – in other words, if the Cubs are winning, the rep will stay the same. But if the Cubs' performance calls for a change, someone new will step in. The opponent's representative will change from series to series, at my whim. But at least she'll probably be wearing the opponent's colors or have some connection to the team or something like that. It is immature, and the connection to baseball is tenuous at best. These things, I know.
This year, the Series She-View will live over at the Message Board. Here's your She-View for the Braves series.
Caption the Enemy
A new feature for the Series Preview this year – since folks on the Internet can't get enough of cracking wise about pictures, I thought it might be a fun addition to the Series Preview. I'll drop in a picture (hopefully one ripe for captioning), and you'll drop in your clever captions into the comments. Then, if there are good ones, we can meme-ify them for use down the road.
For example … here's one of Jason Heyward from Zimbio. Must be nice to celebrate stuff: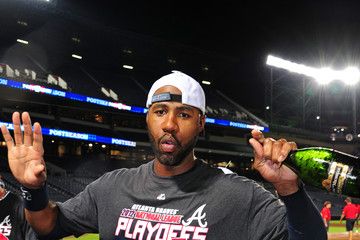 ---