Series Preview: Mets v. Cubs, May 17 – May 19, 2013
The Cubs welcome the Mets for a weekend series at Wrigley Field, and I've already given you a reason to go to each game.
By way of reminder, the Series Preview hooks you up with what you need to know about every series this year – streaks, broadcast information, pitchers, expected lineups, etc. That way, if you want to check only one place to get a sense about an upcoming series, or to plan ahead, you've got it. There's also some fun stuff, because fun stuff is fun.
We're Going Streaking
The Cubs are on fire, relatively speaking, having won six of nine, and back-to-back series. They are a half game ahead of the Brewers for last place in the NL Central.
The Mets were surprisingly not terrible last year, but after an offseason of change, they stand at 15-23, worse than the Cubs. Before yesterday's win against the Cardinals, the Mets had lost six in a row.
Game Times and Broadcasts
Friday, May 17 at 1:20 CT on WGN.
Saturday, May 18 at 12:05 CT on CSN.
Sunday, May 19 at 1:20 CT on WGN.
Expected Starters and Lineups
These lineups are likely to be pretty close to what actually gets fielded, but you'll want to check each day's Pre-Gamin' post for the actual lineup.
Cubs
Starters: Edwin Jackson (1-5, 6.02), Scott Feldman (3-3, 2.53), Travis Wood (4-2, 2.03)
Lineup:
David DeJesus, CF
Starlin Castro, SS
Anthony Rizzo, 1B
Alfonso Soriano, LF
Nate Schierholtz, RF
Welington Castillo/Dioner Navarro, C
Luis Valbuena, 3B
Darwin Barney, 2B
Pitcher
Mets
Starters: Matt Harvey (4-0, 1.44), Jeremy Hefner (0-4, 4.61), Dillon Gee (2-5, 6.13)
Lineup:
Jordany Valdespin, RF
Daniel Murphy, 2B
David Wright, 3B
Ike Davis, 1B
Lucas Duda, LF
John Buck, C
Rick Ankiel (for realsies), CF
Ruben Tejada, SS
Pitcher
Hot or Not and Whom to Watch
For some reason, my gut told me that David DeJesus, who'd started out cold and then got scorching hot, had gotten cold again. I'm wrong – his line since May 2, the date on which I thought he'd gone cold, is .300/.378/.450. That's not cold at all That's damn good.
Take out his first two starts, and Scott Feldman has a 1.60(!) ERA in 33.2 innings of work with 29 Ks and just 10 walks. Of course, the .186 BABIP against helps, but who's counting?
Matt Harvey is insanely good, as I documented yesterday. If the Cubs score three runs off of him, that will count as rocking him.
David Wright has been David Wright this year, hitting .299/.410/.507.
John Buck has 10 homers, but a .289 OBP.
The Cubs reportedly pursued Shaun Marcum this offseason before ending up with better options. He's thrown just 21.1 innings for the Mets this year, with a 6.75 ERA. The Cubs don't face him this series, but I'm just sayin'.
Series She-View
The Series She-View is one beautiful woman representing the Cubs taking on another (usually) beautiful woman representing the opponent. The Cubs' representative will change as the team's needs change – in other words, if the Cubs are winning, the rep will stay the same. But if the Cubs' performance calls for a change, someone new will step in. The opponent's representative will change from series to series, at my whim. But at least she'll probably be wearing the opponent's colors or have some connection to the team or something like that. It is immature, and the connection to baseball is tenuous at best. These things, I know.
This year, the Series She-View will live over at the Message Board. Here's your She-View for the Mets series.
Caption the Enemy
A new feature for the Series Preview this year – since folks on the Internet can't get enough of cracking wise about pictures, I thought it might be a fun addition to the Series Preview. I'll drop in a picture (hopefully one ripe for captioning), and you'll drop in your clever captions into the comments. Then, if there are good ones, we can meme-ify them for use down the road.
I don't know that I'd want to catch a t-shirt from this guy (photo from M. Barron on Flickr):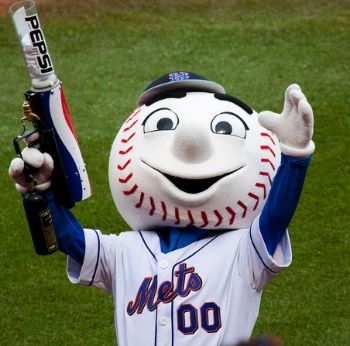 ---