Series Preview: White Sox v. Cubs, May 27 – May 30, 2013
The Crosstown Classic is back (to very little fanfare), but shorter. Upon reflection, I don't hate that the series has shrunk to just four games, but I do dislike that the two portions of the series are being played back-to-back.
By way of reminder, the Series Preview hooks you up with what you need to know about every series this year – streaks, broadcast information, pitchers, expected lineups, etc. That way, if you want to check only one place to get a sense about an upcoming series, or to plan ahead, you've got it. There's also some fun stuff, because fun stuff is fun.
We're Going Streaking
The Cubs are riding a one-game winning streak after coming back late on the Reds yesterday in Cincinnati. Before that, the Cubs had lost six in a row, but who's counting?
The White Sox have managed to get back to .500 thank to a sweep! … of the Marlins. They have otherwise won 9 of 12, and actually are fairly hot.
Game Times and Broadcasts
Monday, May 27 at 6:10 CT on CSN. (At the Cell, and you can watch a Sox broadcast on WGN.)
Tuesday, May 28 at 7:10 CT on WCIU. (At the Cell.)
Wednesday, May 29 at 1:20 CT on CSN. (At Wrigley, and you can watch a Sox broadcast on WGN.)
Thursday, May 30 at 1:20 CT on WGN. (At Wrigley.)
Expected Starters and Lineups
These lineups are likely to be pretty close to what actually gets fielded, but you'll want to check each day's Pre-Gamin' post for the actual lineup.
Cubs
Starters: Jeff Samardzija (2-6, 3.25), Edwin Jackson (1-7, 6.11), Scott Feldman (4-4, 2.80), Travis Wood (4-3, 2.73)
Lineup (with a DH for the first two games):
David DeJesus, CF
Starlin Castro, SS
Anthony Rizzo, 1B
Alfonso Soriano, LF
Nate Schierholtz, RF
Welington Castillo/Dioner Navarro, C
Luis Valbuena, 3B
Darwin Barney, 2B
Pitcher
White Sox
Starters: Jose Quintana (3-1, 3.48), Chris Sale (5-2, 2.53), John Danks (0-0, 4.50), Jake Peavy (6-2, 2.97)
Lineups (with pitchers for the final two games):
Alejandro De Aza, CF
Alexei Ramirez, SS
Alex Rios, RF
Adam Dunn, DH
Paul Konerko, 1B
Dayan Viciedo, LF
Conor Gillespie, 3B
Jeff Keppinger, 2B
Hector Gimenez, C
Hot or Not and Whom to Watch
Starlin Castro and Anthony Rizzo, after a week of big-time struggles combined to go 9 for their last 34 over the past four games, which is … um … well, it's still not great. But it's better than it had been.
Welington Castillo has walked in three straight games after walking just once in his first 36 games. Then again, his OBP has dropped by a point during those three games, so apparently walks are stupid.
Each of Travis Wood and Scott Feldman will look to rebound from their first bad start (mostly because of a bad pitch or two) in a long time. Especially Feldman, because, you know …
Alex Rios is having his second straight good year, batting .296/.358/.527. Remember when the White Sox picked up his huge contract off of waivers a few years ago? It's not looking nearly as crazy today as it did then.
Age may finally be getting to Paul Konerko, who's off to a mere .238/.301/.357 start. Adam Dunn is also struggling, hitting .159/.254/.402.
Series She-View
The Series She-View is one beautiful woman representing the Cubs taking on another (usually) beautiful woman representing the opponent. The Cubs' representative will change as the team's needs change – in other words, if the Cubs are winning, the rep will stay the same. But if the Cubs' performance calls for a change, someone new will step in. The opponent's representative will change from series to series, at my whim. But at least she'll probably be wearing the opponent's colors or have some connection to the team or something like that. It is immature, and the connection to baseball is tenuous at best. These things, I know.
This year, the Series She-View will live over at the Message Board. Here's your She-View for the White Sox series.
Caption the Enemy
A new feature for the Series Preview this year – since folks on the Internet can't get enough of cracking wise about pictures, I thought it might be a fun addition to the Series Preview. I'll drop in a picture (hopefully one ripe for captioning), and you'll drop in your clever captions into the comments. Then, if there are good ones, we can meme-ify them for use down the road.
Today's picture is of one of the weaker White Sox moves in recent memory …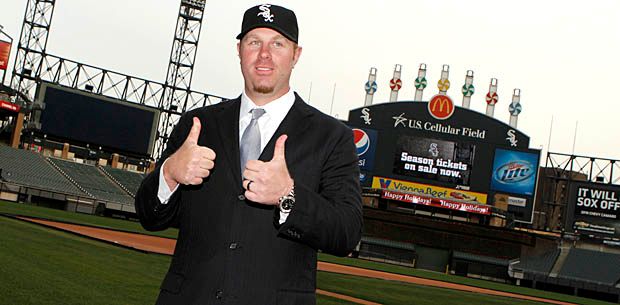 ---