Series Preview: Reds v. Cubs, June 10 – June 13, 2013
The Cubs put together a nice win yesterday against the Pirates, but now they face yet another NL Central big dog, the Reds. Seems like the Cubs are always playing the Reds this year.
By way of reminder, the Series Preview hooks you up with what you need to know about every series this year – streaks, broadcast information, pitchers, expected lineups, etc. That way, if you want to check only one place to get a sense about an upcoming series, or to plan ahead, you've got it. There's also some fun stuff, because fun stuff is fun.
We're Going Streaking
The Cubs lost two of three to the Pirates, but, since that one win was yesterday, we can say they're on a winning streak. Of one.
The Reds drop their last series with the Cardinals, and have lost four of five. They've fallen back into a tie with the Pirates in the NL Central, four games back of the Cardinals.
Game Times and Broadcasts
Monday, June 10 at 7:05 CT on CSN.
Tuesday, June 11 at 7:05 CT on WGN.
Wednesday, June 12 at 1:20 CT on CSN, MLBN.
Thursday, June 13 at 1:20 CT on CSN.
Expected Starters and Lineups
These lineups are likely to be pretty close to what actually gets fielded, but you'll want to check each day's Pre-Gamin' post for the actual lineup.
Cubs
Starters: Scott Feldman (5-4, 2.84), Matt Garza (1-0, 4.03), Travis Wood (5-4, 2.65), Jeff Samardzija (3-7, 3.18)
Lineup:
David DeJesus, CF
Luis Valbuena, 3B
Anthony Rizzo, 1B
Alfonso Soriano, LF
Nate Schierholtz, RF
Welington Castillo/Dioner Navarro, C
Starlin Castro, SS
Darwin Barney, 2B
Pitcher
Reds
Starters: Homer Bailey (3-4, 3.84), Tony Cingrani (2-0, 3.27), Mike Leake (5-3, 2.93), TBA
Lineup:
Shin-Soo Choo, CF
Zack Cozart, SS
Joey Votto, 1B
Brandon Phillips, 2B
Jay Bruce, RF
Todd Frazier, 3B
Chris Heisey/Xavier Paul, LF
Devin Mesoraco, C
Pitcher
Hot or Not and Whom to Watch
Alfonso Soriano is officially hot. He's sporting a .311/.373/.600 line over his last 12 games, and his OPS+ is 101. Above average!
Anthony Rizzo has a 12-game on-base streak going, but he also has a mere .627 OPS in June.
Dioner Navarro has his season line up to .279/.364/.559.
Joey Votto and Shin-Soo Choo are the top two on-base men in the National League. Must be nice.
Jay Bruce leads the league in strikeouts, with 78.
Series She-View
The Series She-View is one beautiful woman representing the Cubs taking on another (usually) beautiful woman representing the opponent. The Cubs' representative will change as the team's needs change – in other words, if the Cubs are winning, the rep will stay the same. But if the Cubs' performance calls for a change, someone new will step in. The opponent's representative will change from series to series, at my whim. But at least she'll probably be wearing the opponent's colors or have some connection to the team or something like that. It is immature, and the connection to baseball is tenuous at best. These things, I know.
This year, the Series She-View will live over at the Message Board. Here's your She-View for the Reds series.
Caption the Enemy
A new feature for the Series Preview this year – since folks on the Internet can't get enough of cracking wise about pictures, I thought it might be a fun addition to the Series Preview. I'll drop in a picture (hopefully one ripe for captioning), and you'll drop in your clever captions into the comments. Then, if there are good ones, we can meme-ify them for use down the road.
Today's picture is the Reds' big bat, who … well … you see: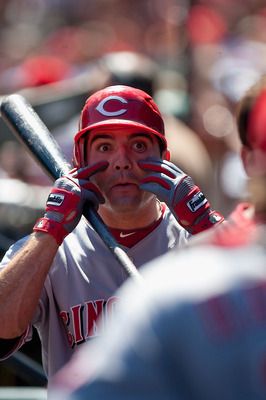 ---