Series Preview: Cubs v. Mets, June 14, 2013 – June 16, 2013
The Cubs head out to New York and Citi Field. Last time they faced the Mets, it was all about young ace Matt Harvey. This time, no worries: he just pitched yesterday.
By way of reminder, the Series Preview hooks you up with what you need to know about every series this year – streaks, broadcast information, pitchers, expected lineups, etc. That way, if you want to check only one place to get a sense about an upcoming series, or to plan ahead, you've got it. There's also some fun stuff, because fun stuff is fun.
We're Going Streaking
The Cubs won in 14 innings yesterday against the Reds, but it was their only win in the four-game series. The downward trajectory continues apace.
The Mets aren't much better – they're 13 games under .500, spared from last place in the East by the Marlins. They just lost two of three to the Cardinals after dropping two in a row to those Marlins.
Game Times and Broadcasts
Friday, June 14 at 6:10 CT on CSN.
Saturday, June 15 at 12:10 CT on CSN.
Sunday, June 16 at 12:10 CT on WGN.
Expected Starters and Lineups
These lineups are likely to be pretty close to what actually gets fielded, but you'll want to check each day's Pre-Gamin' post for the actual lineup.
Cubs
Starters: Edwin Jackson (2-8, 5.76), Scott Feldman (5-5, 3.22), Matt Garza (1-1, 6.26)
Lineup:
David DeJesus, CF
Starlin Castro, SS
Anthony Rizzo, 1B
Alfonso Soriano, LF
Nate Schierholtz, RF
Welington Castillo/Dioner Navarro, C
Luis Valbuena, 3B
Darwin Barney, 2B
Pitcher
Mets
Starters: Shaun Marcum (0-7, 4.96), Jon Niese (3-5, 4.24), Jeremy Hefner (1-6, 4.11)
Lineup:
Jordany Valdespin, 2B
Omar Quintanilla, SS
David Wright, 3B
Daniel Murphy, 1B
Lucas Duda, LF
Marlon Byrd, RF
John Buck, C
Kirk Nieuwenhuis, CF
Pitcher
Hot or Not and Whom to Watch
He somehow escapes commentary when folks talk about slumping Cubs, but David DeJesus has quietly been very bad since May 2, despite facing almost exclusively righties. His line over those 33 games: .237/.287/.351. Yikes.
Another ice cold Cub: Anthony Rizzo has one extra base hit in June. He's slugging .162 this month.
David Wright is pretty much always good, but that's been especially true over the last six games: .393/.433/.679. Then again, he's just .239/.302/.386, so who knows. Hooray arbitrary end points!
After starting the season with six homers in his first ten games, and getting everyone all excited about a late-blooming catcher, John Buck has five homers over his last 44 games, and his line in those 44 games is just .194/.265/.315.
Series She-View
The Series She-View is one beautiful woman representing the Cubs taking on another (usually) beautiful woman representing the opponent. The Cubs' representative will change as the team's needs change – in other words, if the Cubs are winning, the rep will stay the same. But if the Cubs' performance calls for a change, someone new will step in. The opponent's representative will change from series to series, at my whim. But at least she'll probably be wearing the opponent's colors or have some connection to the team or something like that. It is immature, and the connection to baseball is tenuous at best. These things, I know.
This year, the Series She-View will live over at the Message Board. Here's your She-View for the Mets series.
Caption the Enemy
A new feature for the Series Preview this year – since folks on the Internet can't get enough of cracking wise about pictures, I thought it might be a fun addition to the Series Preview. I'll drop in a picture (hopefully one ripe for captioning), and you'll drop in your clever captions into the comments. Then, if there are good ones, we can meme-ify them for use down the road.
A familiar face shows up in this one – it's Marlon Byrd, who's having some fun with the Mets this year (picture via Metro.us):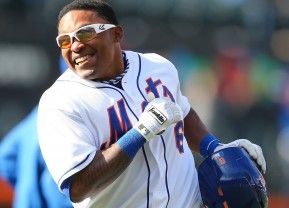 ---