Series Preview: Pirates v. Cubs, July 5, 2013 – July 7, 2013
The Cubs head back home to face the all-kinds-of-good Pirates, who look poised to finally finish with a winning record. I'm sure Pirates fans would hate to hear someone project that in July after 20 years of losing, but it's gonna happen this year. Good for them.
By way of reminder, the Series Preview hooks you up with what you need to know about every series this year – streaks, broadcast information, pitchers, expected lineups, etc. That way, if you want to check only one place to get a sense about an upcoming series, or to plan ahead, you've got it. There's also some fun stuff, because fun stuff is fun.
We're Going Streaking
The Cubs finally dropped a series, and it came on a passed ball in in Oakland. The Cubs are now 15.5 games behind these Pirates.
… who are two games up in the NL Central, and sport the best record in baseball. The Pirates just lost two of three to the Phillies, but, before that, they won nine in a row.
Game Times and Broadcasts
Friday, July 5 at 3:05 CT on CSN, MLBN.
Saturday, July 6 at 3:05 CT on WGN.
Sunday, July 7 at 1:20 CT on WGN.
Expected Starters and Lineups
These lineups are likely to be pretty close to what actually gets fielded, but you'll want to check each day's Pre-Gamin' post for the actual lineup.
Cubs
Starters: Jeff Samardzija (5-7, 3.34), Edwin Jackson (4-10, 5.75), Carlos Villanueva (2-4, 3.45)
Lineup:
Luis Valbuena, 3B
Starlin Castro, SS
Nate Schierholtz, RF
Alfonso Soriano, LF
Anthony Rizzo, 1B
Welington Castillo/Dioner Navarro, C
Brian Bogusevic/Julio Borbon, CF
Darwin Barney, 2B
Pitcher
Pirates
Starters: Francisco Liriano (7-3, 2.23), Charlie Morton (1-1, 2.50), TBA
Lineups:
Starling Marte, LF
Russell Martin, C
Andrew McCutchen, CF
Garrett Jones, 1B
Pedro Alvarez, 3B
Neil Walker, 2B
Jody Mercer, SS
Travis Snider, RF
Pitcher
Hot or Not and Whom to Watch
Alfonso Soriano is on one of his hot streaks, hitting .385/.385/.846 with three homers and nine RBI in the six games since he got those two days off in Milwaukee. The stretch has brought his OPS up 48 points! ( … to .714, but who's counting that part?)
Anthony Rizzo is proving to be a little Soriano-ish in his hot and cold streaks. Unfortunately right now he's in one of those cold portions, hitting .120/.214/.200 in his last seven games.
Starlin Castro is hitting .306/.342/.417 since his day off in Milwaukee. Not over the moon, but obviously better.
Pedro Alvarez is ridiculously hot, and it's been a crazy 34-game stretch: .306/.377/.685 with 13 homers.
Jason Grilli remains your poster child for late-in-life reliever development. His first good season came as a 31-year-old, and this year, at 36, Grilli is the best closer in baseball, featuring – among other impressive stats – an outrageous 8.57 K/BB ratio.
Series She-View
The Series She-View is one beautiful woman representing the Cubs taking on another (usually) beautiful woman representing the opponent. The Cubs' representative will change as the team's needs change – in other words, if the Cubs are winning, the rep will stay the same. But if the Cubs' performance calls for a change, someone new will step in. The opponent's representative will change from series to series, at my whim. But at least she'll probably be wearing the opponent's colors or have some connection to the team or something like that. It is immature, and the connection to baseball is tenuous at best. These things, I know.
This year, the Series She-View will live over at the Message Board. Here's your She-View for the Pirates series.
Caption the Enemy
A new feature for the Series Preview this year – since folks on the Internet can't get enough of cracking wise about pictures, I thought it might be a fun addition to the Series Preview. I'll drop in a picture (hopefully one ripe for captioning), and you'll drop in your clever captions into the comments. Then, if there are good ones, we can meme-ify them for use down the road.
Here's a picture of Pedro Alvarez, displaying something: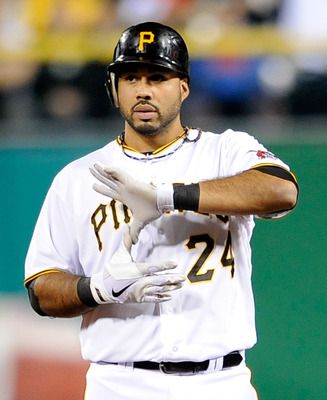 ---