Series Preview: Cubs v. Rockies, July 19, 2013 – July 21, 2013
The All-Star break is over, and we can get back to some baseball. Colorado is a fun place to play. For the bats.
By way of reminder, the Series Preview hooks you up with what you need to know about every series this year – streaks, broadcast information, pitchers, expected lineups, etc. That way, if you want to check only one place to get a sense about an upcoming series, or to plan ahead, you've got it. There's also some fun stuff, because fun stuff is fun.
We're Going Streaking
The Cubs split their four-game set with the Cardinals before the break, and they've opened up a 4.5 game lead over the Brewers for last place in the NL Central.
After a hot start, the Rockies have fallen back to four games below .500, and 4.5 out in the NL West. They're an interesting test case for how aggressively you "go for it" when your roster doesn't project to play all that well in the second half, but you're within a few games of a playoff spot. I imagine the Rockies' front office is hoping to get some clarity by July 31 so they can swiftly move in one direction or the other.
Game Times and Broadcasts
Friday, July 19 at 7:40 CT on WGN.
Saturday, July 20 at 7:10 CT on WGN.
Sunday, July 21 at 3:10 CT on CSN.
Tickets, If You're Looking
If you're trying to grab some Cubs tickets, you can use that link there, or the always-reliable Cubs.com.
Expected Starters and Lineups
These lineups are likely to be pretty close to what actually gets fielded, but you'll want to check each day's Pre-Gamin' post for the actual lineup.
Cubs
Starters: Jeff Samardzija (5-9, 4.06), Carlos Villanueva (2-5, 3.59), Edwin Jackson (6-10, 5.11)
Lineup:
Julio Borbon, CF
Starlin Castro, SS
Anthony Rizzo, 1B
Alfonso Soriano, LF
Luis Valbuena, 3B
Welington Castillo/Dioner Navarro, C
Nate Schierholtz, RF
Darwin Barney, 2B
Pitcher
Rockies
Starters: Jorge De La Rosa (9-5, 3.21), Juan Nicasio (5-4, 4.89), Tyler Chatwood (5-3, 2.56)
Lineup:
Dexter Fowler, CF
D.J. LeMahieu, 2B
Carlos Gonzalez, LF
Troy Tulowitzki, SS
Michael Cuddyer, RF
Todd Helton, 1B
Wilin Rosario, C
Nolan Arenado, 3B
Pitcher
Hot or Not and Whom to Watch
Alfonso Soriano had a couple down games in the Cardinals series, but also had two huge games. He's at .311/.333/.784 in his last 18 games, and that's including the 0-5 spot on Sunday.
I still like him and his bat flip, but, since the start of June, Luis Valbuena is hitting just .207/.317/.322.
Edwin Jackson has a 3.46 ERA over his last seven starts.
Cargo's .980 OPS leads the league. Did you know that?
D.J. LeMahieu is hitting .265/.318/.348 (including .202/.227/.245 on the road), so let's cool it a bit with the revisionism.
Series She-View
The Series She-View is one beautiful woman representing the Cubs taking on another (usually) beautiful woman representing the opponent. The Cubs' representative will change as the team's needs change – in other words, if the Cubs are winning, the rep will stay the same. But if the Cubs' performance calls for a change, someone new will step in. The opponent's representative will change from series to series, at my whim. But at least she'll probably be wearing the opponent's colors or have some connection to the team or something like that. It is immature, and the connection to baseball is tenuous at best. These things, I know.
This year, the Series She-View will live over at the Message Board. Here's your She-View for the Rockies series.
Caption the Enemy
A new feature for the Series Preview this year – since folks on the Internet can't get enough of cracking wise about pictures, I thought it might be a fun addition to the Series Preview. I'll drop in a picture (hopefully one ripe for captioning), and you'll drop in your clever captions into the comments. Then, if there are good ones, we can meme-ify them for use down the road.
For the Rockies this time around, it's a familiar face from the Denver Post …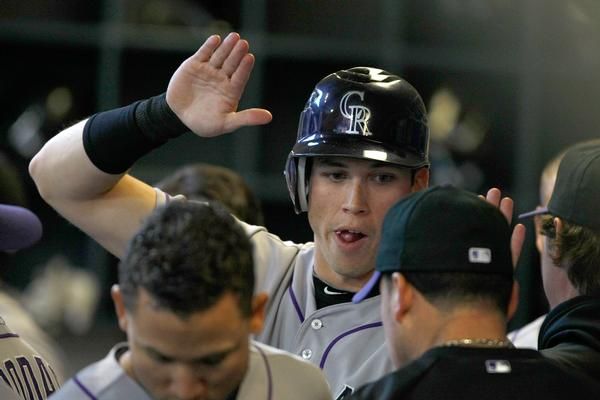 ---