Series Preview: Nationals v. Cubs, August 19, 2013 – August 22, 2013
The Nationals have not proved to be the team many expected them to be. Baseball is a funny game, and all that. Just look at their roster and try and figure out how they're under .500.
By way of reminder, the Series Preview hooks you up with what you need to know about every series this year – streaks, broadcast information, pitchers, expected lineups, etc. That way, if you want to check only one place to get a sense about an upcoming series, or to plan ahead, you've got it. There's also some fun stuff, because fun stuff is fun.
We're Going Streaking
The Cubs dropped two of three to the Cardinals, and have lost six of seven overall.
The Nationals have lost three of four, but won five in a row before that. Still, they're three games below .500, 15.5 games out in the NL East. Of course, that's good enough for second place in that particular division.
Game Times and Broadcasts
Monday, August 19 at 7:05 CT on CSN.
Tuesday, August 20 at 7:05 CT on CSN.
Wednesday, August 21 at 7:05 CT on WGN.
Thursday, August 22 at 1:20 CT on WGN.
Expected Starters and Lineups
These lineups are likely to be pretty close to what actually gets fielded, but you'll want to check each day's Pre-Gamin' post for the actual lineup.
Cubs
Starters: Jeff Samardzija (6-11, 4.29), Chris Rusin (2-2, 3.06), Jake Arrieta (1-0, 0.69), Travis Wood (7-10, 3.13)
Lineup:
David DeJesus, LF
Junior Lake, CF
Anthony Rizzo, 1B
Welington Castillo, C
Nate Schierholtz, RF
Starlin Castro, SS
Donnie Murphy, 3B
Darwin Barney, 2B
Pitcher
Nationals
Starters: Jordan Zimmermann (14-6, 3.02), Dan Haren (7-11, 4.79), Ross Ohlendorf (2-30, 1.85), Stephen Strasburg (6-9, 2.93)
Lineup:
Denard Span, CF
Anthony Rendon, 2B
Bryce Harper, RF
Ryan Zimmerman, 3B
Adam LaRoche, 1B
Jayson Werth, LF
Ian Desmond, SS
Kurt Suzuki, C
Pitcher
Hot or Not and Whom to Watch
Before his 3-4 effort yesterday, Junior Lake was 0 for his last 12.
Chris Rusin has put together a number of solid starts, but he could inspire a little more confidence going forward if he missed a few more bats. As it stands, he still strikes me as a number 6/7 type starter for the Cubs in 2014, but I'm perfectly happy to keep watching him this year, and seeing if he changes my mind.
Bryce Harper has great overall numbers this year, and he's just 20, so I'm not going to dump on him. But if you take out his blistering April, he's hitting just .228/.336/.403.
Not sure how he's doing it, but Ross Ohlendorf has a sub-2 ERA over 34 innings for the Nationals this year, and a healthy 3.22 K/BB ratio.
Series She-View
The Series She-View is one beautiful woman representing the Cubs taking on another (usually) beautiful woman representing the opponent. The Cubs' representative will change as the team's needs change – in other words, if the Cubs are winning, the rep will stay the same. But if the Cubs' performance calls for a change, someone new will step in. The opponent's representative will change from series to series, at my whim. But at least she'll probably be wearing the opponent's colors or have some connection to the team or something like that. It is immature, and the connection to baseball is tenuous at best. These things, I know.
This year, the Series She-View will live over at the Message Board. Here's your She-View for the Nationals series.
Caption the Enemy
A new feature for the Series Preview this year – since folks on the Internet can't get enough of cracking wise about pictures, I thought it might be a fun addition to the Series Preview. I'll drop in a picture (hopefully one ripe for captioning), and you'll drop in your clever captions into the comments. Then, if there are good ones, we can meme-ify them for use down the road.
We all know what Bryce Harper actually said, but what might he have said?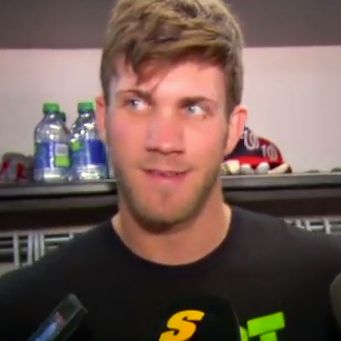 ---