Series Preview: Cubs v. Dodgers, August 26, 2013 – August 28, 2013
The Cubs get Greinke and Kershaw, not to mention the bats. This is a tough road series – it just is.
By way of reminder, the Series Preview hooks you up with what you need to know about every series this year – streaks, broadcast information, pitchers, expected lineups, etc. That way, if you want to check only one place to get a sense about an upcoming series, or to plan ahead, you've got it. There's also some fun stuff, because fun stuff is fun.
We're Going Streaking
The Cubs easily could have swept the Padres in San Diego, and, instead, they lost two of three. The Cubs are now two games clear of the Brewers for last place in the NL Central.
The Dodgers are the hottest team in baseball, if you stretch it back a couple months. They did just lose two of three to the Red Sox, though.
Game Times and Broadcasts
Monday, August 26 at 9:10 CT on CSN.
Tuesday, August 27 at 9:10 CT on WGN.
Wednesday, August 28 at 2:10 CT on CSN.
Expected Starters and Lineups
These lineups are likely to be pretty close to what actually gets fielded, but you'll want to check each day's Pre-Gamin' post for the actual lineup.
Cubs
Starters: Jake Arrieta (1-0, 3.71), Travis Wood (7-10, 3.22), Edwin Jackson (7-13, 5.00)
Lineup:
Starlin Castro, SS
Anthony Rizzo, 1B
Nate Schierholtz, RF
Donnie Murphy, 3B
Junior Lake, CF
Brian Bogusevic, LF
Welington Castillo/Dioner Navarro, C
Darwin Barney, 2B
Pitcher
Dodgers
Starters: Zack Greinke (12-3, 2.91), Clayton Kershaw (13-7, 1.72), Ricky Nolasco (5-1, 2.53)
Lineup:
Carl Crawford, LF
Yasiel Puig, RF
Adrian Gonzalez, 1B
Hanley Ramirez, SS
Andre Ethier, CF
A.J. Ellis, C
Mark Ellis, 2B
Juan Uribe, 3B
Pitcher
Hot or Not and Whom to Watch
Travis Wood has dropped his last three decisions since the last time these teams squared off in early August, and has seen his ERA rise about 30 points.
August has been unkind to Starlin Castro: .191/.234/.213. Woof.
Clayton Kershaw has a microscopic 1.72 ERA over his last, you know, season. Dude is ridiculous.
The Dodgers are doing all of this, by the way, without Matt Kemp.
Series She-View
The Series She-View is one beautiful woman representing the Cubs taking on another (usually) beautiful woman representing the opponent. The Cubs' representative will change as the team's needs change – in other words, if the Cubs are winning, the rep will stay the same. But if the Cubs' performance calls for a change, someone new will step in. The opponent's representative will change from series to series, at my whim. But at least she'll probably be wearing the opponent's colors or have some connection to the team or something like that. It is immature, and the connection to baseball is tenuous at best. These things, I know.
This year, the Series She-View will live over at the Message Board. Here's your She-View for the Dodgers series.
Caption the Enemy
A new feature for the Series Preview this year – since folks on the Internet can't get enough of cracking wise about pictures, I thought it might be a fun addition to the Series Preview. I'll drop in a picture (hopefully one ripe for captioning), and you'll drop in your clever captions into the comments. Then, if there are good ones, we can meme-ify them for use down the road.
It's the man of the moment, and I can only imagine what he would say to that baseball if he had the chance …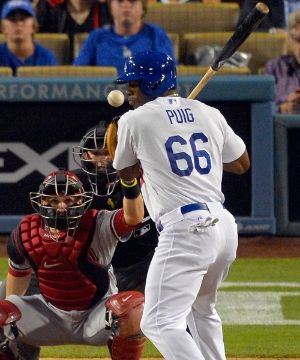 ---