Series Preview: Brewers v. Cubs, September 6, 2013 – September 8, 2013
Another tough opponent makes its way into Wrigley Field …
I kid, but this series is pretty important in the reverse standings, if you're into that kind of thing.
By way of reminder, the Series Preview hooks you up with what you need to know about every series this year – streaks, broadcast information, pitchers, expected lineups, etc. That way, if you want to check only one place to get a sense about an upcoming series, or to plan ahead, you've got it. There's also some fun stuff, because fun stuff is fun.
We're Going Streaking
The Cubs managed to avoid being swept by the Marlins this week, which makes me able to legitimately say that the Cubs are winners of three of five.
The Brewers have lost five of six, and have crept to within a game of the Cubs at the bottom of the NL Central. In reverse, I mean. In that regard, this series is fairly important.
Game Times and Broadcasts
Friday, September 6 at 1:20 CT on WGN.
Saturday, September 7 at 3:05 CT on CSN.
Sunday, September 8 at 1:20 CT on WGN.
Expected Starters and Lineups
These lineups are likely to be pretty close to what actually gets fielded, but you'll want to check each day's Pre-Gamin' post for the actual lineup.
Cubs
Starters: Chris Rusin (2-3, 2.74), Jake Arrieta (2-1, 3.77), Travis Wood (8-11, 3.17) Scott Baker (debut)
Lineup (I have no idea on some of the spots or starters, because we're going to see regular changes – this may continue for some time):
Starlin Castro, SS
Darwin Barney, 2B (?) or Luis Valbuena, 3B (?)
Anthony Rizzo, 1B
Nate Schierholtz, RF
Donnie Murphy, 3B (?) or Ryan Sweeney, CF (?)
Brian Bogusevic, LF (?)
Junior Lake, CF (?)
Welington Castillo/Dioner Navarro, C (?)
Pitcher
Brewers
Starters: Kyle Lohse (9-8, 3.32), Johnny Hellweg (0-3, 10.97), Yovani Gallardo (10-9, 4.31)
Lineup:
Norichika Aoki, RF
Jean Segura, SS
Jonathon Lucroy, C
Aramis Ramirez, 3B
Carlos Gomez, CF
Scooter Gennett, 2B
Khris Davis, LF
Juan Francisco, 1B
Pitcher
Hot or Not and Whom to Watch
Starlin Castro's keeping his hot stretch going, batting .326/.396/.543 over his last 11 games.
Chris Rusin and Jake Arrieta will each continue in their quests to do as much impressing as they can before the season ends. Not that they're in direct competition, but, if they were, right now the eyes say Arrieta, but the results say Rusin.
Kyle Lohse has been dominant for quite a while now – 2.66 ERA over his last 17 starts.
Remember when Carlos Gomez suddenly looked like an MVP candidate, and everyone was like, "wha?" Well, if you clip out his blistering first month and a half, Gomez is hitting a more pedestrian .248/.309/.449 in his last 88 games.
UPDATE: Just announced as this post went up, Scott Baker will start on Sunday against the Brewers. That'll be interesting.
Series She-View
The Series She-View is one beautiful woman representing the Cubs taking on another (usually) beautiful woman representing the opponent. The Cubs' representative will change as the team's needs change – in other words, if the Cubs are winning, the rep will stay the same. But if the Cubs' performance calls for a change, someone new will step in. The opponent's representative will change from series to series, at my whim. But at least she'll probably be wearing the opponent's colors or have some connection to the team or something like that. It is immature, and the connection to baseball is tenuous at best. These things, I know.
This year, the Series She-View will live over at the Message Board. Here's your She-View for the Brewers series.
Caption the Enemy
A new feature for the Series Preview this year – since folks on the Internet can't get enough of cracking wise about pictures, I thought it might be a fun addition to the Series Preview. I'll drop in a picture (hopefully one ripe for captioning), and you'll drop in your clever captions into the comments. Then, if there are good ones, we can meme-ify them for use down the road.
Bernie the Brewer sliding down, down, down. There's something there …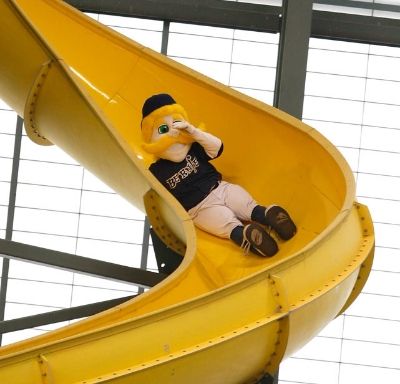 ---