Series Preview: Braves v. Cubs, September 20 – September 22, 2013
Now the Cubs get to head back home … and face the Braves.
By way of reminder, the Series Preview hooks you up with what you need to know about every series this year – streaks, broadcast information, pitchers, expected lineups, etc. That way, if you want to check only one place to get a sense about an upcoming series, or to plan ahead, you've got it. There's also some fun stuff, because fun stuff is fun.
We're Going Streaking
The Cubs managed a win yesterday (well, technically earlier today), which avoided the four-game sweep by the powerful Brewers.
The Braves are solidly in first place in the NL East, where their magic number is two. As in: they can get there this series.
Game Times and Broadcasts
Friday, September 20 at 1:20 CT on CSN.
Saturday, September 21 at 3:05 CT on WGN.
Sunday, September 22 at 1:20 CT on WGN.
Expected Starters and Lineups
These lineups are likely to be pretty close to what actually gets fielded, but you'll want to check each day's Pre-Gamin' post for the actual lineup.
Cubs
Starters: Scott Baker (0-0, 0.82), Travis Wood (9-11, 3.05), Edwin Jackson (8-16, 4.75)
Lineup (kind of nuts):
Starlin Castro, SS
Luis Valbuena, 3B/Darwin Barney, 2B
Anthony Rizzo, 1B
Nate Schierholtz, RF
Donnie Murphy, 3B/Ryan Sweeney, CF
Junior Lake, LF-CF/Brian Bogusevic, LF
Dioner Navarro, C
Darwin Barney, 2B
Pitcher
Braves
Starters: Paul Maholm (10-10, 4.35), Kris Medlen (14-12, 3.32), Julio Teheran (12-8, 3.14)
Lineups:
Jordan Schafer, RF
Justin Upton, LF
Freddie Freeman, 1B
Brian McCann/Evan Gattis, C
Chris Johnson, 3B
Andrelton Simmons, SS
Dan Uggla/Elliott Johnson, 2B
B.J. Upton, CF
Pitcher
Hot or Not and Whom to Watch
Scott Baker gets another start to wind down the year. He's been fairly successful so far, and I'm sure he'd love to rest his free agency hat on three good starts, even if that isn't much.
Nate Schierholtz is having a rough September: .146/.208/.229
The Braves have two regulars (Dan Uggla, B.J. Upton) hitting under .190.
Of course, they also have Chris Johnson batting .327, which leads the league.
Series She-View
The Series She-View is one beautiful woman representing the Cubs taking on another (usually) beautiful woman representing the opponent. The Cubs' representative will change as the team's needs change – in other words, if the Cubs are winning, the rep will stay the same. But if the Cubs' performance calls for a change, someone new will step in. The opponent's representative will change from series to series, at my whim. But at least she'll probably be wearing the opponent's colors or have some connection to the team or something like that. It is immature, and the connection to baseball is tenuous at best. These things, I know.
This year, the Series She-View will live over at the Message Board. Here's your She-View for the Braves series.
Caption the Enemy
A new feature for the Series Preview this year – since folks on the Internet can't get enough of cracking wise about pictures, I thought it might be a fun addition to the Series Preview. I'll drop in a picture (hopefully one ripe for captioning), and you'll drop in your clever captions into the comments. Then, if there are good ones, we can meme-ify them for use down the road.
How about the unsavory old Braves logo?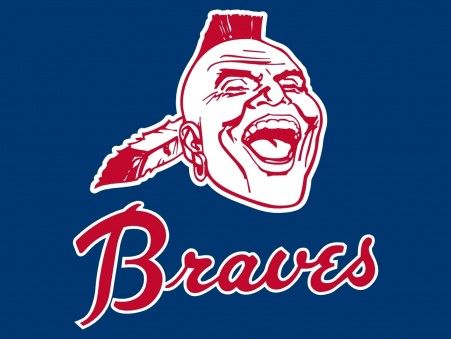 ---