On Castro, Bonifacio, Runners in Scoring Position, and the Regret of Fate-Tempting Jokes
The Cubs lost 4-3 last night in 16 innings (that's your Enhanced Box Score, for those who weren't up in the middle of the night), in one of the longest – in terms of time – games in Cubs history. It was the second straight extra-inning walk-off loss to start the year, and the second straight game in which the Cubs were comically inept with runners in scoring position. Is there a more frustrating way to lose games? That's not a rhetorical question. I guess a game that the Cubs led 8-0 going into the 9th, and then lost because of 11 consecutive errors would probably do the trick. But that's about it.
You stack these two games on top of a fan base already frustrated by a slow-paced rebuild and an inactive offseason, and I don't think the start of this season could have gone much worse, absent an escaped hyena rampaging in the clubhouse and maiming half of the team.
But it is just the start of the season. One time, the Cubs lost the first game of the season in pretty brutal fashion. They were scoreless with the Brewers through eight innings before allowing three runs to Milwaukee in the top half of the 9th. The Cubs then rallied to score three of their own and tie the game up! … and then gave up a run in the 10th to lose. Exasperating. The next game (two days later because of the obligatory off-day), the Cubs were blown out 8-2, and looked pretty crappy if you were judging by the two losses. Heck, they were hitting just .125 with runners in scoring position!
That was the 2008 Cubs team. They went on to win 97 games, tops in the National League.
You'll grow tired of hearing it long before I grow tired of saying it: baseball is a game best enjoyed as it's being played, but best understood over long stretches. The predictive ability of two games' worth of data is pretty much nil, and the Cubs' profoundly bad performance with runners in scoring position so far is not the kind of thing that sustains over a long period of time. That's little consolation for fans who've already thrown their remote through a window – and the Cubs can't get these two losses back – but it's truth. Well, the strong statistical likelihood, anyway.
Am I saying the 2014 Cubs team is going to win 97 games? Of course not. I'm simply pointing out that even very, very good teams can look like crap through two games. (And, of course, sometimes very, very bad teams can look like crap through two games, too.)
A few thoughts on the marathon game and the early returns:
Emilio Bonifacio is on fire – historic fire. It sounds like he's the first player in history to have nine hits in the first two games of a season, and he's currently batting .750/.769/.833. Yeah, just two games, but he could go 0 for his next 33(!) and he'd *still* be above the Mendoza Line (.200). It was already the case that he was going to be in the lineup regularly, but there's no way he can come out any time soon. That likely means more starts in center and at second base. He might even spell Starlin Castro one of these games.
Speaking of Castro … ugh. That Castro didn't get to have a Spring Training seems like it's showing – Castro let a ball slip under his glove last night, allowing a run to score, and didn't look particularly locked in at the plate. In the 11th, he was double-switched out of the game (which mostly had to do with the personnel available, but still). It's going to take a little time for him to get going, I think. Unfortunately. This is not what he or the Cubs needed in the early going.
And speaking of the Cubs' RISP woes, as I got into last night during the game, even if you believe the Cubs are truly a terrible team with runners in scoring position – as in, you believe they're one of the worst in history, and should hit just .200 or so with RISP – the odds that they would have gone just 1 for 27 are microscopic. Once again: little consolation. But that doesn't make it not a freak thing.
If you're looking for something positive, it remains the pitching: a 1.48 ERA through 24.1 innings is pretty nice. But that's enough positive; let's get negative again: the 4.4 BB/9 is ugly, 1.75 K/BB is not impressive, and the 5.2 H/9 is not sustainable.
After Starlin Castro's error and the mounting RISP troubles, and after it felt like a lock that the Cubs would lose another shutout, I tweeted this pointed, but joking, line:
How many frustrating narratives can the Cubs live into through just two games? Just need to somehow blow a save …

— Brett Taylor (@BleacherNation) April 3, 2014
More than two hours later, Jose Veras came on for the save. He blew it. And then this happened: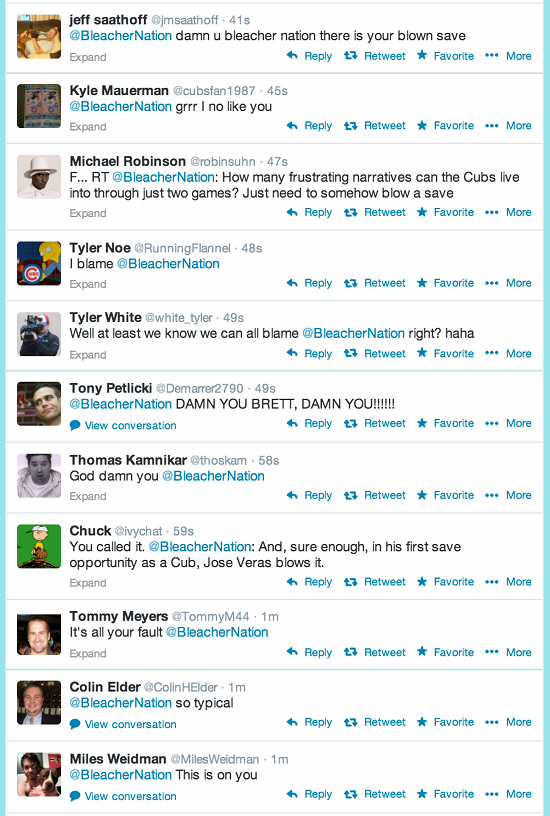 That's an unedited, 20-second slice of what my mentions looked like after the Pirates tied the game in the 12th. My bad. There were about 200 more of those, but, thankfully, I think most were in good fun. The lesson: don't make irresponsibly predictive jokes, lest you feel the wrath of the interwebz.
---